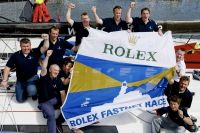 There is a comprehensive history of the great race on this web site; but here are some more facts about the Rolex Fastnet Race. 2023 marks the 50th edition of the historic race with another record fleet predicted to take part.
Q: Where in the world is approx. 695 nautical miles from Cowes?
A: Berlin, Copenhagen, Oslo, Vienna, Palma and Cherbourg via Fastnet Rock..
Are we there yet?
The race course for the Rolex Fastnet Race is 695 nautical miles along the rhumb line.
Distances between notable points on the course
Cowes, Royal Yacht Squadron Start Line: 0 nm
Cowes – Needles 16 nm
Needles – Portland Bill 34 nm
Portland – Start Point 54 nm
Start Point – Lizard 60 nm
Lizard – Lands End 22 nm
Land's End – Fastnet 170 nm
Fastnet Rock – Scillies 150 nm
Scillies – Cherbourg 189 nm
Finish in Cherbourg after 695 nautical miles
It all adds up
In 2021 there were over 360 boats entered for the Rolex Fastnet Race, end to end they would stretch to over 13,000 ft (4000m) equivalent to the height of the Matterhorn mountain, overlooking Zermatt in Switzerland.
The beautiful game
The total sail area of the competing yachts was in the region of 200,000 sq.ft (18580m) enough to cover enough to cover five football pitches.
Rolex Fastnet Race Records
In 2021 The ClubSwan 125 Skorpios, sailed by Fernando Echavarri, became the largest yacht ever to take part in the Rolex Fastnet Race and was the first monohull, winning line honours. Having completed the new 695-mile course from Cowes to Cherbourg with an elapsed time of 2d 8h 35m 5s – Skorpios set a new benchmark time. The monohull race record, finishing in Plymouth, is held by Volvo 70, Abu Dhabi, skippered by Ian Walker in 2011 of 1 day, 18 hours, and 39 mins.
The largest multihull in the 2021 race was Maxi Edmond de Rothschild, co-skippered by Franck Cammas and Charles Caudrelier, which took multihull line honours in 1 day, 9 hours, 15 minutes and 54 seconds. Maxi Edmond de Rothschild also holds the multihull race record for the course finishing in Plymouth; 1 day 4 hours 2 minutes and 26 seconds.
.
United Nations
Entries have been drawn from near and far. The Rolex Fastnet continues to attract competitors from around the globe. 31 countries were represented by boats and crews in the 2021 race.
Armchair Admirals
Armchair sailors will be able to test their skills on the same course as competitors in the 2023 Rolex Fastnet Race by playing the Virtual Fastnet Race. Details will be in the Follow the Race area.