With Mediterranean conditions affecting the 2015 Rolex Fastnet Race, the emphasis on racing performance has switched to light airs tactics. Christian Ripard is a highly experienced offshore sailor from Malta who has been part of winning teams for the Rolex Middle Sea Race on four occasions, including co-skipper of J/122 Artie, the overall winner in 2014. Christian often sails in light conditions and has these thoughts about mastering the light:
"You can win or lose in light winds so I teach my crew when it goes light this is where you win the race.
"Everybody can sail in a good wind but you have to strive very hard to make sure you perform well in the light. If the boat is going just a fraction of a knot more than a competitor you get ahead and when the breeze does kick in, that lead multiplies. In the light we can sail 5 or 10% better than the opposition and that is difficult to achieve in a true wind.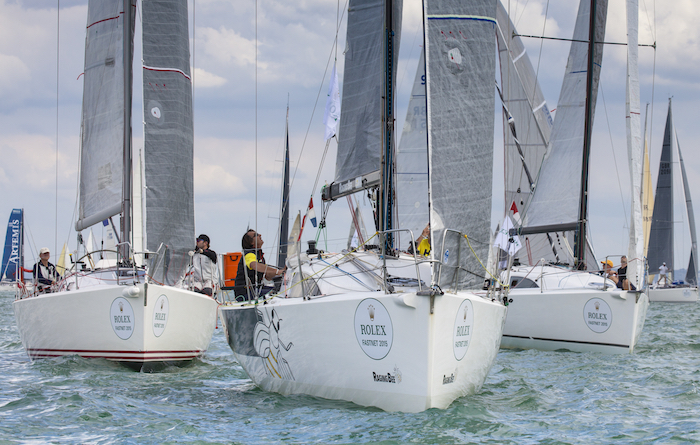 "Patience in light weather is the key with very few movements of the crew on board and even off-watch, you have to be aware of where to put your weight. Sail selection and development is a key area. For example using a wind seeker, which is actually a very small sail, but keeps its shape well and keeps the boat steering a course.
"Spotting wind on the water is very important. If we see a gust we sail for it, regardless of heading and sail from gust to gust. At night, I use normal binoculars and with a trained eye, you can see the zephyrs coming down. It is much easier if there is little swell during. Contours, ripples and dark patches in the water are the tell-tales of wind.
"After dusk, I don't allow any light on board except for the navigational lights. I have been on boats that light up the sails for the trim but I can't steer like that and it has got to be dead quiet, just one guy calling the breeze. However the real skill is simply patience – it is easy to concentrate for two hours, but all night takes patience. Picking a nearby boat and competing with it, also keeps the crews adrenalin level up. "