While, thanks to the ultra-light forecast, pre-start expectations had the Rolex Fastnet Race tailenders arriving sometime in week two, in fact on the morning of day seven of the Royal Ocean Racing Club's 90th anniversary event, just five boats remain at sea. Bringing up the rear, Martin Lossie's Dehler 32 Picolini was expected to reach Plymouth late this afternoon.
Winner in the Rolex Fastnet Race's smallest class, IRC 4 was inevitably French, but on this occasion French boats managed to secure only 50% of the top 10 places in this 37 boat class.
For Gerard Quenot and crew, this was the second occasion he had campaigned his JPK 10.10 Alkaid III – Nautistock.com in the Rolex Fastnet Race, finishing fourth in class in 2013.
"We are very happy to win in IRC 4," said Quenot. "It was very nice with light conditions for the first two days and then the breeze came at the Scillies. The best part for us was between the Scillies and the Fastnet because it was reaching and we got to use our magic sail – the A5."
Alkaid III – Nautistock.com led out of the Solent and the first key moment was attempting to stay north of the Casquets Traffic Separation Scheme (TSS) in light winds. "We made tacks, but basically we were going backwards!" said Quenot. "And the opposite tack was very bad - going north with the tide."
As with Géry Trentesaux's overall winner, Alkaid III – Nautistock.com dug into the Cornish coast to the west of Plymouth. Here she made gains, leading at the Lizard which she passed at 23:40 BST on Monday night, but not the great gains that Courrier Du Leon managed, having passed the Lizard an hour earlier.
With Noel Racine's sistership Foggy Dew in hot pursuit, Alkaid III – Nautistock.com led up the west side of the TSS off Land's End and on the way up to the Fastnet Rock, saw winds gusting up to 25 knots enabling them to pull ahead.
Alkaid III – Nautistock.com rounded the Fastnet Rock at 09:23:48 Wednesday morning 1 hour 22 minutes ahead of second placed Foggy Dew, but with Jonathan Rolls' Swan SR38 Xara second on corrected. At the TSS to the west of the Scilly Isles, the leaders stayed offshore, rounding Bishop Rock around 0500 on Thursday morning and reached the finish line off Plymouth Breakwater at 17:21:16, to claim the IRC 4 win both on the water and on handicap.
And so, once again a JPK 10.10 won Class 4, following on from the overall victory of father and son team Pascal and Alexis Loisin's Night And Day in 2013.
"This boat is very stable," said Quenot, who won the 2012 Transquadra transatlantic race doublehanded aboard her. "It is okay in light wind and it is very nice in stronger winds."
Immediately behind, there was an interesting and slightly unexpected battle for second place, both on the water and on corrected, but not between any of the modern day 'plastic fantastics' but two grandaddies of the race, the S&S 1930s yawls Dorade and Stormy Weather of Cowes. Matt Brooks' Dorade won the Fastnet Race in 1931 and 1933 while her rival was first in 1935.
As testament to the crew work on the two classics as well as IRC's ability to create a level playing field between boats, regardless of their shape and size, it was ultimately Dorade that displaced Foggy Dew to take second place on the water and on corrected with Stormy Weather fourth. On corrected time just 18 minutes separated this diverse trio, demonstrating, in a vague sort of way, that 1930s 48-49 footers have the same average pace as a modern day 32 footer.
"We enjoyed it greatly," said Matt Brooks. "We had a couple of nights which were typical Fastnet nights, but otherwise it was a very technical, complicated race and we enjoyed it. We saw a little bit of every weather. We didn't have to anchor, which was good news, as we don't like anchoring."
Dorade pulled into the top five on the outbound approach to the Lizard, tacking offshore early while her rivals hugged the Cornish coast. In comparison Stormy Weather lost contact with Dorade off Start Point but recovered between the Lizard and the south side of the Land's End TSS. By the time she rounded the southwest corner of the TSS she and Dorade were back in contention.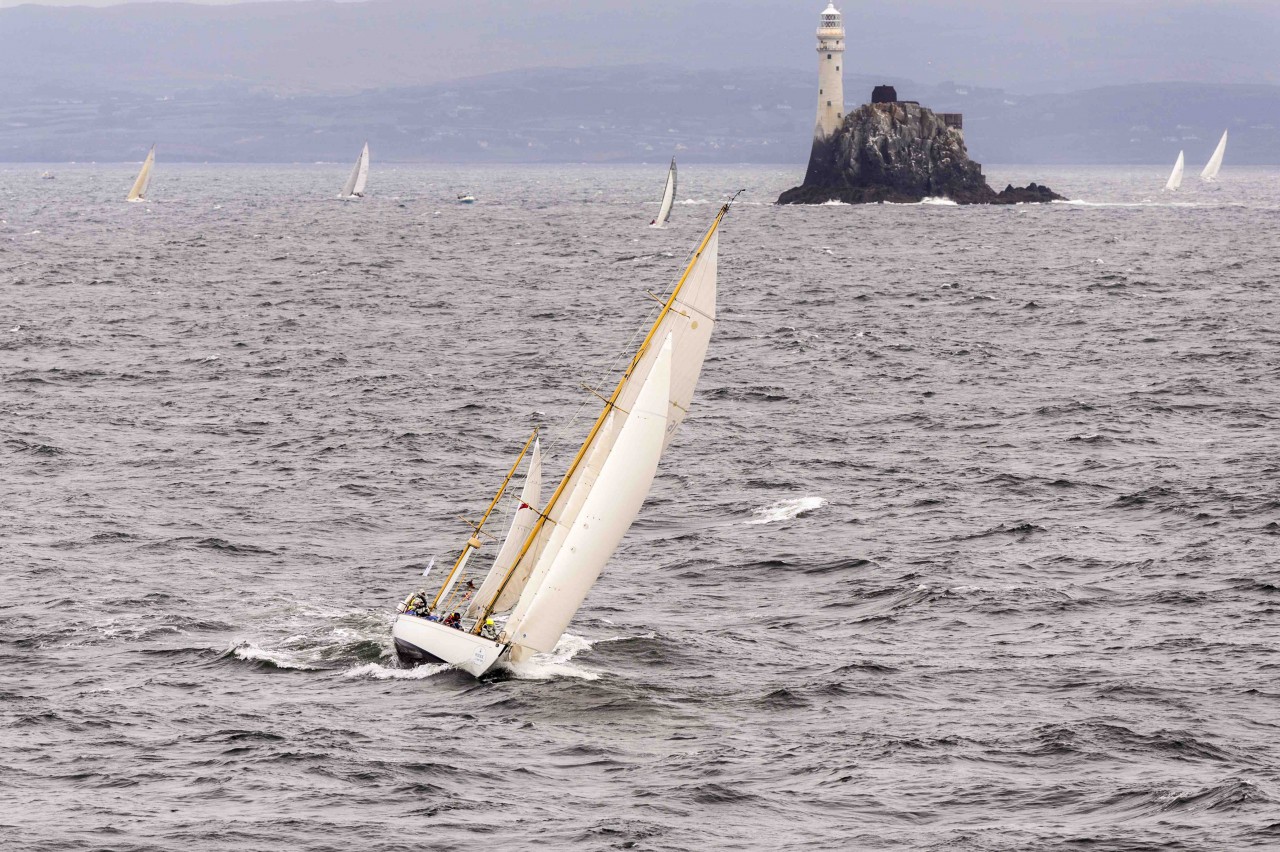 The classic S&S yawls pulled into third and fourth place on the water on the reach up to the Rock, having a length advantage, but lacking the power of her younger rivals and were then locked together in a 250+ mile match race all the way to the finish.
"We love racing against our other S&S boats, particularly Stormy Weather," said Brooks. "It was give and take, great competition, proper match racing.
"Dorade does particularly well downwind so going to the Rock was particularly hard; coming back was the best bit. We're second in class to a boat of a type that I don't really understand – new and not made of wood! But second in class for a boat that is 85 years old is a great result, considering that the boat was last here in 1933."
British comedian Griff Rhys Jones was racing another classic S&S yawl - the more modern and slightly larger Argyll, built in 1948.
"We had a really great time in the Solent - it was fun to be among so many boats," said Jones, famous for the hit TV shows Not The Nine O'Clock News and Alas Smith & Jones. "On the whole, it was great - we were threatened with a windless race and there were great lulls, but it wasn't as windless as I had feared. In fact, I'd feared that we would be so completely out-manoeuvred as we are a heavy boat and she just doesn't like it when we haven't got the resources.

"We tried everything to get our fractional rig to make us sail properly (short of buying new expensive sails!) I think the most important strategy was where you kedged. Some of those choices didn't quite work out. We probably should have spent more time just watching what Dorade was doing and then copying exactly what she did!"
Ultimately Argyll finished at 07:51:35 on Friday to take 43rd place on corrected time in IRC 4.
As a fitting conclusion, on the finish line of the race, Tom Barker racing doublehanded on the Contessa 32 Hurrying Angel, got on his knees in the cockpit and proposed to Lucinda Allaway. Who accepted.