At the end of a relatively windless overcast drizzly day in Plymouth, that better resembled November than mid-August,the Royal Ocean Racing Club officers are bracing themselves for a busy night in the Rolex Fastnet Race with around 100 boats this afternoon now past the Lizard and currently speeding towards Plymouth.
Meanwhile the class winners are firming up. In the MOCRA Multihull class it is neither Spindrift 2 nor the hotshot MOD70s that are likely to come out on top, but Californian Peter Aschenbrenner and his Irens-Cabaret designed 63ft trimaran Paradox that look set to be presented with the Croda Wave Trophy at the Rolex Fastnet Race prizegiving and 90th anniversary celebrations tomorrow night.
"The race was really interesting, with the drifting start and fun sailing up the Solent and mixing it up with Spindrift 2 and the MOD70s," recounted Aschenbrenner who sailed the race with a crew of six. His boat differs from those he names as although ostensibly she is a racing multihull, Paradox's interior contains mod cons, such as a cabin, a refrigerator, running water, even a proper head.
Shortly after exiting the Solent they managed to destroy their Code 0 and stowed it below expecting to relegate it to a skip upon arrival in Plymouth. In fact conditions were such that repairing the sail seemed vital so the aspirant sail makers on board managed to use up their entire sail repair kit - and more – to patch it up.
All was going well on board Paradox until they parked in a most significant way off the west side of the Land's End TSS, covering just 15 miles in 10 hours (ie 1.5 knot average). "We spent some time looking at that little red lighthouse on the Scillies," admitted Aschenbrenner. "At one stage we were going backwards," confided Helena Darvelid, one of the navigators on board.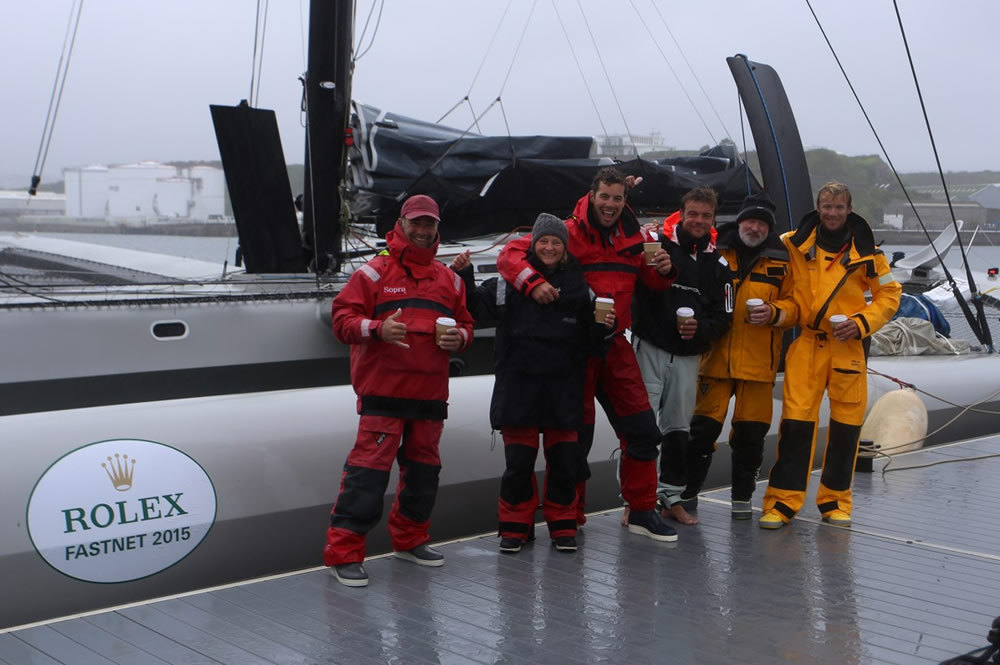 Finally the wind filled in and they managed to get going under Code 0, initially using it with a speed limit of 10 knots, then 12, then 15… "It looked horrible, but it held together," said Aschenbrenner.
The silver trimaran rounded the Rock shortly before sunset on Tuesday and her six-strong crew then dug in ready for a blast towards the finish. At this point the crew was resigned to not putting in a good result, however Mother Nature deemed otherwise. "The lead boats were almost back at the Scillies when we took off," said Aschenbrenner. "After the Rock things really started getting exciting – beam reaching, foil down, 30+ knots." And then cracked off round the Scilly Isles towards the finish they sailed at high 20s all the way.
If there were a prize for the fastest boat for the 256 mile return journey from the Fastnet Rock then Paradox would roundly win it this year. The league table looks like this:
1. Paradox = 13 hours, 50mins, 56 seconds
2. Rambler 88 = 1 day, 0 hours, 41 minutes, 17 seconds
3. Comanche = 1 day, 3 hours, 18 minutes, 13 seconds
4. Spindrift 2 = 1 day, 6 hours, 7 minutes, 50 seconds
5. Phaedo3 = 1 day, 7 hours, 26 minutes and 40 seconds
6. Prince de Bretagne = 1 day, 7 hours, 37 minutes, 46 seconds
7. Concise 10 = 1 day, 9 hours, 23 minutes, 8 seconds
8. Musandam-Oman Sail = 1 day, 10 hours, 7 minutes, 38 seconds
"It was a great experience," said Aschenbrenner of his first Rolex Fastnet Race. "It is a good course. It was atypical weather but it is a good thing that we got some good wind eventually otherwise it would have just been brutal. You never like to see 000s on all the displays."
On top in IRC 2
The MC34, Nutmeg Solidaire En Peloton, skippered by 28 year old Corentin Lognone, is the runaway leader in IRC 2 after arriving in Plymouth at 13:36:51 BST today. The St Malo-based team earlier this year traded in their J/122 (a regular competitor in the Brewin Dolphin Commodores' Cup) for their new boat, a powerful design with full length chines.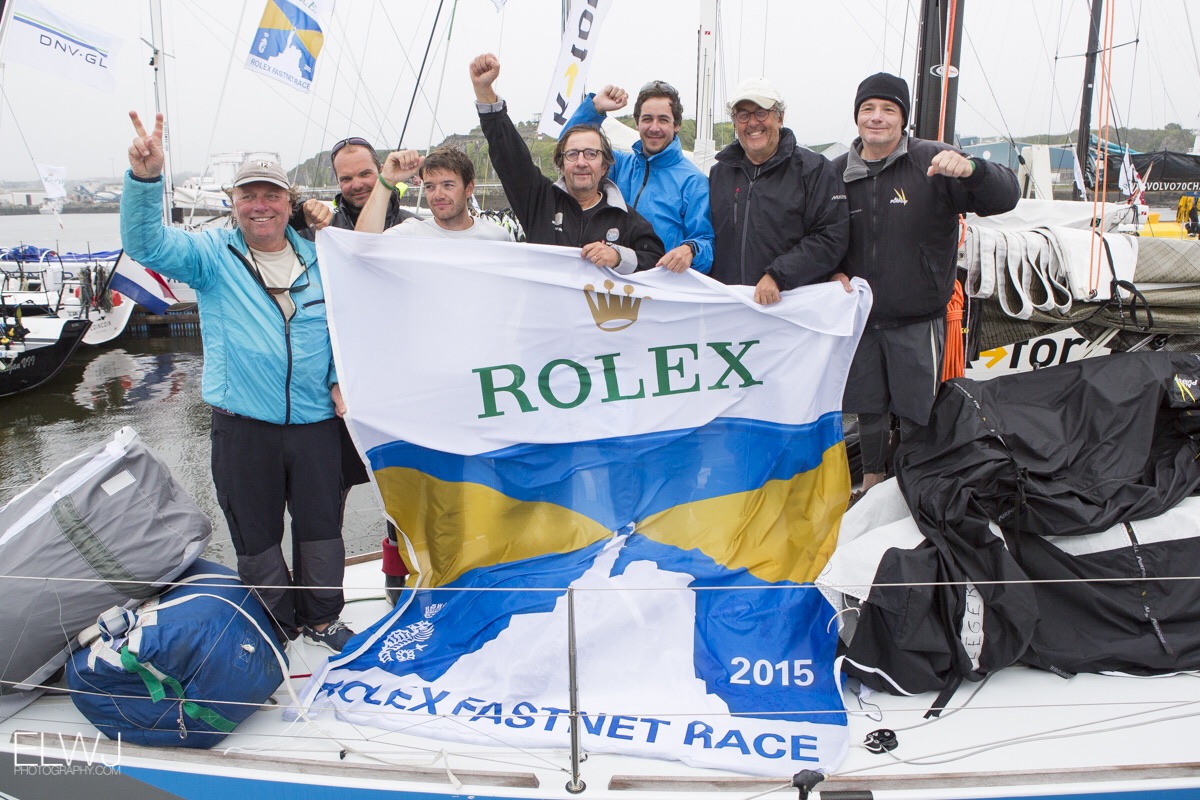 Despite the end result the Lognone family and crew only achieved this after fighting back from a disappointing start and first night.
"We managed to catch some boats at the Scilly Isles, then when we went to the Rock," said Corentin Lognone. "We put the A5 spinnaker up and were sailing at 14 knots for four hours in a pitch black night with no moon. It was pretty intense because the weather was quite bad with no visibility and drizzle but we had made big gains by the Rock."
Lognone said that they had been equally fast on the way back from the Rock when they had been able to make the most of their masthead spinnaker, enabling their powerful M34 to get up on the plane, averaging 12 knots.
Despite a small mistake at the Scilly Isles, Nutmeg Solidaire En Peloton scored the double whammy, winning IRC 2 both on the water and on handicap, despite being the smallest boat in her class. The French finished on corrected time 2 hours and 22 minutes ahead of their sistership Azawakh, campaigned by Belgium sailors Vincent Willemart and Eric Van Campenhout that was second in class. Ross Applebey's Lightwave 48, Scarlet Oyster, was second to Nutmeg Solidaire En Peloton at the Fastnet Rock on corrected time, but dropped back to fifthoverall in IRC 2 by the finish.