Just in case you cannot make use of our fantastic deals with Musto, the Logo may be used by bona-fide competitors as follows: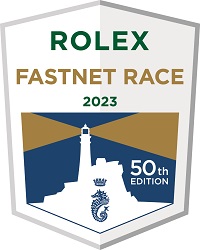 The Rolex Fastnet Race Logo (the "logo") may only be used by bona-fide competitors of the Rolex Fastnet Race. It is not permissable to use the logo to brand products or merchandise items of any kind (T-Shirts, Bags, etc) without prior permission of the Royal Ocean Racing Club or Rolex SA.
The logo may be affixed to competitor clothing or campaign websites in accordance with the guidelines below:
The logo may be reproduced only in the versions shown in these guidelines and may not be altered in any way

The logo should always have a bounding box or "clearspace" around it to seperate it from surrounding elements, with a minimum width equal to the height of the "Rolex Fastnet Race" text

The smallest size the logo can be applied is 5 centimeters wide, or, for screen representation, 150 pixels. The bounding box/clearspace still applies.

Whenever possible, the logo should be used on a white or neutral background. It is not allowed to use the logo on a pattern or photographic background, or on a background colour that is similar to the colours in the logo.

It is not allowed to stretch, cut apart, alter or change the logo in any way (including tilting, condensing, slanting, leaning)
Logo Downloads

2023 Rolex Fastnet Race Logo: Encapsulated Postscript (eps) Format

2023 Rolex Fastnet Race Logo: PDF Format
Official clothing and footwear by MUSTO

MUSTO is the Royal Ocean Racing Club's Official Clothing Supplier for the Rolex Fastnet Race and for the Cowes and London based club.
Musto have created a range of Rolex Fastnet Race merchandise which include T shirts and Polo shirts, jackets, caps and bags featuring the official race logo and strong Fastnet branding on the T shirt.
These are for sale in the Musto shop in Cowes and at the race village in Cherbourg.
Enquire now at
This email address is being protected from spambots. You need JavaScript enabled to view it.

.
This offer is exclusively available to competitors in the Rolex Fastnet Race 2023. MUSTO reserves the right to vary, amend or revoke this offer at any time.
An organised Personal Bag Drop service to Cherbourg will again be available for all competitors at the 2023 Rolex Fastnet Race. There will be two drop off points: Hamble Yacht Services and Cowes Yacht Haven.
Competitors at this year's Rolex Fastnet Race will be able to take advantage of the Sevenstar Bag Drop, which is being managed on behalf of the Royal Ocean Racing Club. Teams will be waiting to take your personal crew bags from either Hamble or Cowes that need shipping to Cherbourg. Once at Cherbourg the bags will be held securely in the Bag Drop marquee in the Race Village. All bags will be stored securely, with 24hr security and access, in a dry tented structure with solid wooden floors and shelves.
Locations & Times
The two locations and times available for teams to drop off bags and sails are:
Hamble Yacht Services (Hamble) - Friday 21st July 16:00 to 19:00.
Cowes Yacht Haven (Cowes) - Saturday 22nd July 07:00 - 10:00.
All 'drop off' sites will be in the main car parks.
Bag Pick-Up
Open for collections in Cherbourg - Monday 24th July to Saturday 29th July at the Rolex Fastnet Race Village, Cherbourg-en-Cotentin.
Information & Booking Form:
Book your bag drop here.