Tall Ships Youth Trust entered 3 of their Challenger Yachts into the 2023 50th edition Rolex Fastnet Race. One of the Challenger boats, Challenger 2, was crewed by a group of the charity's adult supporters, who have been fundraising to enable 12 young people from disadvantaged backgrounds to participate free of charge. In addition to the crew, three younger sailors were also onboard racing the 57-tonne vessel.
Onboard Challenger 2, Zoe d'Ornano has been raising money for Tall Ships Youth Trust, a charity that has provided disadvantaged young people with the opportunity to get involved into the sailing world since 1956. In 2021, Zoe raised £13,000 and in 2023 she raised a further £10,000.
Zoe's first Fastnet was in 2021 when she was only 12 years old. Comparing both Rolex Fastnet Races, she thought the start was more challenging in 2021, but the overall conditions in 2023 were much harder, although also more exciting. Zoe feels that the opportunities that the Tall Ships Youth Trust provides helps disadvantaged children feel a greater sense of 'belonging to a community' and enables them to 'push the limits outside of what they think they can achieve'. Also onboard Challenger 2 was 12 year old Tom Marsh, who was the youngest male crew member competing in the 2023 Rolex Fastnet Race. Since a young age Tom has sailed onboard his parents' 32ft yacht, which is based out of East Cowes. Prior to the Rolex Fastnet Race, Tom completed the necessary qualifying miles including sailing the Myth of Mallam Race onboard Challenger 2.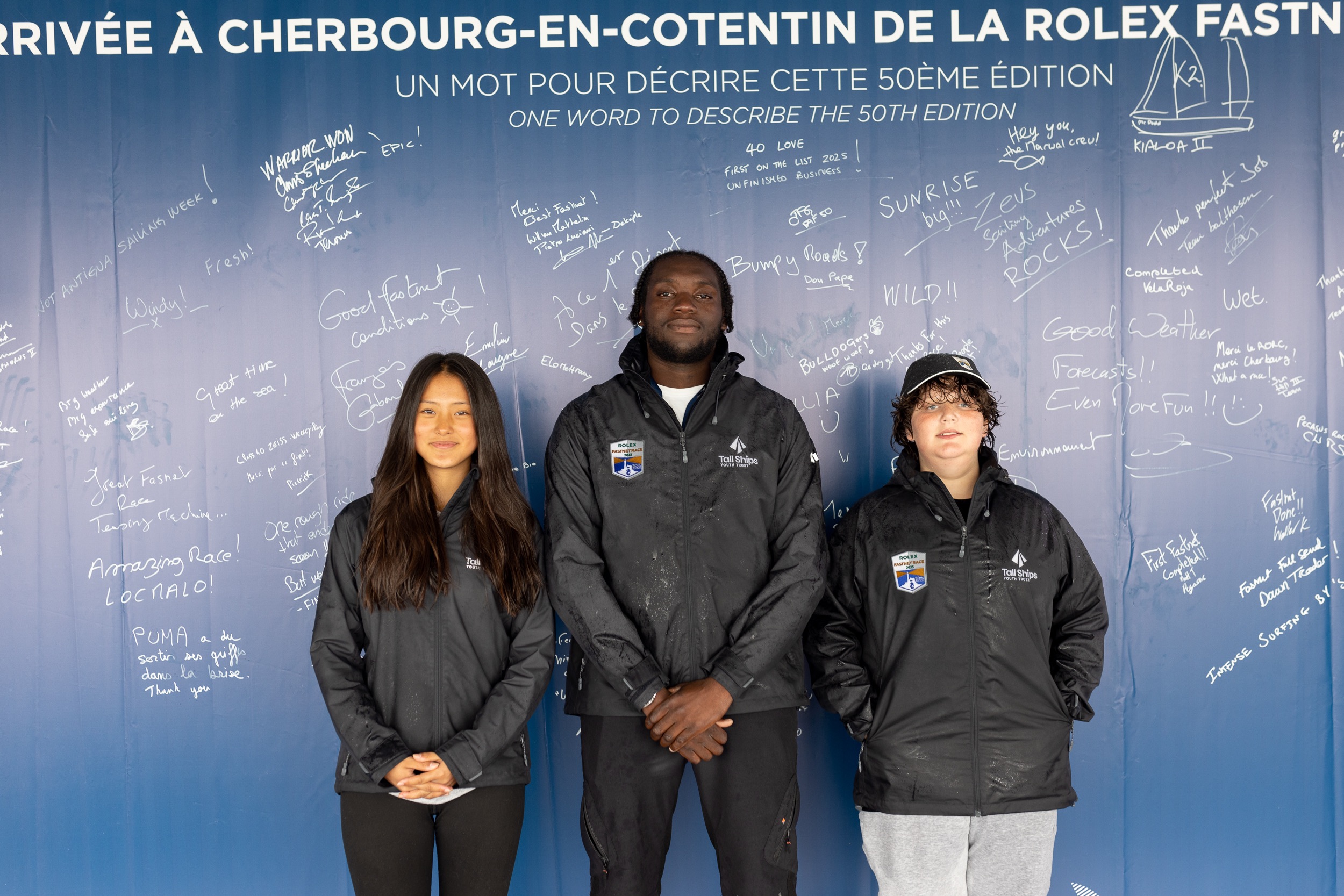 Zoe d'Ornano, Chris Frederick and Tom Marsh - the young sailors on board Challenger 2, one of the Tall Ships Youth Trust entries © Arthur Daniel/RORC
Tom explained that onboard the Tall Ships Youth Trust boat, during the day the crew had a watch system of six hours on and then six hours off. During the night they reduced this to three four hour watches enabling there to be plenty of rest onboard. Tom's highlight of the Fastnet Race was seeing all the dolphins that joined Challenger 2 in the Celtic Sea, on their return journey from the Rock.
Chris Frederick was also onboard Challenger 2. He comes from the famous Greig City Academy in Harangey, London. He started sailing with the support of Tall Ships Youth Trust in 2016 and has progressed from dinghy sailing into offshore racing.
Chris's first Rolex Fastnet Race was in 2019 and has since done several RORC offshore races like the St Malo Race and the Myth of Mallam Race. In 2019, Chris was on a 45 foot boat but much preferred being on Challenger 2 this year as it is 72ft. When comparing the Fastnets Chris explained that in 2019, it was more straightforward as the wind direction meant it was a reaching angle to and from the rock. Whereas this year, part of the race was an upwind slog, with lots of shutdowns and fronts to endure; 'there was more of a tactical aspect to this Fastnet compared to 2019'.
Chris got this opportunity through connections he has made in the UK Etchells Fleet. He began sailing as his friends sailed and it meant he got time off school! But as he progressed, he began to develop a passion for sailing as it got more challenging. 'Every time you go sailing, it is not like the last. It always varies'.
Challenger 2 was the top Challenger yacht out of the 3 participating. No doubt we will see these young sailors back out on the water in two years time for the next Rolex Fastnet Race.