A week after the start in Cowes, there was a warm welcome on the dock in Cherbourg for the all-female team on board Martin Jensen's brand new Cherbourg-built Garcia yacht, Emnma. Finishing the race the day after the final prize-giving, the multinational crew completed the course in just over 6 days 21 hours and were very happy to back in the boat's home port. The crew from six different countries all met on the build and delivery of the yacht, and the plan to compete in the 50th edition of the Race with an all-female team was hatched.
"Clothilde and I were working for Garcia Yachts and the other crew are either owners of existing Garcia yachts, or future owners of boats, yet to be built. The opportunity came up when we were delivering Emma from Cherbourg to her new owner. We were joking about the fact that we could see people bragging about being such good sailors – and it was mostly men - and we said 'that's funny, we're sure we could all do the same'. Martin Jensen said, 'OK, why not, just go for it'. So, we had a brand new boat to do it on! How lucky were we?"
Once safely tied up in Marina Chantereyne, co-skipper Marie Schiewe spoke to the media team before celebrating with friends on the dock and heading to the Crew Bar in the Race Village. "Personally, this was my first Fastnet Race – it was quite something! How amazing! I have not done much offshore racing, but I've crossed the Pacific and been working on yachts and superyachts. On board we have six female sailors, all with different sailing experience; some dinghy racers and some offshore sailors like Kate (Colins). Co-skipper Clothilde-Marie Bernard also comes from a racing background, but usually races more inshore – although it turns out she's good at offshore too!" laughs Schiewe.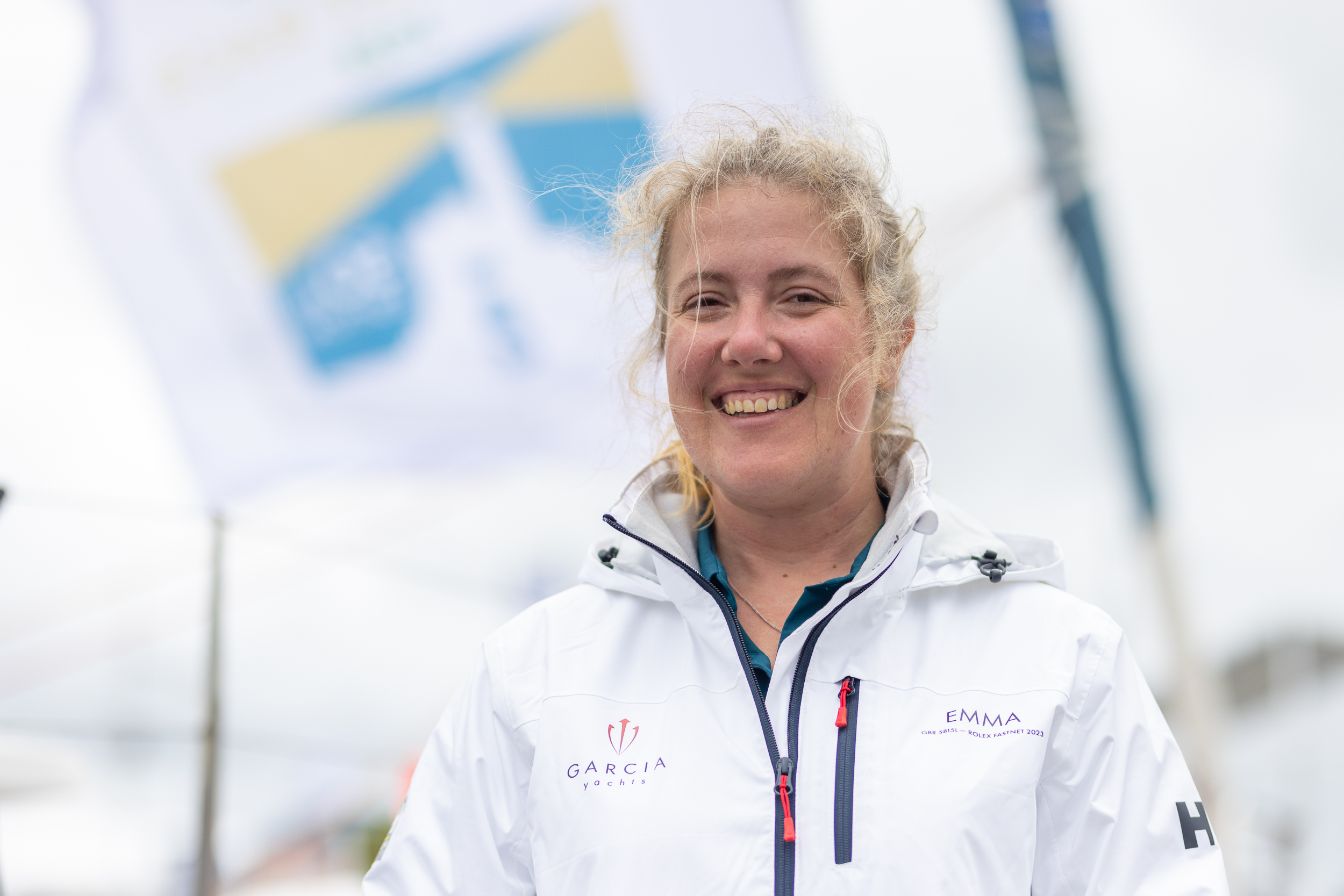 Marie Schiewe talked to Trish Jenkins about her race on board Emma © Arthur Daniel/RORC
Emma is a 'local boat' as she was built by Garcia Yachts, a shipyard in Cherbourg. The aluminium-hulled yacht has a lifting centreboard, "which was very handy during the race," explained Schiewe. Of the race she said:
"It was harder than expected, although we knew it would be having seen videos from the Solent and race two years ago. We hoped it would be less than that, but it turned out it was more difficult. That's alright – we made it. There were also more storms in the race this year that we didn't expect. I think the most tricky part was actually avoiding the number of fishing boats we came across, as there were so many of them."

"We rounded the Fastnet Rock in daylight, but it could as well have been night-time as there was so much rain and fog that we barely saw it at first. Turns out we got caught in a net or lobster pot and that is where the centreboard made it easy to pull it up and get free. At this precise moment the Fastnet Lighthouse and Rock revealed itself. So, we saw it after all!

"There were lot of emotions crossing the line back in Cherbourg-en-Cotentin – relief and pride. Because we are an all-female crew and it's not very often that you see that in the race, we are so proud we didn't give up – we saw so many had retired."
Emma's Crew: Clothilde-Marie Bernard - French, Fiona Muir - Australian, Katherine (Kate) Collins - Canadian, Marie Schiewe - French, Rebecca Hirsch - British, Sylvia Junge - Swiss