While the Rolex Fastnet Race course may be the same for all, the 'experience' of the race can be very different from boat to boat. There are the Ultims and IMOCAs, which blaze around the course within a matter of hours as their crews endure a boneshaker ride in an enclosed cockpit, while the majority take several days to complete the race, in varying degrees of comfort, most often with crew relentlessly perched on the rail.
The classic yachts competing in this year's 50th Rolex Fastnet Race offered a different experience again. Firstly they often have bulwarks which preclude sitting out and, given their substantial displacement, common practices like hiking and sleeping to weather, are overlooked. However a classic on which few performance compromises are made, is Stormvogel.
One of the most famous classic maxis, plywood pioneer Cornelius Brunzeel's groundbreaking 1961 Fastnet Race line honours winner has been moderately modernised for manoeuvres (some powered winches and modern ropes, etc) while maintaining her original hull design, spars and sail plan.
Thanks to the scrupulous care and maintenance carried out on this van der Stadt/Laurent Giles 74-footer on behalf of her 'custodian' of the last 40 years, Italian Ermanno Traverso, Stormvogel is raced as hard today as she was by her original owner 62 years ago. As a result Stormvogel excelled for a second consecutive race: In 2021 she finished 7th in IRC Overall from a field of 269. This year she was 11th among 358 IRC starters and 6th in IRC Zero.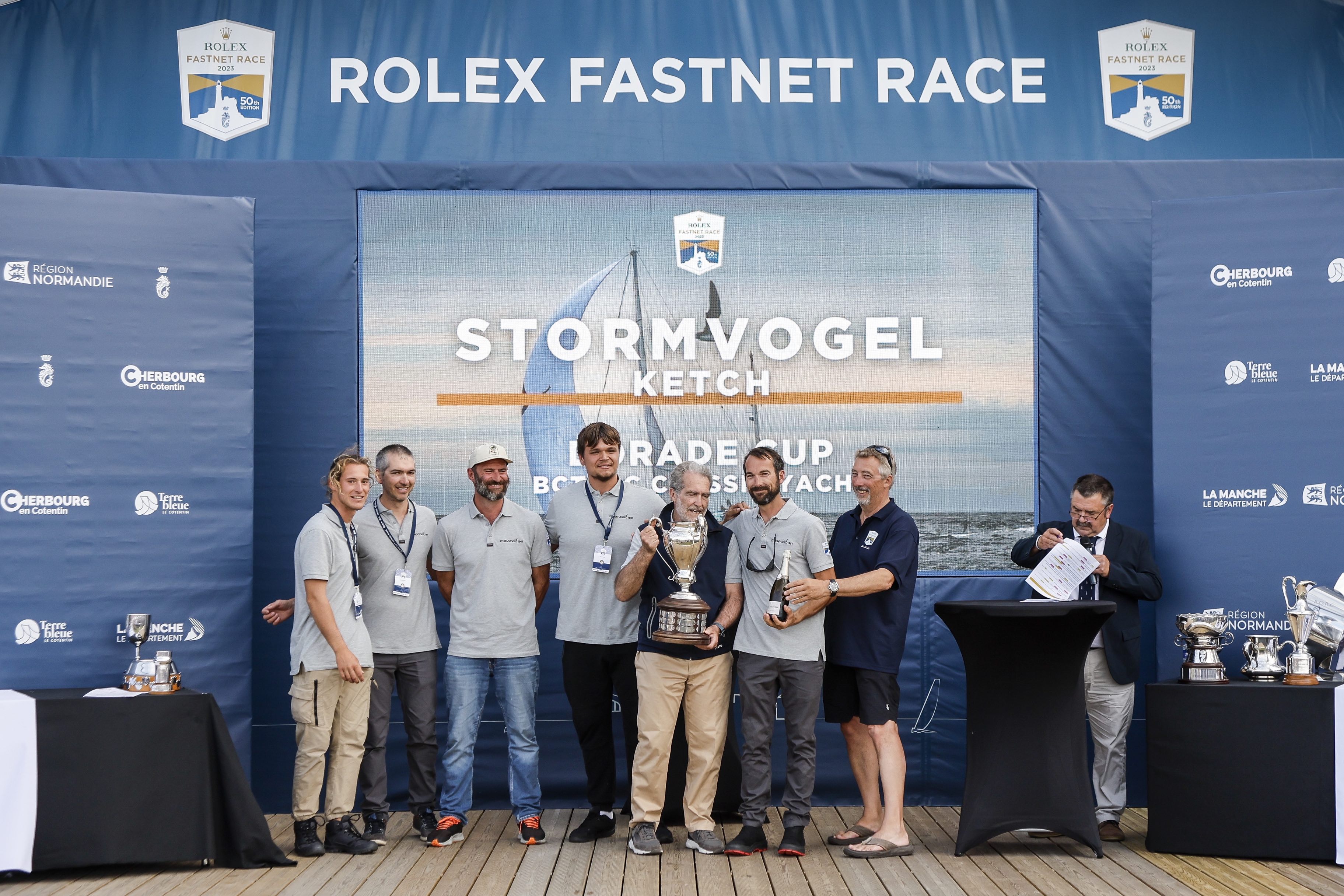 Stormvogel collect their prize for Best Classic at the prize-giving © Paul Wyeth/www.pwpictures.com
At the start of this year's race, Traverso noted that there was slightly less wind than in 2021 and Stormvogel set off with one reef and the No.4 jib, whereas they could have hoisted full main. "But then when to pass the Needles, we went to two reefs and it was really very similar to last year - the same swell, same movement, etc. For Stormvogel it was a serious sea, but we were comfortable and in control." This was helped by her 31.7 tonne displacement, which was ultra-light when she was launched, but more than twice that of a modern day Volvo Open 70.
All was going well overnight until Stormvogel suffered a collision with something solid, but unidentified, in the water. Traverso explains:
"We were taking in a little bit of water on the starboard side. In the morning we entered Lyme Bay and heeled the boat and Ian [Hulleman- skipper] made some temporary repairs just above the waterline."
Stormvogel rounded the Fastnet Rock in daylight and, with breeze, the crew braced themselves as their waterborne museum piece headed off towards Bishop Rock with blistering pace.
"During the first few hours downwind we struck 21.5 knots - that's the top speed I've ever seen, although we heard that they did 22 in the Transpac (in 1967). She was thundering along, but very comfortably under S2." With her flat run aft, Stormvogel is considered the first maxi able to plane. Downwind in breeze typically they use full sails on the main mast, with mizzen staysail and no mizzen.
However all good things must come to an end and as Stormvogel passed south of the Casquets TSS, the wind lightened and she found herself unable to make much progress against the foul tide, which Traverso believes lost her a couple of places.
"I had a very good team this year, but the race was more challenging. What is incredible is that we were racing neck and neck at various time with high performance modern boats."
It is hoped that Stormvogel will return to gain the result she deserves in the next Rolex Fastnet Race that coincides with the centenary of the RORC in 2025.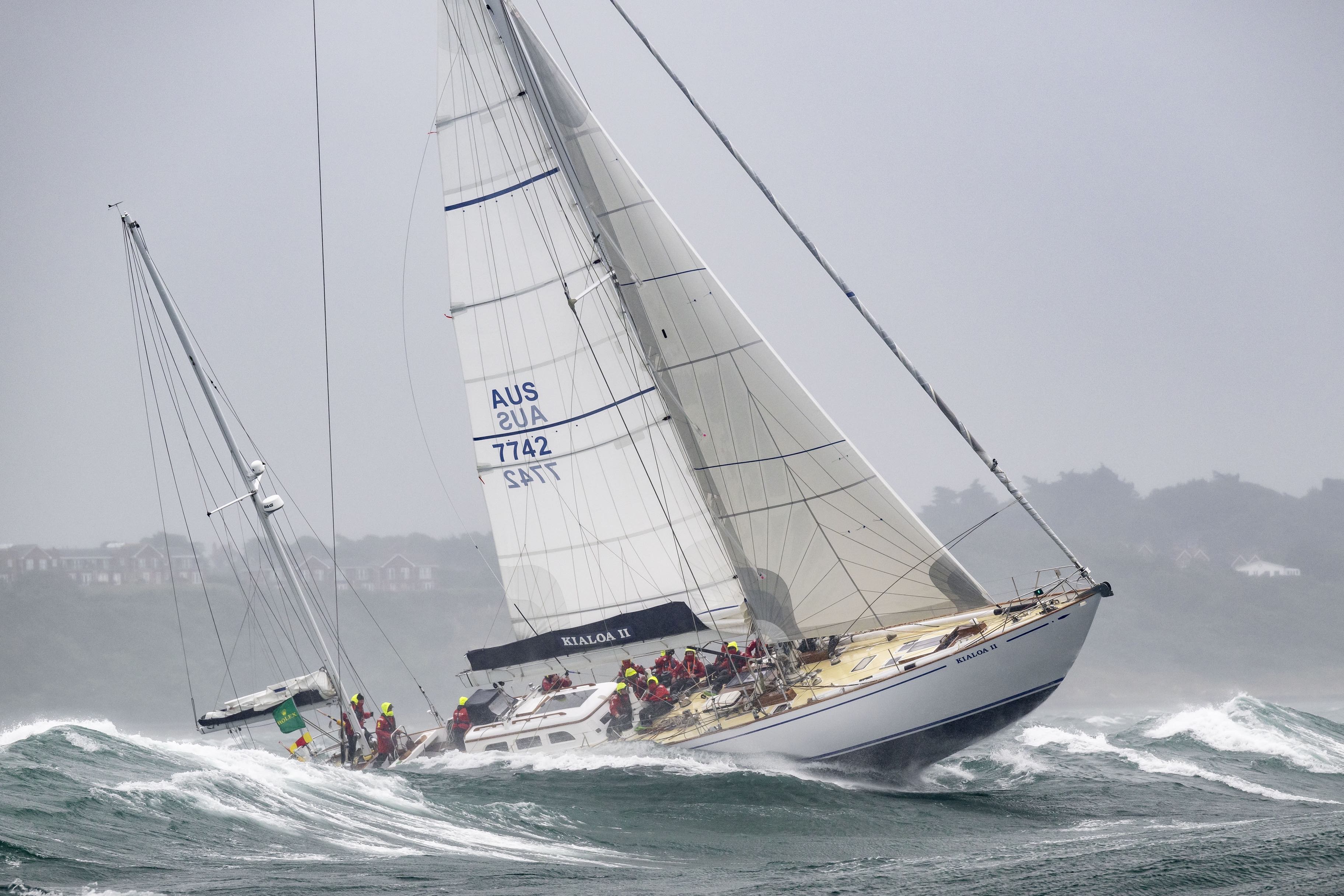 S&S Yawl Kialoa II skippered by Paddy Broughton came from Australia to participate © Paul Wyeth/www.pwpictures.com
Anglo-Aussie brothers Paddy and Keith Broughton bought the classic maxi Kialoa II in 2016 with the aim of following the footsteps of her original owner, the legendary American maxi yacht campaigner Jim Kilroy. Following a substantial refit, they competed in the 2017 Rolex Fastnet Race and then set sail for Australia to compete in that year's Rolex Sydney Hobart. Since then the programme has included the Transpac (another favourite of Kilroy's) before sailing the 1964 vintage 73ft S&S yawl back to the UK for this 50th edition of the race (in which Kilroy achieved line honours with his subsequent Kialoa III in 1975).
Today, while some modifications have been made to the bow layout below, Kilroy would recognise much of his original boat, including her doghouse, nav station, galley and especially her famous gimballed table. This was involved on one of the few moments of drama they experienced during this year's race: Residing on the gimballed table is a Nespresso coffee machine, allowing the crew to 'caffeine up' whatever the time. All was going well until a crew banged into it and, as Paddy tells it: "the coffee machine flew off the gimbal and went straight through the screen of the laptop." As a result all of their routing software went down forcing navigator Lindsay May (veteran of 49 consecutive Rolex Sydney Hobarts) to revert to paper charts and the Shipping Forecast. "The last time we had to do that was probably on our Swan 51 Grandee back in 1996."
As to how racing offshore on a classic like Kialoa II differs from life onboard a modern day race boat, Broughton continues: "It is a lot more comfortable. We eat well. Everyone has a bunk. We don't sleep to windward, because it doesn't make much difference on this. That limits the crew, so we generally go with 17 or 18. We always have a hot meal, then toasted sandwiches at 4am and coffee whenever you need it. Plus there is no rail to sit on: You are still thinking about things to make the boat go fast, but you are not rail meat."
Of this year's race Broughton continues:
"It was a classic Fastnet Race. You had everything: three gales, a becalming and we got our money's worth of sightseeing at the Fastnet Rock - we parked up there, putting paid to our ambitions for doing well. We still came 12th in class, which for a 60-year-old boat is not bad. We were very happy with the result, just a bit unlucky with the weather. If we hadn't parked we would have been famous."
While the 1960s maxis sped around the course in 3 days 22 hours 1 minute 46 seconds (Stormvogel) and 4 days 14 hours 7 minutes 52 seconds (Kialoa II), for the small/older yachts it was a different story.
Amokura and Maluka arrived on Friday night, just missing the prize-giving, with course times of 6 days 1 hour 52 minutes 14 seconds and 6 days 3 hours 40 minutes 43 seconds respectively.
Amokura is a 50ft Bermudan yawl, built by Moodys in 1939 originally for Lord Mountbatten's Aide de Camp, Ernest Harston. Appropriately she is believed to have been the first British yacht to visit Cherbourg after WWII. It took Amokura three attempts to complete the Rolex Fastnet Race which she finally achieved in 2021, remarkable as owner Paul Moxon was then racing his heavyweight classic doublehanded. This time Moxon returned, but sailing six up. His extra crew came with racing experience, including in previous Rolex Fastnet and Sydney-Hobart races.
While the classic maxis took the big upwind conditions in their stride, they were less easy for the generation older Amokura.
"We very much liked it downwind and across the wind, but upwind is very hard," admitted Moxon. "In a choppy sea we don't make the ground we'd like to, but we do get there. We had about six hours where we made no progress. There were a few low spirits but we plugged on.

"When you turn around and head off the wind, the boat really picks up speed and you can survive the big seas and plug on through the waves and make great progress. We missed a lovely strong belt of wind that went through and if we had caught it would have carried us through to Cherbourg and probably saved us 24 hours. For an hour or two after the Rock, it got really very windy and we had it full on. Once you are in those conditions downwind, you fly; the boat really comes into its own."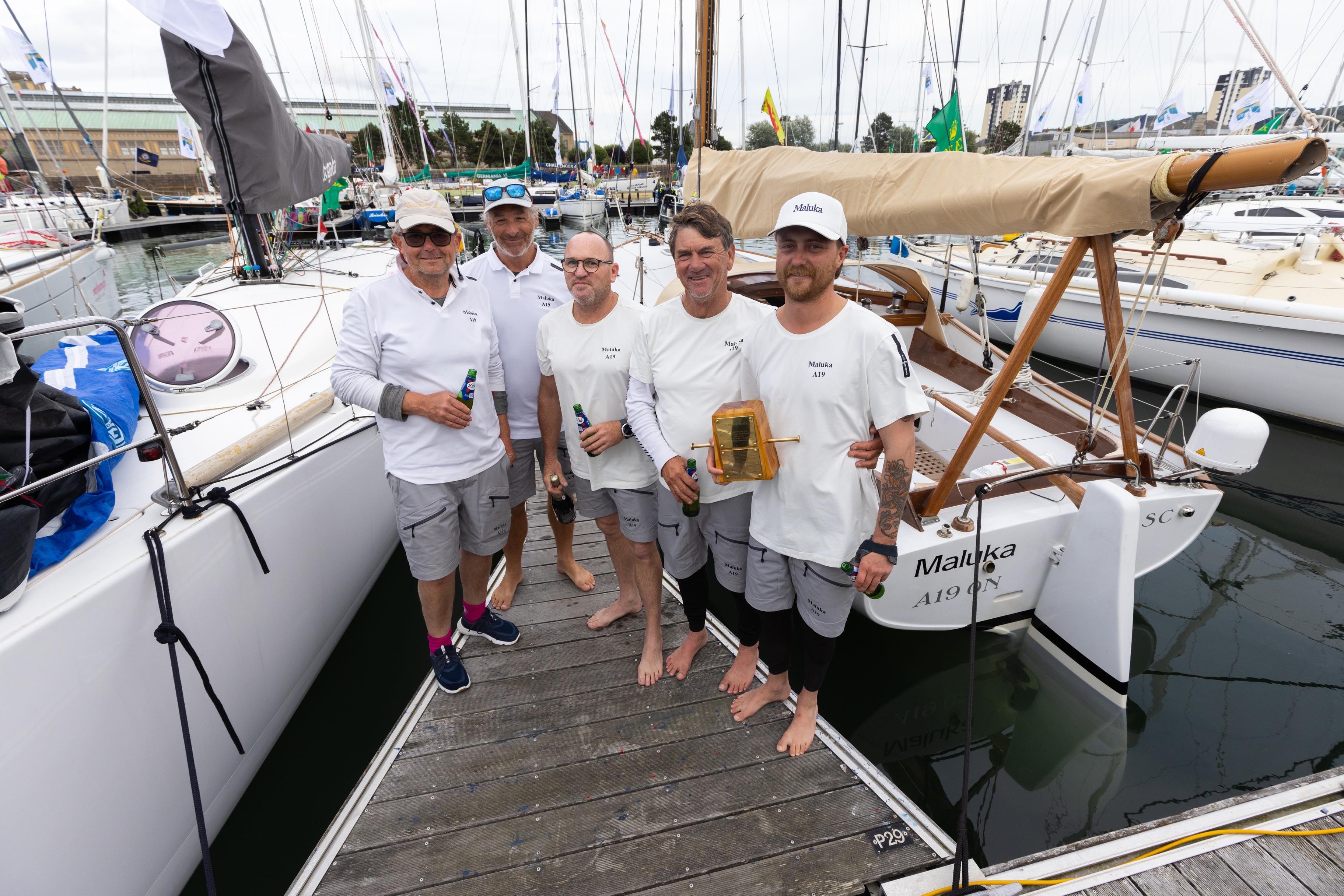 Maluka's crew may have missed the prize-giving but they were awarded their prize, the Iolaire Block for the oldest boat to complete the course, on the dock © Arthur Daniel/RORC
Of the race generally, Moxon added: "It was a pretty tough race: we had two big storms and a big calm for a day. We got through it and survived it. Tough race but a good race. I am certainly interested in doing the Fastnet again. We are proud to just be part of the race."
Another yacht to arrive from Australia specifically for the 50th Rolex Fastnet Race was Maluka. This 9m 1932 vintage gaff-rigged classic belongs to well-known Sydney boatyard owner and yacht racer Sean Langman, himself a veteran of 30+ Hobart races. The origins of the annual Boxing Day 'excuse to not meet the in-laws at Christmas' (as the locals know it) was as a cruise south from Sydney to Tasmania, and Maluka achieved this passage some nine years prior the first Hobart Race. She was restored by Langman in 2006 for the race's 70th edition.
"Last year I was in the UK visiting some friends and was around Cowes and Devon and Cornwall and I thought it would be so nice to cruise here," explained Langman. "We hatched a plan to ship Maluka over to do some cruising as well as the Rolex Fastnet Race. The Fastnet is right up there with the greatest ocean races in the world. I never dreamed of actually doing it before."
Compared to the Hobart race, Langman says of the Fastnet:
"It is far more challenging in that there are so many corners to go round. It is a race that just doesn't stop giving. We had a string of upwind conditions for 16 hours. Then we had champagne sailing. Then we were becalmed. Then we had another front. Then we had to miss the TSSes which, with the current in a little boat, is really hard work. Then we footed for a little bit, got into that sloppy Atlantic swell and then fully parked with people around us anchoring…"
With much of the course in the Southern Ocean and having to cross Bass Strait, there is greater likelihood that competitors will see more extreme conditions in the Hobart race. Certainly Langman has: "We have been in over 70 knots in this boat. I have actually rolled her over in Bass Strait… Fundamentally - you look after her and she looks after you." So the first hours of the race were familiar territory.
Their rounding of the Rock also came good: "We passed it in daylight. It was misty as we approached and we couldn't see it, but then it just burst through! We had a cheeky little Pinot as we sailed around…"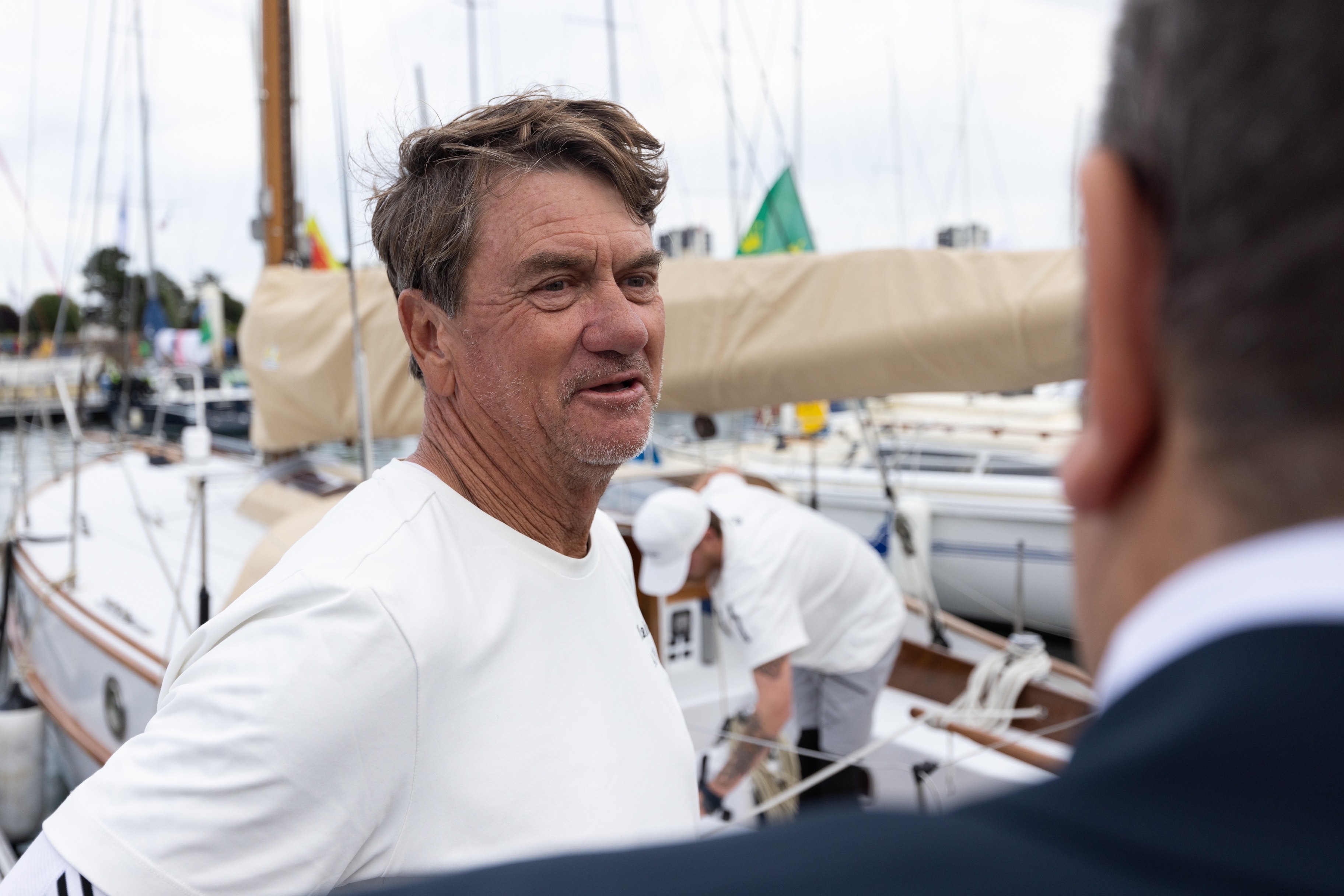 Sean Langman of Maluka, a tough little 9m classic built in 1932 © Arthur Daniel/RORC
Compared to racing modern boats, Maluka is also one where even the Hobart veteran Langman permits creature comforts such as pillows and sleeping to leeward. Compared to European boats of her vintage Maluka has considerable beam, which Langman attributes to her working boat origins. However for average mortals there are aspects of her which would represent a handful. For example her tiller has to be operated by block and tackle: "It has a vertical rudder post and no balance. It doesn't have weather helm it is just difficult to change direction," admits Langman.
It is hoped that the next edition of the Rolex Fastnet Race, coinciding with the 100th anniversary of the Royal Ocean Racing Club will encourage more classics to come and compete.