While crew lists for August's Rolex Fastnet Race are far from finalised, currently just over 10% of those competing in the Royal Ocean Racing Club's biennial voyage from Cowes to Plymouth via the Fastnet Rock will be women. While this is a long way from parity between the sexes, it is at least a step up from races say 20 years ago when the equivalent figure had yet to reach 5%.
To date only one female skipper has won the Rolex Fastnet Race – French solo sailor Catherine Chabaud (with a full crew) on board her IMOCA 60 Whirlpool-Europe 2 in 1999. Dona Bertarelli claimed line honours in both 2013 and 2015 with her partner Yann Guichard on board the 40m maxi trimaran Spindrift 2.
One reason for increased female participation, not just in the Rolex Fastnet Race, but also sailing generally, is thanks to female role models from Tracy Edwards and her high profile Maiden, Royal & Sun Alliance and Maiden II campaigns and, before her, Dame Naomi James and Clare Francis' round the world voyages. Since then there have been the phenomenal, headline grabbing exploits of Ellen MacArthur and the round the world voyages of Dee Caffari. In France there has also been a wealth of accomplished female offshore sailors from the late Florence Arthaud, outright winner of the 2000 Route du Rhum to Isabelle Autissier, and an exponentially large group of contemporary sailors benefitting from their ground work. There are similar, albeit fewer, examples across the globe.
While role models provide the inspiration and the motivation for women, thereby creating the demand, there still needs to be opportunities to go sailing. Fortunately these are increasing, albeit too slowly, for those with all levels of experience.
For first timers and newbies, there are more companies offering the chance to buy a berth on a boat doing the Rolex Fastnet Race as well as the required qualifying races. They offer essential training while those expecting to make a longer term commitment to the sport can work their way up the syllabus of qualifications available from the RYA from Day Skipper up to Ocean Yachtmaster.
For women looking to get into sailing professionally the path remains hard, but again more opportunities are gradually becoming available when before they were close to being non-existent. Women's sailing received a huge shot in the arm when a rule change for the last Volvo Ocean Race made it highly beneficial for teams to take at least two female sailors. Introducing such quotas or incentivising teams to take women or young sailors is something which is being slowly adopted elsewhere in competitive sailing. In last year's IRC European Championship for example the RORC permitted teams with two 25 year olds or two females or one of each to sail with one extra crew. The RORC also has an Under 35 crew competing in the Rolex Fastnet Race on board Tom Kneen's JPK 11.80 Sunrise, which includes two female crew.
Below we publish the case studies and views of six female sailors. They range from the top pros down to first timers:
Sam Davies - two time Vendee Globe sailor and former skipper of the all-female Team SCA in the Volvo Ocean Race.
Hannah Diamond – former Olympic campaigner and Volvo Ocean Race sailor, now embarking on an Olympic campaign for the new mixed two handed offshore class for Paris 2024.
Laura Dillon – top Irish amateur female offshore racer, best known recently as the helm on Harry Heijst's S&S 41 Winsome, who will be competing in the Fastnet four up on a Figaro Beneteau 3.
Flic Gabbay – a businesswomen who came late to sailing, who will set off on her sixth Rolex Fastnet Race this year competing in IRC Two Handed.
Catherine Keohane – accomplished cruiser and newbie racer, setting out on her first Rolex Fastnet Race on a chartered boat with the aiming of skippering her own campaign next time.
Nannette Netal – sailor from San Diego, USA who has bought a berth on the Farr 60 Venomous and is competing in her first Rolex Fastnet Race.
Sam Davies, 44 (GBR) IMOCA 60 Initiative Coeurs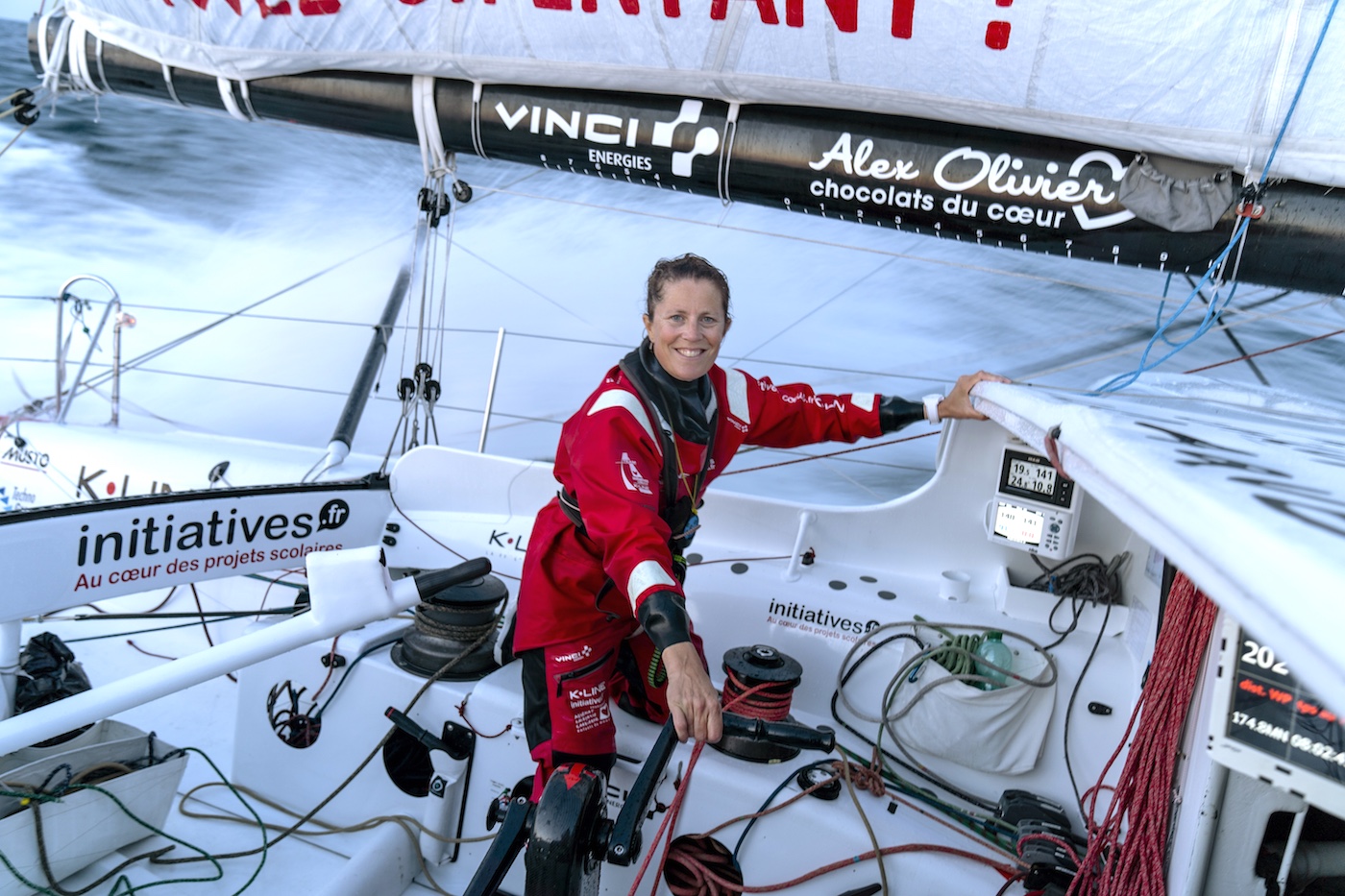 One of the most high profile champions of women's sailing is Sam Davies, who is back for a second Rolex Fastnet Race (although she has done many more) aboard her IMOCA 60, newly fitted with enormous lifting foils. This she will race doublehanded with Paul Meilhat, winner of the IMOCA 60 class in the last Route du Rhum. Aside from two participations in the Vendée Globe, Davies famously skippered Team SCA, the last all-female crew to compete in the Volvo Ocean Race. This latter campaign subsequently spawned the Magenta Project, which has set itself up to be the worldwide organisation enabling women to have equal access and opportunities in the sport of sailing.
Davies is encouraged by the women's participation in this year's Rolex Fastnet Race but says there is still a long way to go. However she is against requiring boats in the Rolex Fastnet Race to sail with a quota of women, as they did for example in the last Volvo Ocean Race. "It shouldn't be forced because the Fastnet isn't any old race and you need to be capable and there is no point in just taking more women for the sake of taking them. It is important that the women who do it are team players in each crew, that they are there on the crew to do their job and do it well." She believes that if this happens then women's participation will continue to grow steadily.
In solo long distance offshore racing, women have historically achieved more success on the same playing field as men compared to any other discipline within sailing. Davies maintains that this is because it requires more mental strength and endurance than muscles. "If you do a short 24 hour race, it is harder to stay competitive because of all the manoeuvres, but the further you go offshore and longer the race, and the more it is about pushing your body to its limits, the more equal it becomes. Your manoeuvres take longer, but it is about your mental strength and doing things at the right time and not getting so tired that your brain stops working. If you are good at the endurance side, you can get your priorities right and you can make big gains. Our IMOCA 60 boats are very violent so it is about being able to sail them at 100% while managing your sleep and nutrition while going really fast…"
While oddly there were no female skippers in the last Vendée Globe, there could be as many as seven of the 30 entries in the next race in 2020. Of these three will be British - Davies plus Miranda Merron on Campagne de France and Pip Hare, all of whom are competing in the Rolex Fastnet Race in the IMOCA 60 class along with Alexia Barrier with Ireland's Joan Mulloy on board4myplanet; Clarisse Crémer, who is skippering Banque Populaire with former Vendee Globe winner Armel le Cleac'h and Isabelle Joschke on MACSF.
Davies recommends that the best way into this elite end of the sport is the same way as she did – ie learning the ropes in the Mini and Figaro classes, especially as both fleets are now largely foil born.
Hannah Diamond (GBR), 29, Fastrak XII, Jeanneau Sun Fast 3300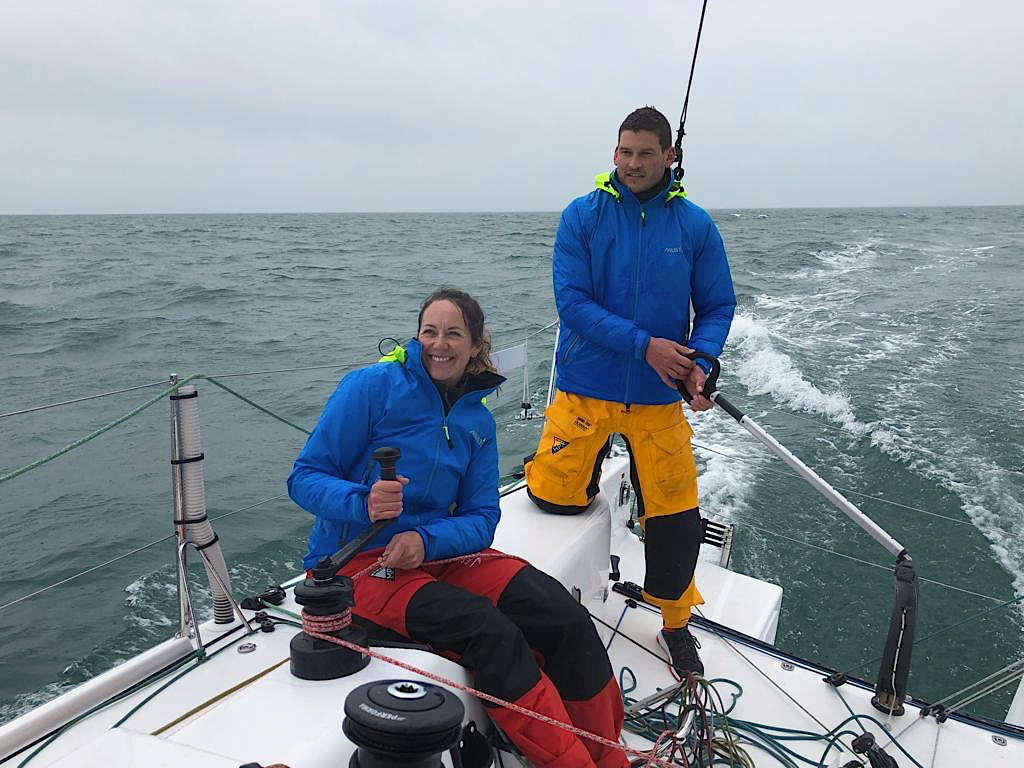 One of the joys of being a former Volvo Ocean Race competitor is that you get to go on some of the best new rides and in this year's Rolex Fastnet Race they won't come much newer than Fastrak XII, the first of Jeanneau Sun Fast 3300s in the UK. This has been lent by Nigel Colley of UK Jeanneau importer, Sea Ventures, to two sailors from the last Volvo Ocean Race Hannah Diamond (ex-Vestas 11th Hour Racing) and Henry Bomby, who sailed with Dee Caffari on Turn the Tide on Plastic.
While this is a good opportunity to put the new model through its paces, the longer term aim of Diamond and Bomby's partnership is mounting a campaign for the Paris 2024 Olympic Games in the new 'Mixed Two Person Offshore Keelboat' class.
The latest Jeanneau could be a contender. "It fits the long list of criteria and I know that Jeanneau are keen to put it forwards for selection," says Diamond. "It has all the things you'd think you would need to be a decent boat. Plus Jeanneau is set up to produce a fleet of one design boats."
The new 3300 fits between Jeanneau's 3200 and 3600 models and is designed by Daniel Andrieu and Guillaume Verdier to be sailed doublehanded with features like optional twin 200lt water ballast tanks and twin rudders as standard, plus IRC-friendly features such as a fin keel.
"We haven't had to change it much for the Fastnet," continues Diamond. "Everything is led back to the cockpit nicely. It has water ballast which makes a massive difference with only two of you on board. There are lots of different sail configurations and it is very manageable with just two people."
Looking at the 10% figure for women's participation in the Rolex Fastnet Race, Diamond says she expected the figure to be higher and she believes it is in other areas of yacht racing, such as inshore racing on the Solent. "Maybe it will take a few more years to filter through to the offshore."
Having come from the mixed sailing environment of the Volvo Ocean Race, Diamond says she believes that the difference between the sexes is less relevant than the physical size of the individuals involved and their skill sets. "There are so many people who shouldn't be limited by their gender because they may be physically strong or have technical/specialist knowledge that perhaps isn't typical for their gender – so it goes both ways."
However Diamond recognises that she became involved in the sport at a time when opportunities have been opening up for women such as the mixed Nacra 17 catamaran she campaigned for Rio 2016 and the requirement for every boat to carry female crew in the last Volvo Ocean Race. However she points out that in the latter case it is not just women who have benefitted, but young offshore sailors too: "I have been fortunate with the timing, but I hope I have appreciated the opportunity enough to keep going forwards on my own merit.
"In the Volvo Ocean Race I got to sail thousands of miles with people I would never have otherwise have had the opportunity to sail with, people who I can now call my friends because they were my team mates - that is much bigger in terms of moving forwards with opportunities. Without the Volvo Ocean Race you never would have had the opportunity to sail alongside them and to gain their respect.
"But it is not easy for anyone. It is a privilege to be involved in professional sailing at a top level, regardless of whether you are male or female. It is easy to forget that we are incredibly fortunate that what we grew up doing as a hobby we have been able to turn into our profession."
Laura Dillon (IRL), 40, Figaro Beneteau 3, Raw
While she has been best known in RORC circles in recent years for helming Harry J. Heijst's venerable S&S 41 Winsome, Laura Dillon is jumping into the fast lane for this year's Rolex Fastnet Race and will be one of the four crew on board Irishman Conor Fogerty's Figaro Beneteau 3. Raw will be one of three examples of the Figaro class' newly introduced, partly foil-born 35 footer competing, including Will Harris' Hive Energy.
In addition to sitting on the Royal Ocean Racing Club's Main Committee, Dillon is on the steering committee alongside Andrew Pindar and Dee Caffari, for the World Sailing Trust which is carrying out a 'strategic review of women in sailing'. Over 15 year ago, Dillon worked on a 'strategic review of the RYA' when she was strategy consultant at McKinsey & Company, and hopes to apply similar methodology to this strategy review.
Dillon thought that women's participation in fully crewed offshore racing would be more like 15-20% rather than 10%, but acknowledges there has been a considerable step-up over the generations. "When I did the Fastnet 14 years ago there were two girls on our boat out of 10 crew, but if I think back to when my father did all the ISORA races - there was hardly any women on any of the boats. But things are improving and there are more opportunities. We are on a good trajectory but a lot more needs to be done to increase participation in general across youth, female and overall participation.
"Clearly a big thing is getting more media coverage for very successful women like Sam Davies and Dee Caffari because successful role model shows people that they can go and do that."
Getting to go offshore also works differently for different people. Dillon was partly born into it but also was a very competitive sailor from a young age, initially in dinghies, then a 1720 before being asked to drive a Beneteau First 40.7 and 44.7 in both the Round Ireland and Rolex Fastnet Races. For many, progression comes more through starting at the bow and working backwards.
Interestingly Dillon makes the point that rather than doggedly gunning for parity in participation between the sexes perhaps a natural point of equilibrium needs to be reached. She draws parallels between her sailing and business lives – where in the latter she has always seemed to operate in largely male-dominated fields – as an engineer, running her own company and currently in London in private equity. "None of these industries are going to get to 50-50 male-female in the short term but we can set more realistic targets. Maybe it should be 30-35% women. Maybe in offshore racing it will come down to self-selection, because perhaps it isn't the comfiest thing to do, especially on a Figaro 3!"
But, she advises it will take a generation to increase the stats substantially. As more women enter the upper echelons of business, she believes this too will create more affluence among them and more boat-buying potential.
Dillon believes in quotas both in the board room and on boats, citing the example of the Volvo Ocean Race and how it has created a new pool of highly experienced offshore sailors that otherwise wouldn't have existed. But she also acknowledges that not all women feel the same way. "Recently we put three RORC teams in for the Women's Open Keelboat Championship and one of the responses I received from a lady was that 'this is highly exclusive. I totally disagree with women-only events. Please never include me in this again'. So some women are very against women-only events."
In past Rolex Fastnet Races there have been plenty of all-female crews. And this year is no exception with a first from Germany in the DK46 Tutima, skippered by Kirsten Harmstorf-Schönwitz, who has been leading all-female teams for the last 25 years and on board Tutima for the last 10, predominantly inshore in the ORC fleet. Dillon notes that one advantage of all-female teams is that it provides the opportunity for women to move around the boat. "They can helm when they might not get the opportunity to do so otherwise. It is a great thing to give people the opportunity to step up into roles they might not otherwise get to do."
Wearing her RORC hat, Dillon says the club is being very supportive of women in sailing – she has donated a trophy for mixed crews while former Commodore Michael Boyd donated one for mixed Two-Handed crew. However she advises that while growing women's sailing is a big issue, of larger consequence is ensuring that participation across the sport generally continues to increase. |
Felicity 'Flic' Gabbay (soon to be Clitherow, GBR), 67, Elan 380 Elixir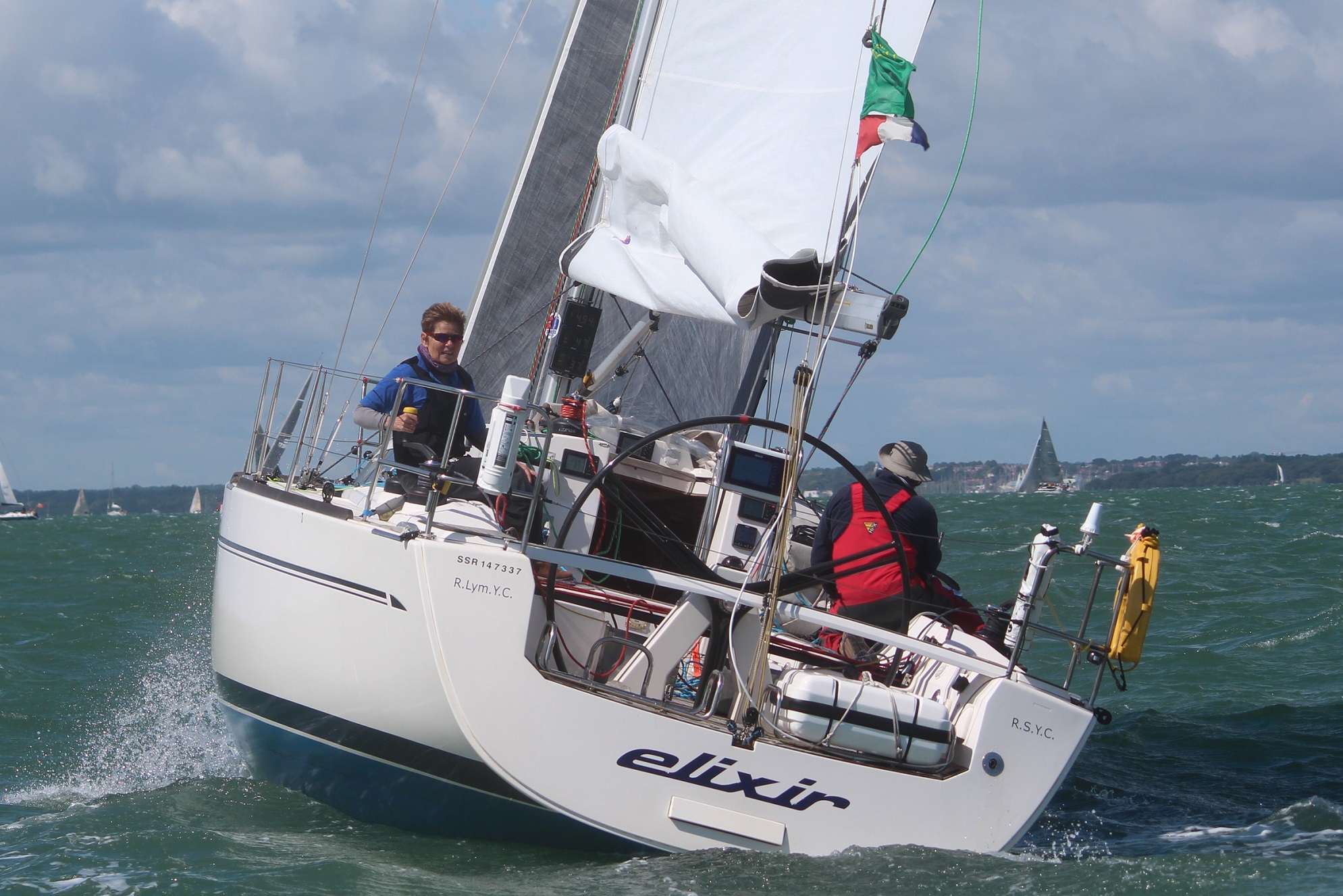 'Flic' Gabbay came to yacht racing only in her 50s but has since sailed the Rolex Fastnet Race five times, on three occasions on the Elan 380 she has owned for the last 11 years. Professionally she is Managing Partner in the global drug development partnership Transcrip Partners.
"I bought Elixir specifically just to do three races – the two handed Round Britain and Ireland, the Azores and Back and the Fastnet. But I have gone on racing her!" she says.
Of the Rolex Fastnet Races she has competed on her own boats, one was fully crewed, the other two doublehanded. "They both have their challenges. I think two handed is more challenging in terms of stamina obviously, but less challenging in terms of managing a crew. The reason I raced her in one Fastnet fully crewed, with a scratch crew, some of whom had never raced offshore before, was to prove to myself that I was capable of being an effective and fully responsible, fully crewed skipper."
However today two handed is her preference, racing with her fiancé Bob Clitherow. They are to get married in November as she maintains that they wished to get the Rolex Fastnet Race squared away beforehand. Apparently the race isn't some form of pre-marital test – they raced the last one together too.
Compared to the AZAB and the two handed Round Britain and Ireland Race, the Rolex Fastnet Race is very much shorter. "It is a very different kind of race," says Gabbay. "First off – there is a lot of upwind which doesn't suit Elixir because of her sail configuration we have. And it is questionable whether good old fashioned cruisers racers can compete with the more modern boats. Saying that, it is an enjoyable race."
As to women's participation in offshore racing, Gabbay firmly believes there should be more. "They should be encouraged. We also need to make sure that people understand that as you get older it doesn't stop you being able to compete. In the AZAB and RB&IR, I was co-skipper two handed with relatively little experience and came fourth overall in both races. I think there are few sports where you can compete at that level as an older woman. I would like people to know that. It is really important and I don't think there is anything particularly brave or mad about me!"
Catherine Keohane (GBR), 53, First 40 Sailplane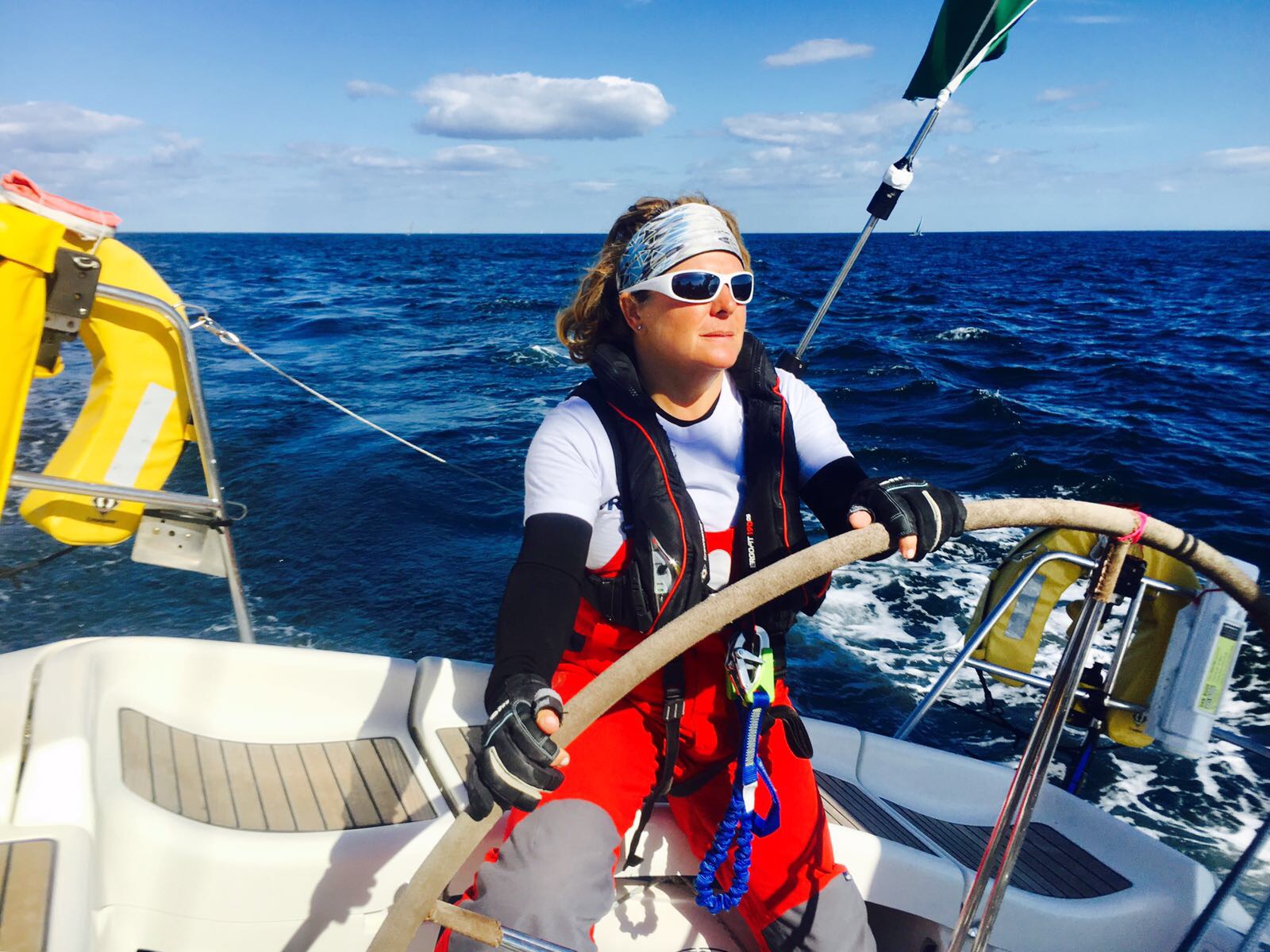 While Lymington-based retired winemaker Catherine Keohane has sailed since she was about eight-years old and has since cruised in many parts of the world, covering some 20,000 miles, she only began racing keelboats three years ago. "I started with round the cans doing Hamble Winter Series and then signed up to the Fastnet and got hooked on offshore racing." However she has competed in most of the international 600 mile offshore races and in the last six months this has included the Rolex Middle Sea Race and the RORC Caribbean 600 (a race she and her husband Patrick intend to return to next year).
Much of her sailing recently has been done with Performance Yacht Racing, honing her racing skills with their UK race squad program which she undertook with her husband and a friend, Katharina Morsch. In terms of qualifications she has currently got her Coastal Skipper and has done much of the Yachtmaster syllabus, but not got the 'piece of paper' yet.
She also raced with Annie O'Sullivan's all-female crew Girls for Sail as she says "my previous experience with mixed crews wasn't very pleasant and that put me off for a while." However now she has had that experience, she maintains she wouldn't do it again. "I come from a strong team sports background. With an all-female crew, as with an all-male crew, you have different personalities and characters. You have to drive the team forward using your skill sets and if you don't have that on a boat, it can get frustrating and it can prove difficult and you can create scenarios which makes it unsafe. You need an even balance. We had a good girls team with an excellent skipper in Sophie O'Neill (who was the Professional First Mate on Qingdao), but I prefer mixed sailing."
For this year's Rolex Fastnet Race the Keohanes have chartered Robert Bottomley's First 40 Sailplane and put the crew together to "see how it works. We have had a few ups and downs." Their team is completing three qualifiers before the main event and the intention is to get as many of the race crew as possible to complete in these. "We are lucky that my husband and I have sailed with most of the crew beforehand and around 70% are very experienced offshore racers. In the first race we did as a crew we came fifth in our class and were 26th overall, an excellent result for us."
She has employed the coaching skills of Nigel King with the aim of her skippering a boat in the 2021 Rolex Fastnet Race. King is helping to teach her what is required. She explains: "It is not just about being a good sailor. You need to act as a skipper when the ** hits the fan. You need to be there, leading by example, pushing your team without pushing them to the limit (ie when it can become dangerous). Nigel is a brilliant coach. We have worked out what needs to be done."
For the Fastnet race itself they are looking at both IRC 2 and the Performance 40. "If we can get in the top one third of our class, I would be very happy with our achievement," she says.
In terms of women's sailing, her main inspiration has been Dee Caffari. "She really paved the way and others before and after her. Sailing is one of the sports where both men and women can compete equally." However she is disappointed not to see another female skipper in the next Clipper Round the World Race following Wendy Tuck's victory in last year's race and Nikki Henderson's second placing. "I'd like to have done the Clipper circumnavigation if I was younger. It would be nice to see more young women putting themselves forward as skipper or Professional First Mate for that."
Nannette Netal (USA), Farr 60 Venomous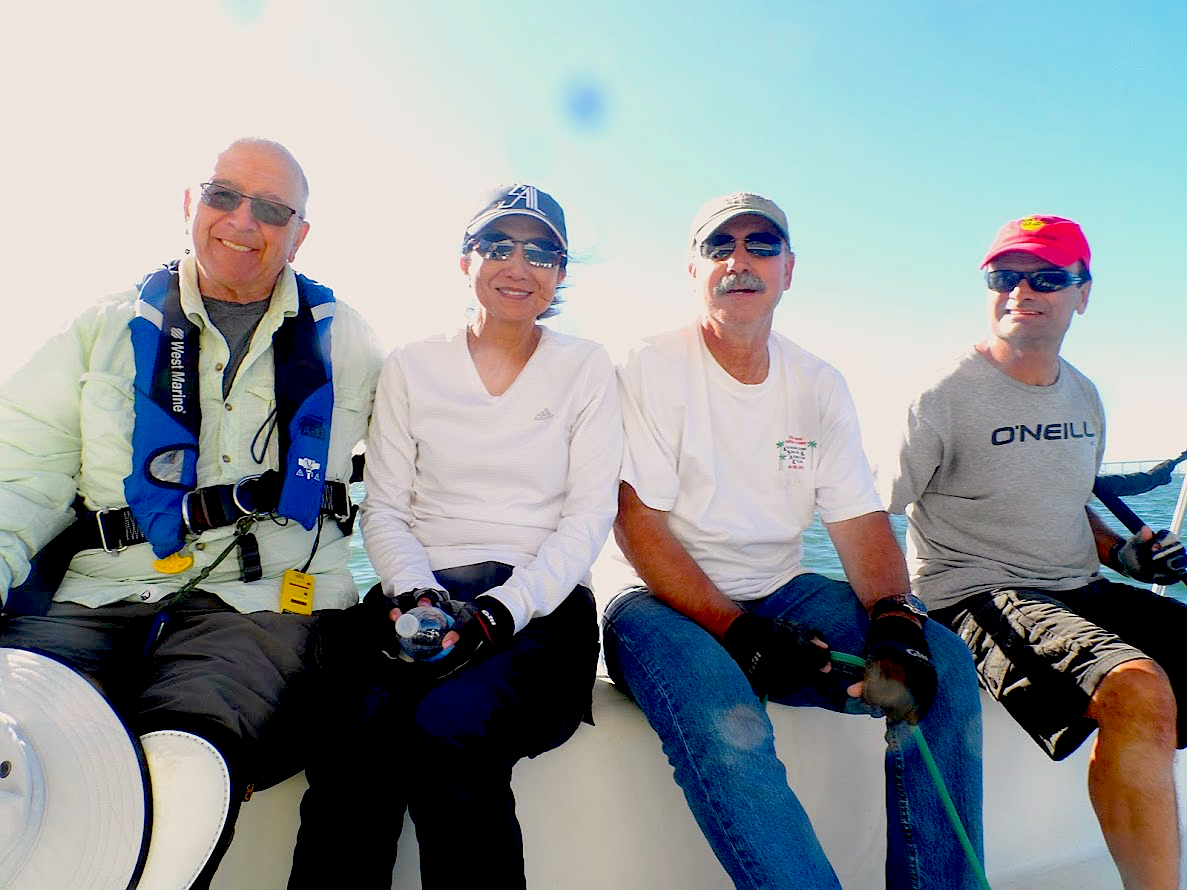 Coming from the west coast of the USA to compete in the Rolex Fastnet Race as a first timer requires profound commitment but nonetheless this is how San Diego-based software engineering manager, Nannette Netal has chosen to spend her summer, paying her way as part of the crew of the Farr 60 Venomous, a campaign for the race put together by Lucy Jackson's company LV Yachting in collaboration with Windward Sailing.
Netal began sailing in her 20s while she was living in Orange County, CA and says she fell in love with the sport instantly. "When I moved to San Diego in 2000, I started racing. The racing community is quite active there. For offshore racing I have done the annual 125 mile Newport-Ensenada race about a dozen times and I have done a couple of races in the Caribbean. I enjoy flying a spinnaker the most - it feels much like flying kites as a kid except what you are standing on moves with you." In San Diego she owns Tigress, a Flying Tiger 7.5M.
This is her first Rolex Fastnet Race, but she says that she first heard about the race back in her 20s. "It just stuck with me for some reason. I will be on sabbatical from mid-July to August and I wanted to do a major race, either the Transpac or Fastnet, and I chose Fastnet."
There is the no small matter of her qualifying and to do this she is competing in the St Malo race on board Venomous. "However I am not able to do another 150 mile race with the crew before that because it didn't line up with my sabbatical time frame."
Following the Rolex Fastnet Race she will compete at Cowes Week. "Sailing makes me happy. I even daydream about designing sails and hulls. My father graduated from the U.S. Naval Academy. Maybe the fascination with boats is genetic?" she muses. "I am currently working on an Artificial Intelligence project and I think it would be a lot of fun one day if I can do an AI project in the nautical field."