While IMOCA 60s are renowned for racing non-stop around the world in the Vendée Globe, the doublehanded crews of these extraordinary space-age craft appreciate the Rolex Fastnet Race as it offers most conditions of a round the world race within just a few days.
With the IMOCA 60s going through a revolution - following the introduction of foils, one design keels and masts, and being chosen as the grand prix boat of The Ocean Race, there has been huge interest in how they are performing, especially as some are new builds and others have been upgraded to differing degrees.
As usual, all the IMOCA 60s were being sailed doublehanded in preparation for this autumn's Transat Jacques Vabre.
Class act of this year's Rolex Fastnet Race was Solitaire du Figaro winner Jérémie Beyou and Christopher Pratt on the new generation VPLP design Charal.
Twenty IMOCA 60s set sail in the Royal Ocean Racing Club's biennial Rolex Fastnet Race and, as forecast, it was the unusual and near impossible-to-predict transition on the first evening between southeasterly gradient to southwesterly pre-frontal breeze that would prove the race's 'defining moment'.
Out of the Solent, PRB, sailed by Nicolas Lunven and her new skipper Kevin Escoffier, led, with Clarisse Cremer and Vendée Globe winner Armel le Cleac'h on board Banque Populaire and Charal both to leeward. However here Charal demonstrated the power of her foils, forging ahead past the north of the Casquets traffic separation scheme (TSS) with Louis Burton and Davy Beaudart aboard Bureau Vallée leading the southerly group.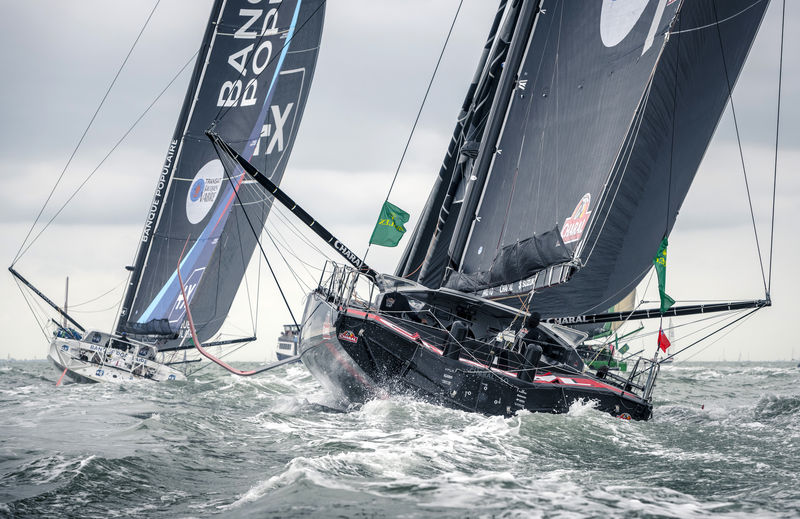 Jeremie Beyou's Charal chasing down Banque Populaire at the start of the Rolex Fastnet Race © Kurt Arrigo/Rolex
Alongside the top IRC Zero boats, like Rambler 88, Wizard and Sorcha, they headed southwest out into the middle of the channel… only for the wind to disappear almost completely and chaos to rein. As Sam Davies, sailing Initiatives Coeur with Route du Rhum winner Paul Meilhat, described it:
"We went backwards for a while. I think we tried to draw a heart…because Initiatives Coeur is all about saving kids with heart problems. It was frustrating."
Meanwhile British IMOCA 60 newbie Pip Hare and the fastest man on the water, Australian Paul Larsen, were trickling along in breeze to the north on the shortest course. Ultimately they enjoyed several blissful hours of fame as their ancient 20 year old boat led the entire IMOCA 60 fleet past the Lizard.
Beyou observed: "It was strange because I think they had wind from the north, which they should never have had! That was a good call by them."
Sébastien Simon and Vincent Riou on the new Juan K-designed Arkea Paprec were first of southerly group to notice the north paying, gybing to get a piece of it.
Hare and Larsen were eventually overtaken at the Scilly Isles, when Charal once again regained the lead ahead of Banque Populaire.
Outbound to the Fastnet Rock, Charal extended her lead to 15 miles. It was also lively, said Beyou:
"It was very difficult because the wind was stronger than expected. We had 35 knots when I was expecting 25! It was wild reaching and the sea was rough."
On port tack, the wind was also veering. This left Charal 10 miles further east than they'd hoped, forcing them to short tack west (no mean feat just two up) along the top of the Fastnet TSS and the Irish coast to reach the Fastnet Rock. This they finally rounded after an elapsed of 1 day 8 hours 52 mintues 38 seconds (outside of Marc Guillemot and Safran's record time of 1 day 6 hours 36 minutes).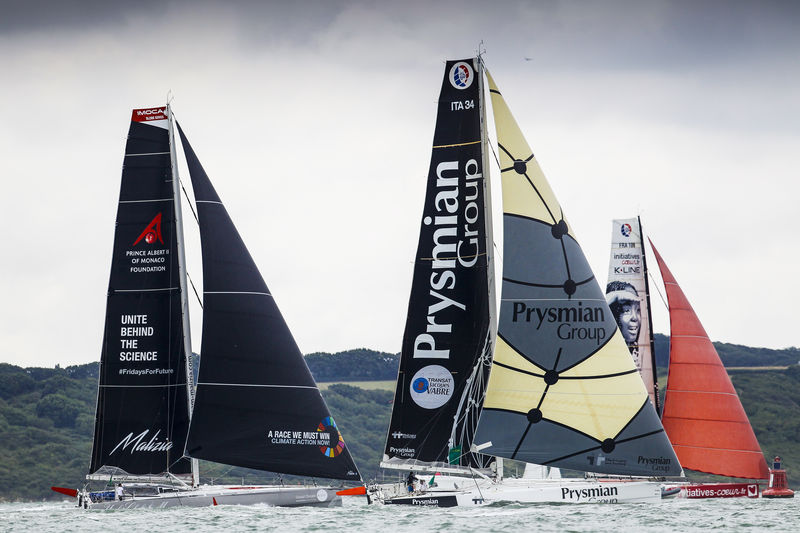 Giancarlo Pedote's Prysmian Group, Sam Davies and Paul Meilhat's Initiatives Couer and Boris Herrmann's Malizia - Yacht Club de Monaco cruise past the shoreline at the start of the Rolex Fastnet Race © Paul Wyeth/www.pwpictures.com
Rounding some 20 minutes later were Vendée Globe veterans Yannick Bestaven and Roland Jourdain on Maître CoQ (ironically under whose colours Beyou sailed the last Vendée Globe) with Initiatives Coeurs another 20 minutes behind.
On the run back to the Scilly Isles, Maître CoQ drew level with Charal. This was due their having to make some laborious sail changes, reported Beyou. "We were broad reaching at 120° TWA under full main and J2 after the Fastnet TSS. Then we changed to the A3, which was the manoeuvre where we lost a lot." During this period Charal hit her top speed of the race – 33-34 knots.
Charal passed Bishop Rock to the west of the Scilly Isles at 0630 this morning while behind a four way fight was developing between Banque Populaire, Maître CoQ and Initiatives Coeurs and Bureau Vallée 2.
Through judicious covering, Charal kept herself between those chasing and the Plymouth breakwater finish line where she arrived at 14:02:28 BST in an elapsed time of 2 days 1 hour 32 minutes 28 seconds (outside of the PRB's 2011 record of 1 day 23 hours 21 minutes 27 seconds). Impressively this was only around 1.5 hours more than Peter Harrison's Maxi 72 Sorcha, being sailed with a large and talented army of crew. As Beyou observed: "They were gybing a bit better than us…"
Overall Beyou said of this year's race: "It was nice – a tough one because every time we were leading, people kept coming back into us. Anyway, we were first which is a good accomplishment for the team, because in the last two races we've had to stop. It has been good to see the boat perform in different conditions – upwind, downwind, light wind, strong wind."
It was also a good opportunity to learn about their giant foils. As Christopher Pratt noted: "Even if you changed something tiny, it is not a gain of 0.2 knots, it is a gain (or a loss) of 2 knots…"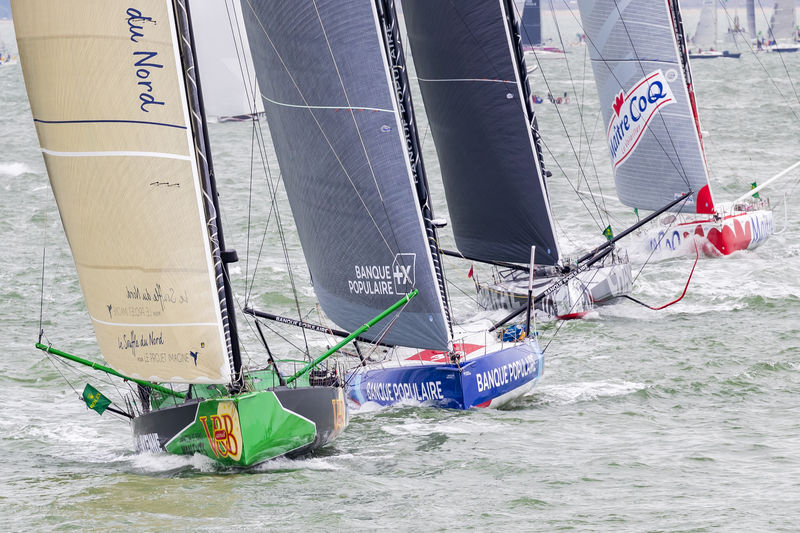 V and B, Banque Populaire, Charal and Maitre Coq - the distinctive IMOCA 60 silhouettes plough through the Solent at the start of the Rolex Fastnet Race © Carlo Borlenghi/Rolex
More delighted than Beyou was Kevin Escoffier and Solitaire du Figaro winner Nicolas Lunven on board PRB, who finished second. This season Escoffier, who was in Dongfeng Sailing Team's Volvo Ocean Race-winning crew, has been bequeathed the IMOCA 60 sponsorship of Vendée-based house cladding company PRB. Second place came despite being on a boat with a 2010 vintage hull, albeit fitted with Juan K-designed foils for last year's Route de Rhum.
"We had a good start and were leading at the Needles," recounted Escoffier. "But then we followed the forecast too much because conditions were definitely not what were forecast. We should have gone directly towards the Scillies earlier rather than hunting the new wind. But then we were quite fast reaching to the Fastnet."
During the race Escoffier said they had done 32 knots and sometimes 30 constantly. "That was a bit too fast but it was good to practice on the boat and I am very happy to have done so well on my first race as skipper of PRB."
The Rolex Fastnet Race was good for its female skippers with Clarisse Cremer on Banque Populaire third and Sam Davies on Initiatives Coeur fifth, behind Bureau Vallée 2. At the time of writing Pip Hare and Paul Larsen were lying in 14th and Miranda Merron and Halvard Mabire 17th on Campagne de France.
"I think we deserved more than a fifth place," said Sam Davies. "There were a couple of mistakes we could have avoided, but it was such fun to send it across the Celtic Sea and back and really try out the boat in conditions that were tough and rough, but not too tough and rough that you had to slow down. It was cool seeing 'who hoons the fastest'!"
Like Escoffier, Davies added it was particularly satisfying to see that her boat, which has been fitted with enormous foils over the winter, can now stay up with the 2016 generation foiling boats.
Brit and skipper of Initiatives Coeur alongside Paul Meilhat, Sam Davies fields questions on the dock at the finish of the Rolex Fastnet Race © Paul Wyeth/www.pwpictures.com
Their 'mistakes' were a bow compartment flood when one of the foil hatches blew off. "There was a water alarm going off, but we knew we'd soon be in the lee at the Fastnet Rock and would slow down. But when I went forward, I got a nasty surprise because the water was up to my thighs! That required a lot of pumping!"
They also got something caught round their keel and were forced to back down to remove it. "When you are doing 25 knots, you lose about five miles just doing that."
Ashore Davies was swaying and just keeping her eyes open. "I'm very tired," Davies concluded. "But that is normal at the end of the Rolex Fastnet Race. It's been like that for the last three times I've done it. I have never felt as tired as after any other race. Still, I'm happy."