Wednesday 7 August - IRC Three
For the third time since 2013 Alexis Loison has won both class and IRC Two-Handed in the Rolex Fastnet Race, this time racing with the boat builder Jean-Pierre Kelbert on the brand new JPK 10.30 Léon.
While in the light airs at the start of the race Léon was not the fastest boat, the doublehanded team nevertheless kept in touch with their rivals so that by the Fastnet Rock, when Léon eased sheets and pulled the trigger, they surfed all the way back to be the first IRC Three boat over the line, claiming a massive win in IRC Three and IRC Two-Handed.
"An amazing race and a magnificent fleet with a lot of different boats. It is a race where you always have battles - a mythical race." commented Alexis Loison, who in 2013 was the first doublehanded winner of the Fastnet Challenge Cup for IRC Overall with his father Pascal on their JPK 10.10 Night and Day.
"The best time was just after the Fastnet Rock, when we put up the little spinnaker. We had over 20 knots of boats speed many times and there was a lot of water on board. Although we were just two, we changed the sails together and talked strategy - we made a very nice team. Jean-Pierre is a great windsurfer so he was very good downwind to the finish, jumping from wave to wave!"
"The first boat I built was for myself, but now I am very proud for all of the JPK team, especially the designer Jaques Valler." commented Jean-Pierre Kelbert. "For me it was interesting to test the new JPK 10.30 in quite strong breeze. The boat was really safe and fast but it was completely wet on board all the time. It was exhilarating to race at night at high speed in complete darkness - to do that in a small boat with Alexis was very exciting."
Léon pass the breakwater in Plymouth to take comprehensive wins in both IRC Three and IRC Two-Handed © Paul Wyeth/www.pwpictures.com
Eight of the top ten teams in IRC Three were racing doublehanded with the new combination of Henry Bomby and Hannah Diamond on board Sun Fast 3300 Fastrak XII finishing second in both IRC Three and IRC Two-Handed. Hannah and Henry are at the start of an Olympic campaign, hoping to represent Great Britain at the 2024 Summer Olympics, which will have a new event, the Mixed Two Person Keelboat Offshore.
"We have had an awesome race that we started without too many expectations," commented Henry Bomby. "To come second in the Two-Handed class is amazing, and we have learnt a lot. The race turned out to be the perfect length as the Olympic event should be three days and nights. We are just starting out on our journey but this has been the perfect start. Plymouth put on an amazing arrival, I grew up in Dartmouth and our friends and family have come down to meet us for a beer and a burger."
"We definitely put the boat through her paces over the last couple of days, especially as she is brand new and we have only sailed her in the Channel Race before," commented Hannah Diamond. "It was busy for us around the Fastnet Rock, it is difficult to take it in when there are just two of you.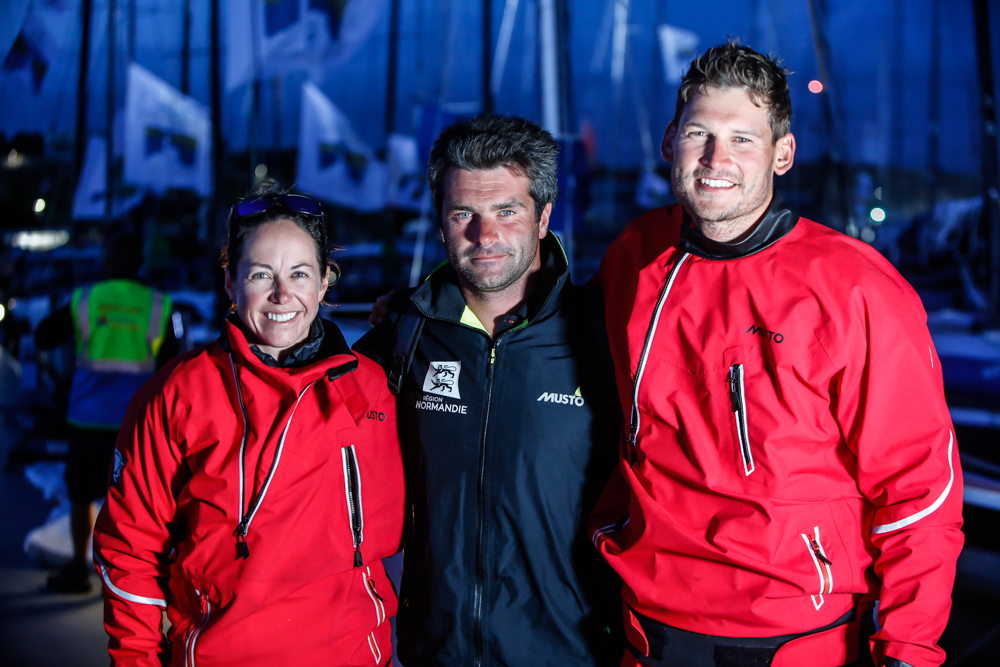 Hannah Diamond and Henry Bomby of Sun Fast 3300 Fastrak XII flank Alex Loison of IRC Three winner Léon © Paul Wyeth/www.pwpictures.com
Louis-Marie Dussere racing JPK 10.80 Raging-Bee² with Bruno James was third in IRC Two-Handed and fourth in IRC Three. Both sailors are amateurs and have a combined age of 108 years!
"Try as we might, Léon and Fastrak were too fast downwind and when we arrived at the Fastnet Rock we decided that passing them would be untenable - when they ease the sails, they have the design and the crew has the physical strength to go much faster," commented Louis-Marie Dussere.
"Our Code Zero would not furl so we could not use it for many hours, but the big difference is that these new boats are much lighter. We can sail with them upwind but downwind is not possible, they get on the surf and stay on the wave, just like a windsurfer. We are not professionals so we are first for the amateurs and Bruno James is also the fishing champion - he managed to hook a large shark on our rudder!"
Arnaud Delamare and Eric Mordret's JPK 10.80 Dream Pearls won class in 2017 but this year the team from St Malo was third in IRC Three by less than three minutes from Fastrak XII. Dream Pearls was leading in the early part of the race by some distance but sail damage at the Fastnet Rock put pay to their attempt to retain the class title.
"We destroyed our A3 spinnaker, and raced all the way to the finish with our genoa, but that is yacht racing," commented Eric Mordret. "Congratulations to Léon, and also to Fastrak, with whom we had a terrific battle with. We hope to be back next time but right now I am thinking about a nice steak after such a tough race. This is a mythical race, with sporting legends from the great ocean races - it is special to be part of that."