Relishing the opportunity to compete in the Rolex Fastnet Race more than most is British IMOCA and former Volvo Ocean Race skipper Sam Davies.
Although today she lives in France with her partner (and fellow IMOCA competitor) Romain Attanasio and their child Ruben, Sam grew up in Portsmouth with parents who sailed. The Fastnet Race influenced her greatly. "As a kid I remember watching all the hi-tech boats, the Admiral's Cuppers and maxis, the best of the best boats there, all out preparing for the Fastnet. Hearing the stories from the 1979 race made it all the more awe-inspiring. And it seemed just so far! How could people do a race that long?!"
It wasn't until she was 19 and in her gap year that she took part in her first Rolex Fastnet Race, sailing on a Jeanneau Sun Legende 41 belonging to Tim and Liz Mitchell, parents of Gerry, today a top pro sailor and multiple World Champion. Essentially the crew was amateur with the Mitchell parents on board for every race and Sam went through the whole Fastnet Race qualification process with them. "At the time, for sure, it was the longest distance I'd sailed non-stop in my life. It was a good family-owned racing boat, the husband and wife sailed all the races together. We did all the RORC races and qualifiers. It was very competitive, but in some races we did sit down for dinner at the table with red wine."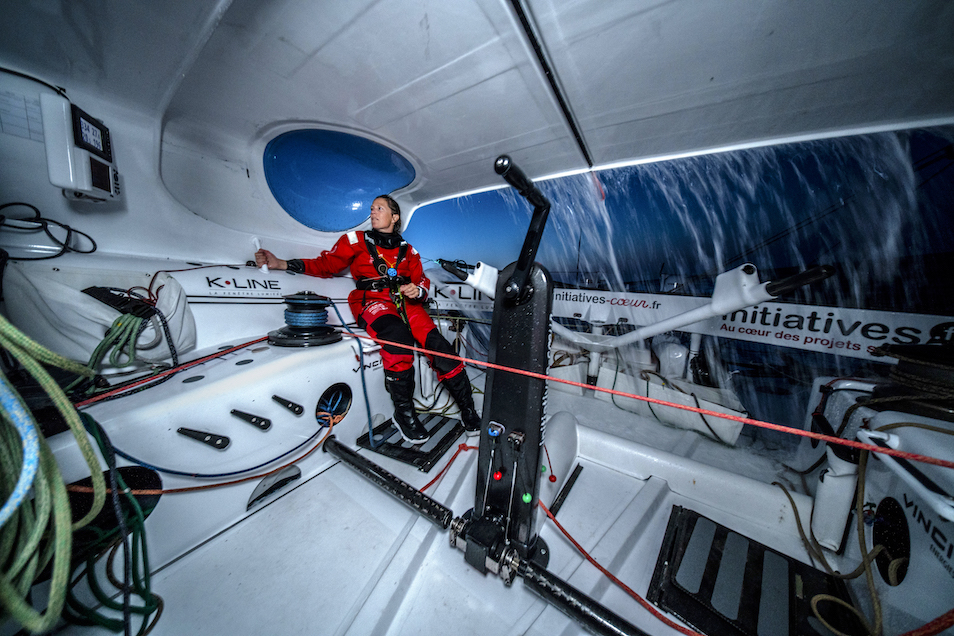 Unfortunately there remain fewer opportunities for female sailors to get into yacht racing than there are for men. To this day Sam is grateful for the Mitchells for providing her with her start. Occasionally Gerry would bring along hot-shot friends who were preparing with him for the Whitbread Round The World Race aboard Dolphin & Youth. Getting to meet them, as well as other leading lights of the sport, while she was on her internship with yacht designer Rob Humphreys, got her her first rides on board racing yachts. This led to her getting signed up to crew on Tracy Edwards' Royal & SunAlliance Jules Verne Trophy attempt in 1998, and on the road to becoming one of the world's leading offshore sailors.
Sam still remembers how important the Rolex Fastnet Race was to her development as a sailor. Because of this she feels huge pride when she has returned either as skipper of an IMOCA or of the Volvo Ocean Race entry Team SCA. As she reflects: "My team laughs at me because there is never a question of about whether we're going to do the Fastnet. It is not possible not to do the Fastnet! We have to do it! It is in my country! I feel be really proud to be there with the IMOCA fleet."
"It is not easy to sail our boats doublehanded in the Solent so it is in everyone best interests to send us off among the first so that we don't run anyone over trying to manoeuvre our crazy boats in such a small space. It is great to be welcomed by the RORC and to be able to take part."
This year once again Sam will return on her IMOCA Initiatives Coeur, originally the boat in which Armel le Cleac'h finished second in the 2012 Vendée Globe as Banque Populaire (by coincidence fellow British skipper Pip Hare has acquired the subsequent Banque Populaire IMOCA, in which le Cleac'h won the 2016 Vendée Globe).
All the IMOCAs in the Rolex Fastnet Race are racing doublehanded. With Sam will be French offshore legend and Solitaire du Figaro winner Nicolas Lunven who finished the last Rolex Fastnet Race in second place, sailing PRB with Kevin Escoffier. This will provide them with the chance both to train and qualify for this autumn's doublehanded Transat Jacques Vabre, but according to Sam, the IMOCAs are not coming purely for that. "It is the first race since the Vendée Globe in our doublehanded season and it is the only one before the TJV, so everyone is watching everyone else."
"And it is just too long to be a sprint. You can't do it without sleeping. Getting out of the Solent is one of the hardest bits, then it is partly a coastal course, there are different legs, and you'll have different sail configurations and different weather. It won't be one sail or one type of conditions in which 'this boat will win'. The course is perfectly set so that you will get a bit of everything."
While the traditionalist in Sam regrets moving the finish from Plymouth, she acknowledges, and very much has first hand experience of, the huge difference in the general public's reaction to offshore racing in France, compared to the UK. "It is great that a race as big as the Fastnet can benefit from that positive side of the French loving offshore racing. I'm sure the race village in Cherbourg will be amazing and I know the Brits like coming to France. I am excited to see what it is going to be like. I did the Drheam-Cup which finished in Cherbourg a few years ago - I have good memories, not just because I won the race and beat Yann Eliès, but of the race village and all being locked into the town centre harbour where there were tons of public and a great atmosphere. I am convinced the Rolex Fastnet Race going there will be a success."
Looking at the IMOCA competition, Sam notes that her friends Simon Fisher and Justine Mettraux have been out training a lot on 11th Hour Racing (the former 2016 vintage Hugo Boss), while a lot of the skippers who competed in the last Vendée Globe know their boats well from the race, having either completed the solo non-stop lap or retiring to effect repairs, their boats now all the more reliable.
Sadly Sam is among the latter category after a collision off South Africa, which caused the sides of Initiatives Coeur's keel box to buckle in compression. "The boat folded up around the keel," she explains. "I was terrified because it was the same crash as Hugo Boss and I was worried that the keel might fall out."
Fortunately precautions had already been taken: "After their incident Hugo Boss made a really good report about their accident and, from that, all the engineers, Guillaume Verdier and all the yacht designers went through the existing boats and told us what reinforcements to make around the bearings. Thank goodness we did that, and thanks to Hugo Boss for that, because following their experience my keel didn't fall out. But I saw the panels destroyed, which was pretty worrying, because you have water coming into the boat through the keel box. At least I had water tight bulkheads around that so it wasn't so much of an issue and I could see my keel bearings were still intact."
While she has no idea what Initiatives Coeur hit, with the benefit of a degree in Engineering from Cambridge University, Sam has a better idea of the forces involved than most. "We worked out that I probably got about 3G in the crash. I was doing 20 knots when the boat stopped dead. It made a big noise…as did my ribs when they cracked… It was probably a good thing the panels broke because they absorbed the energy, so there was little other damage. There was too much damage to the keel fin to carry on - I could only abandon the Vendée Globe."
"Thanks to Southern Wind Shipyard: After I crashed, they started to build the panels to replace ones I had destroyed and had built those before I even got to Cape Town. So they sponsored us and gave us a boat builder, Leroy. Although it was big work, we did it in four days and we didn't have to do anything to that area when we got the boat back to Lorient."
Despite abandoning the race, Sam nonetheless continued and heroically completed the course.
One reason for Sam's continuing was her unique fundraising campaign with Initiatives Coeur. This works very simply and costs members of the public nothing: For every new fan or follower of Initiatives Coeur's Facebook or Instagram pages, Initiative Coeur's trio of sponsors – K-LINE, Initiatives and Vinci Energies - each donate 1 Euro to the Mécénat Chirurgie Cardiaque charity which helps save children with heart defects. To date between Sam and, the campaign's previous skipper Tanguy de LaMotte, they have saved 314 children's lives There can be few better incentives to be at sea. The fundraising continues during the Rolex Fastnet Race.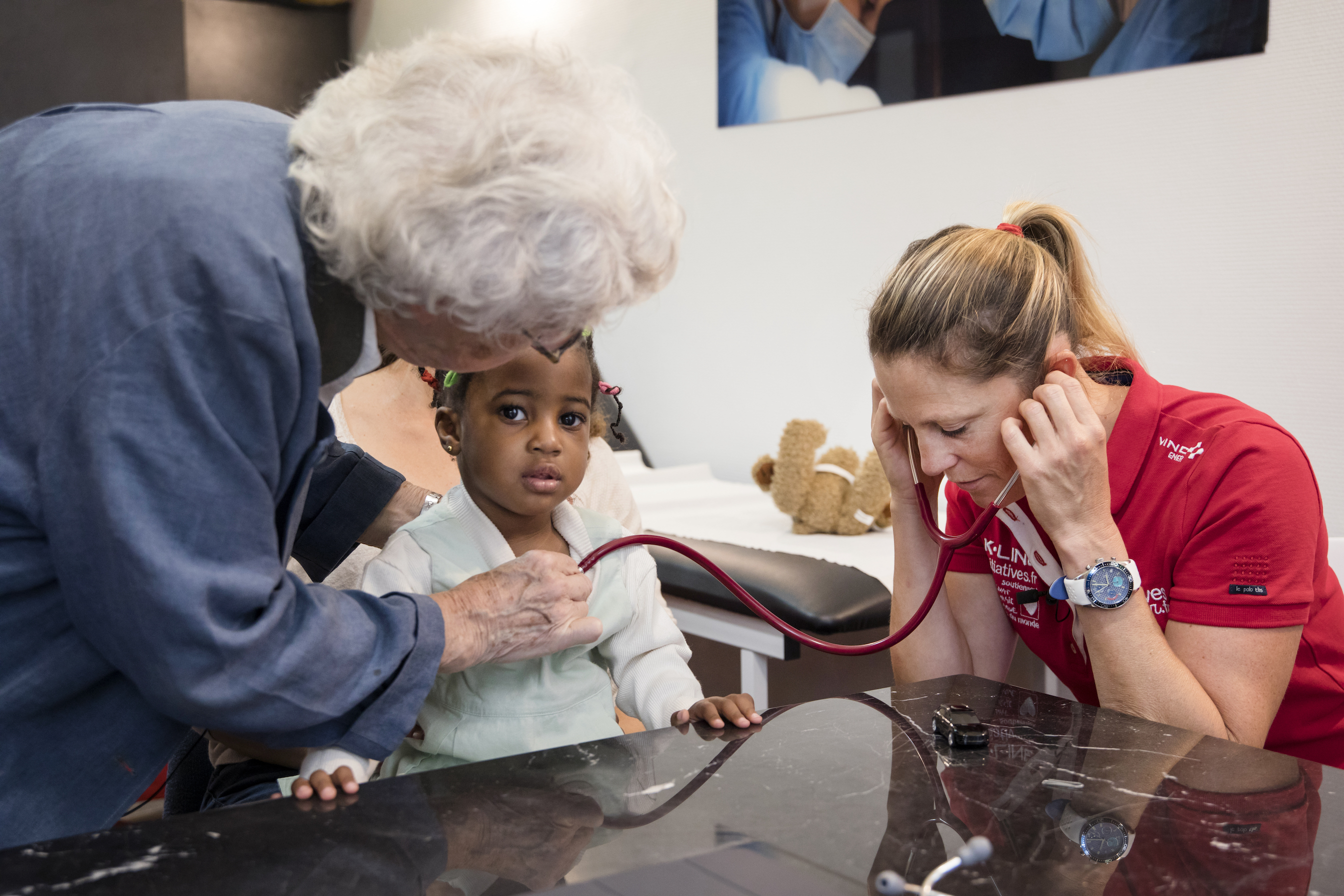 Sam Davies, the British Vendée Globe and Volvo Ocean Race skipper was inspired by the Rolex Fastnet Race from a young age © Initiatives Coeur
As to IMOCA form, Sam reckons that honours will probably go to any of the most recent generation boats. This includes the Juan K design, Arkéa Paprec sailed by Sébastien Simon and Yann Eliès. Charlie Dalin on Apivia was first home in the Vendée Globe only to lose out to Yannick Bestaven's Maître CoQ which was awarded time compensation for his part in the rescue of Kevin Escoffier. Dalin is sailing with the 2018 Route du Rhum winner Paul Meilhat with whom Sam sailed two years ago. Sam also tips the 2019 IMOCA winner Jérémie Beyou who returns, once again sailing on Charal, with his long term co-skipper Christopher Pratt.
Of more direct interest for Sam is the unofficial fight between the older generation IMOCAs such as her Initiatives Coeur, and especially those with foil upgrades. Latest to this group is her partner Romain Attanasio, who finished the Vendée Globe in 14th place aboard the 2008 vintage Pure-Best Western. He has since received backing for a fresh campaign from Fortinet-Best Western and has bought the 2016 generation Edmond de Rothschild, which as Seaexplorer-Yacht Club de Monaco, Boris Herrmann completed the last Vendée Globe. Others in this group include the Vendee Globe winner Yannick Bestaven, plus another female skipper Isabelle Joschke, and Fabien Delahaye on MACSF.
While IMOCA honours will probably go to a new generation boat, Sam says that the older boats are in with a chance, depending upon conditions. For example a prolonged beat to the Fastnet Rock would favour the older foilers or even the non-foilers and this would also be the case in lighter conditions when the giant foils on some of the newer generation boats only represent drag. Some of the newer foiling IMOCAs are geared up squarely for the Vendée Globe and although they don't point well, upwind at 65° TWA they are foiling at 20 knots.
"If we get a light spot or a tricky spot, there are certain conditions where we can keep up or catch up with them - if it is downwind spinnaker sailing and we are more in the water than out, then all our group of boats will still be in with a chance," says Sam. "That is the good thing about the Rolex Fastnet Race - because it is coastal and tricky racing, and there's tides and it's summer, so there will probably be light winds at some point – it is hard to predict the winning boat especially as the boats are more reliable now and they know them really well. For our group of next generation optimised boats, I think we can jump on some new ones that aren't so reliable and have a few issues. But if we are all powered up, it is hard for our generation to keep up with the new ones."
Initiatives Coeur before the Vendée Globe 2020 - © Eloi Stichelbaut - polaRYSE / Initiatives Coeur
Newer boats typically have larger, more extreme foils as Sam observes: "We have this gap - as soon as you get to 15-16 knots of boat speed you do 18-20 knots. We never do 16-17 knots. But on the new boats that is more like 13 knots, and then they'll suddenly be doing 20! I remember Charal doing that two years ago in the Fastnet - they got on their foils before everyone else and they did a horizon job."
As usual in recent editions of the Rolex Fastnet Race it will also be interesting to see how close the doublehanded IMOCAs are to the larger, full crewed monohulls in the IRC Zero.