As the Rolex Fastnet Race approaches its 50th edition in 2023 and the 100th anniversary of the Royal Ocean Racing Club two years later, so we can expect to see more classic yachts taking part with ancient associations to what has grown into the world's largest offshore yacht race.
In this year's Rolex Fastnet Race, oldest among the giant 400+ boat fleet is Amokura, the 50ft yawl built by Moodys in 1939, originally for Lord Mountbatten's Aide de Camp, Ernest Harston. Amokura competed in the 1959 Fastnet Race and again 60 years on in 2019, but finished neither.
Present owner Paul Moxon originally bought Amokura to take his family cruising, but has since acquired the bug for racing his classic boat. "A large part of this is about breathing new life into an old boat," he explains. "Rather than it sitting there looking pretty, it's designed to sail long distance and there is a real attraction to throwing it back into that world." However he adds it is challenging, especially if he wants to upgrade her, fitting, for example, modern sails and rigging. "It is a vicious circle, because there is no give in those like there is in traditional rigging and sails. You put more stress on the hull, so you have to reinforce that, which is what we have been doing for the last 18 months." Amokura is currently having this work carried out at classic boat specialists Butler & Co in Falmouth.
Uniquely among this group, Moxon races two handed with Steve Jones, and while Amokura is not a lightweight flier like the SunFasts or Class40s, her vintage provides other benefits for shorthanding. "Due to the loads you have to be careful how you plan manoeuvres and execute them," Moxon, warns, "but she is a stable platform and things happen more slowly. Walking up to the bow, you hold on and clip on, etc, but you don't feel like you are going to get thrown over the side. You haven't got the jerkiness of movement and you have a nice flat deck to walk on." As a result reefing and hoisting or dropping sails is performed at the mast rather than in the cockpit. Her fractional yawl rig keeps the centre of effort low and the sails small and provides many gears, such as only flying the mizzen and staysail in big conditions. Her long keel means she holds her course well even when her pilot isn't on, but Moxon says Amokura is not ideal upwind - she very much prefers reaching.
Keeping it in the family: 63ft S&S designed yawl-rigged offshore racer Refanut - Fredrik Wallenberg is campaigning the boat built for his Grandfather in 1955 © Lasse Eklöf
Some of the most significant maxis from the third quarter of the 20th century are entered. The 63ft S&S designed yawl-rigged offshore racer Refanut was originally built in 1955 for Jacob Wallenberg of the famous Swedish banking and business dynasty. She is now campaigned by his grandson Fredrik. Sailing was Jacob's passion and over 30 years his boats, culminating in the S&S 63, dominated the sport in Sweden. He was a repeat winner of the Baltic's top offshore race, the Gotland Runt and was also a long term chairman of the Royal Swedish Yacht Club (KSSS). In Fredrik Wallenberg's hands Refanut has most recently won the classic division of the Gotland Runt.
While the majority of Refanut's racing historically remained local in the Baltic, this was absolutely not the case for the 1961 van de Stadt-designed 73ft ketch Stormvogel, which, while she was being campaigned by her original owner Cornelius Bruynzeel, accumulated silverware in yacht races across the globe. This included line honours in the 1961 Fastnet Race when Holland scored the double; Zwerver II claiming the race overall en route to becoming top boat in that year's Admiral's Cup.
Celebrating the 60th anniversary of her 1961 line honours Fastnet Race victory and winning races around the globe - the Italian owned 1961 van de Stadt-designed 73ft ketch Stormvogel © Stormvogel
Stormvogel has belonged to the same Italian owner since 1983, during which time she has sailed to the far corners of the globe, including 19 years spent in South East Asia cruising and racing. She has also posted good results in the Mediterranean Panerai Classic circuit during 2007 and 2008 and competed in the 2008 Rolex Middle Sea Race to celebrate the 40th anniversary of the first race when Bruynzeel won line honours. Her last event was Antigua Classic Week in 2015.
Stormvogel has recently completed an extensive refit in Bodrum Turkey at Metur Yacht with Ian Hulleman, the yacht's Kiwi skipper for the past 12 years overseeing all work. Stormvogel's manager and Rolex Fastnet Race skipper Graeme Henry, who has been involved with the yacht since 1987, describes the refit as "bringing Stormvogel back to a new level of performance while maintaining the original 1961 concept and 1960s' style." Stormvogel was relaunched in Bodrum just as the pandemic struck, but is now ready for an active sailing schedule.
As to the Fastnet, Henry states: "The owner has done many races including the Rolex China Sea and Rolex Middle Sea races, but hasn't done the Fastnet before." This year's race will celebrate the 60th anniversary of Stormvogel's 1961 Fastnet line honours victory when Francis Chichester was her navigator. On board for this year's race, Henry hopes will be several people with connections to Stormvogel's formative years to keep her historic spirit alive. The Rolex Fastnet 2021 represents the first of a new classic offshore race campaign for Stormvogel.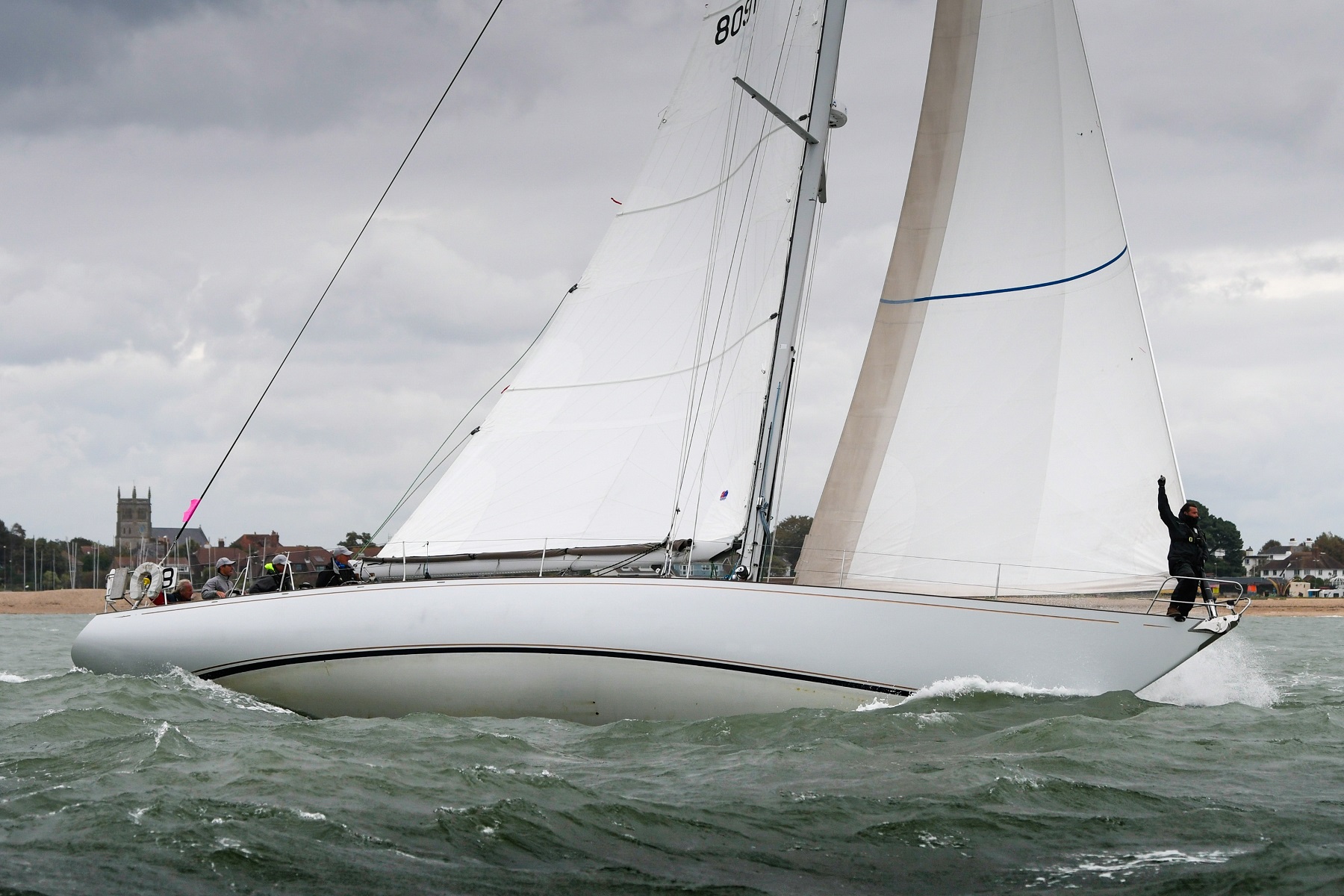 Chris Cecil-Wright's Nicholson 55 Eager, skippered by Richard Powell. Eager was the first Nicholson 55 launched when she was famously the Lloyd's of London Yacht Club's Lutine © Martin Allen/pwpictures.com
Other 'modern classic' yachts from the 1960s and 70s include yacht broker Chris Cecil-Wright's Nicholson 55 Eager, skippered by Richard Powell. Eager was the first Nicholson 55 launched when she was famously the Lloyd's of London Yacht Club's Lutine until she was sold in 1999. She has since undergone a massive rebuild and modernisation including the fitting of a much enlarged sail plan based around a carbon spar, a new rudder, deck, deck layout and superstructure, and complete interior and layout and systems right back to the wiring and plumbing. A smaller Nicholson 43 is also competing in Dutchman Eric van den Born's Stardust, the second last of this series to be built.
While this period saw the dawn of wide-spread GRP construction, boats were still being built in wood and an early 1970s example competing this year is the German One Tonner Oromocto. In a similar fashion to Rafanut, Oromocto is a family 'hand me down' and has for the last 11 years been raced by Kai Greten, whose grandfather Ernst had originally commissioned and campaigned her during the 1970s. During the latest phase in Oromocto's life, she has been continually updated with the result that in 2014 she won the ORC class in the Rund Skagen, Germany's longest offshore race.
Currently on the waiting list for the Rolex Fastnet Race is Pen Duick VI, the last of the famous series of yachts campaigned heavily by France's most famous yachtsman, Eric Tabarly. The 73ft André Mauric-designed aluminium ketch competed in the first Whitbread Round the World Race in 1973-74, during which she dismasted twice. Most impressively Tabarly entered this same maxi yacht in the Observer Singlehanded Transatlantic Race (OSTAR) in 1976 and entered the history books when he won the race for a second time (following his victory in 1964), despite this 32 tonne beast, usually requiring a crew of 12 to manhandle her. Such was Tabarly's resulting fame that he unwittingly launched offshore racing in France, not only as a sport, but as the significant business it has become today. Pen Duick VI competed alongside the 1977–78 Whitbread Round the World Race as an unofficial entrant, due to her keel being ballasted with spent uranium.
1967 vintage Swan 36 Finola, skippered by regular RORC racers Chris Frost and Welsh transoceanic rower Elin Haf Davies © Paul Wyeth/pwpictures.com
Other Sparkman & Stevens designs competing this year include the 1967 vintage Swan 36 Finola, skippered by regular RORC racers Chris Frost and Welsh transoceanic rower Elin Haf Davies. Stuart Greenfield's Morning After is an S&S 34, a sturdy genre of yacht in which former British prime minister Edward Heath won the 1969 Sydney-Hobart and has more recently become the favoured vessel of teenage non-stop round the world sailors.
One of the most heavily campaigned yachts in RORC races throughout the last 22 years has been Harry J. Heijst's immaculate S&S 41 Winsome. This year's race will be the Dutchman's tenth having missed one due to ill health and another in 2007 when he admits there was a crew mutiny. "We would have started the race in 35 knots of wind - which is not bad for Winsome to have a good result - but there were two crew who, in the middle of the night prior to the start, said they didn't want to do the race. I was so angry that we sailed the boat back to Holland in 40 knots of wind (downwind)."
Harry J. Heijst's 1972 classic S&S 41 Winsome © Paul Wyeth/pwpictures.com
Heijst could have changed boats to stay in IRC Two, but has remained faithful to his 1972 classic that was originally built by Royal Huisman and initially campaigned by David May, whose Berthon Boat Company continues to maintain Winsome to this day. "I probably hesitated too long to go for another boat," he explains. "But at the same time my age has been growing while I love Winsome more every year! This is a really good boat for a man like me, much closer in age to 81 than to 18 - it is a stable, very comfortable boat. If you have 35 knots of wind, you can still sleep reasonably."
However Heijst says that the ideal wind for Winsome is 10 knots when there is flat water. Mid-range conditions off the wind, which allows modern boats to plane at 20+ knots, is when Winsome suffers, being more firmly attached to the water.
Over the years Winsome has enjoyed some excellent results in the RORC's flagship event, excelling in 2005's 'small boat race' when she won IRC Two and finished fourth overall under IRC, leaving Jean-Yves Château's Nicholson 33 Iromiguy (in IRC Three) to claim the Fastnet Challenge Cup. "We thought for a long time after our finish that we would be first, but there were still boats which hadn't finished," Heijst recalls. "But we were happy that at least another pure amateur won it." Winsome had finished second in class in 2003 and also won a sub-class in 2011. Conversely Heijst says their worst race was in 2011 when they looked set to finish with a lead of six miles over the next boat in their class, only to park up some 10 nm short of the line...for eight hours. "One of my crew got so frustrated he dismantled the whole toilet, took the hoses off and repaired it!" Meanwhile those behind caught up and Winsome's crew could do nothing, but watch as their advantage evaporated.
Currently, Heijst says Winsome is raring to go and he hopes for 10 knots and much kedging in this year's Rolex Fastnet Race. "If everyone is anchoring, the lower rated boats win!"
Among the best known S&S designs of this era are the Swans, especially the Swan 65. This year three examples are entered: Paul Stratton's Hardship III, Placido Arango García-Urtiaga's Libelula from Spain and the most famous – Richard Loftus' Desperado of Cowes. The former Accurist boss acquired his steed in 1986 and despite having attempted to sell it from time to time it has remained resolutely in his ownership ever since.
Like Heijst, 2021 will be Loftus' tenth Rolex Fastnet Race and over the years he has enjoyed success with Desperado, notably in 1989 when his heavyweight ketch and upwind weapon won CHS overall. "We went the wrong way - which turned out to be the right way," quips Loftus. "We match raced a Swan 59 for about eight hours up the Channel and they turned right and we went left out into the mid-Channel. I was navigating, but I was very inexperienced and didn't know what I was doing! Mid-Channel we were going backwards - I wanted to put an anchor chain down in 100m but I got talked out of it. We got going after about four or five hours going backwards and much to our surprise when we got to Land's End all of the Admiral's Cup boats were inshore and we were outside them all, which meant we had gone the better way. From there, it was easy – we went out to the Rock with wind and came back with a real gale behind us and that was it - we won by about two hours."
Desperado also enjoyed the breezy 2007 race, when they found themselves solidly leading at the Fastnet Rock under corrected time, only to be overhauled downwind on the way back. Nonetheless the Swan 65 still finished 7th overall under IRC.
Loftus' crew has included Ted Heath's former skipper Owen Parker and gnarly South African Whitbread Round the World Race veteran David Bongers, and this year will include notables such as Paul Standbridge, Pat Lilley and John Caulcutt. Desperado over the years has developed unique Fastnet race traditions. "The main one is that we always go round the Rock wearing our dinner jackets with a glass of port and relax," says Loftus. "We race the boat hard, but we all have fun. We don't sit on the rail all night or any of that nonsense. We have hot meals, have a bottle of wine in the evening, I play my guitar, etc."
Joe Powder the gorilla mascot is one of the crew and a RORC member on board Desperado of Cowes! © Carlo Borlenghi/Rolex
Another is Joe Powder, the race's lone gorilla and as Loftus points out, the only stuffed gorilla that is formally a member of the RORC. "He has sailed three or four Fastnets with us. We put him on the crew list and at the end of one race, we got the crew to fill in forms and provide testimonials and he was made an overseas member of the RORC." Following his success in 2007, Loftus put up the Joe Powder Trophy for the first boat to reach the Fastnet Rock under corrected time.
Given the COVID pandemic, Loftus says he is considering racing Desperado this year with reduced crew. "We are going to set the boat up for shorthanded and sail it with a furling no2 and asymmetric spinnakers in snuffers and 6-10 crew. That will mean everyone will have their own bunk and their own cabin. It will be quite comfortable!"
Current Entry Lists:
https://www.rolexfastnetrace.com/en/follow/follow-the-race/entrylists