Doublehanded offshore racing had been gaining popularity with the Rolex Fastnet Race's IRC Two Handed class almost doubling in size between 2009 and 2019. But for this year's edition of the world's largest offshore yacht race its entry has soared to 89 yachts, a giant step up from 2019's 64.
Long term this trend has been attributed to owners finding it increasingly difficult to maintain a full crew. Over this time shorthanded offshore racing has become more accepted, no longer seen as being on the fringe of the sport, certainly helped by boats and gear becoming better tailored to this discipline. Extra exposure has caused more people to become intrigued by this uniquely challenging form of yacht racing.
Social distancing requirements enabled this to be the first type of racing to be reintroduced by the Royal Ocean Racing Club in 2020, with doublehanders enjoying the most days out on the water over the season. But the most significant boost internationally has come from the possibility of mixed doublehanded offshore racing being introduced to the Paris 2024 Olympic Games. Whether this will happen awaits a final decision by the International Olympic Committee due soon.
With events like the Route du Rhum and Vendée Globe and classes like the Figaro, Class40 and IMOCA, France is the world's stand-out nation when it comes to shorthanded offshore racing, but surprisingly in recent Fastnet races, it is the IRC Two Handed class where French teams have faced some of the toughest competition. In 2019, of the top 10 in IRC Two Handed only five were French compared to eight in IRC Four and seven in IRC Three. This was probably because the A-list French talent mostly has confined itself to the Ultime, IMOCA and Class40 and not the IRC fleet. However one consistently has.
2013 Fastnet Challenge Cup winner, Alexis Loison will race once again Two Handed with Jean Pierre Kelbert on JPK 10.30 Léon © Paul Wyeth/RORC
Cherbourg-based Alexis Loison has finished in the top ten in yacht racing's unofficial solo offshore world championship, La Solitaire du Figaro no less than six times, which makes him one of the best offshore sailors in the world. However Loison's father Pascal is a keen IRC racer and father and son entered the history books in 2013 when they became the first doublehanded crew ever to win the Rolex Fastnet Race outright, ahead of the fully crewed fleet. Alexis holds the record for the most victories in the IRC Two Handed class. He won it three times with Pascal and is its defending champion after winning it for a fourth time sailing with Jean Pierre Kelbert on the French boatbuilder's latest JPK 10.30 model Léon.
"I love the Rolex Fastnet Race, it is special," says Loison. "I have participated five times and won [my class] on four of them and overall once. I am trying to keep my record for winning the Two handed division!
"I love this kind of race where professionals are on the same course as amateurs. I prefer to do this race in the two handed class with an IRC boat [rather than the Figaro]. This year is special because it will finish in my home town of Cherbourg, which is good news for me."
JPK and Loison return accompanied by three other French JPK 10.30s. Two – Francois Moriceau's Mary 3 and Gerard Quenot's Mecanique Expertises - finished just inside the top ten of the UNCL's Manche-Atlantique two handed series in 2020, while Yves Paul Robert's Very Good Trip - Septieme Ciel was fourth in IRC Two Handed in the last Rolex Fastnet Race.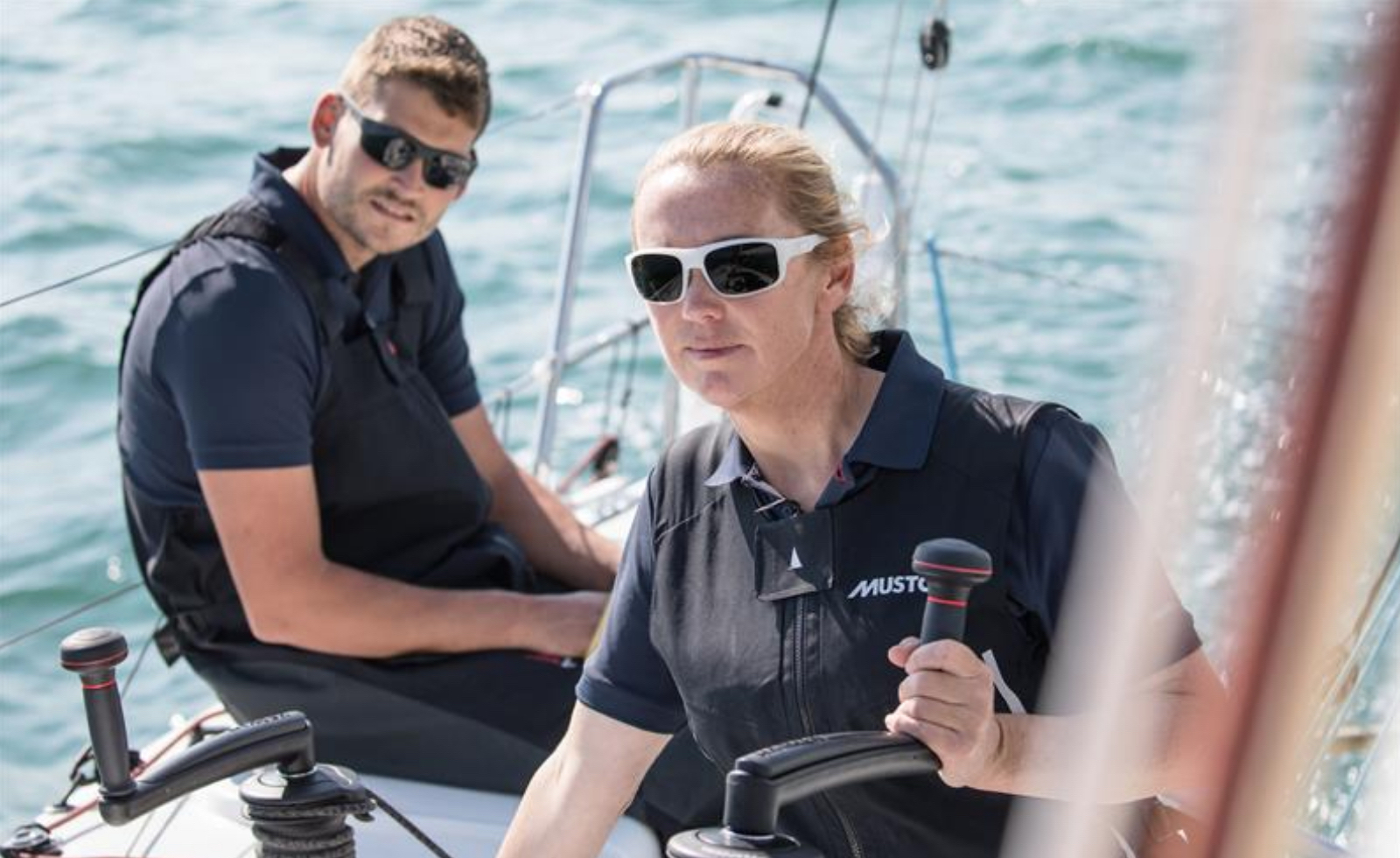 A formidable duo Henry Bomby and Shirley Robertson compete on the new Sun Fast 3300 © Tim Butt/Vertigo Films
In the 2019 French domination at the top of IRC Two Handed was partly halted by British Figaro and Volvo Ocean Race sailor Henry Bomby and Hannah Diamond, who finished second. This time Bomby returns with a familiar figure, but one largely new to offshore racing, in double Olympic gold medallist turned TV presenter, Shirley Robertson.
Having only taken up doublehanded offshore racing last season, Robertson is looking forward to getting back on to the water. They are racing a new Sun Fast 3300, provided by Sea Ventures, the UK dealer for Jeanneau, which numerically has managed to make great inroads into the class: this year their turn-out exceeds even the JPKs with twelve Sun Fast 3200s, ten 3600s and twelve 3300s (plus two more racing fully crewed) entered.
"I really enjoy it, it's great, it came at the right time - I was ready for something different, but similar," explains Robertson of her latest venture. "I was a bit undecided what to do and where to go and this really fitted the bill. I'm impressed by Henry. We get on well and I enjoyed the boat from the get-go. It was small enough that I could do everything physically on it. I instantly felt I could make the boat go fast."
This will be Robertson's third Fastnet having previously competed on Ludde Ingvall's maxi Nicorette and with fellow Olympian Ian Walker on Eamonn Conneely's TP52 Patches. "I'd done a bit of offshore, but generally I steered or trimmed the main, but on this I am busy all the time," Robertson continues. "Even when you sleep you are listening out for the call to come and help up on deck. And there are periods when you are on your own - or sort of on your own - at night on deck, looking for ships, trying to keep your numbers up and keeping the big idea of where you are going next, etc. I enjoy the intensity of it and also the real partnership. We have to look after each other and work together and be honest if the boat isn't going well, or if you feel nervous about something."
Despite being an accomplished sailor, it has been back to school for Robertson to learn about the vital rules of the road when sailing offshore and a new style of boat. Fortunately her highly accomplished co-skipper has all the skill-sets necessary.
Another duo returning to the race having successfully taken on the French are Kelvin Rawlings and Stuart Childerley. Childerley has two Olympic Games and two Etchells World Championship titles to his name, while Rawlings was "watch captain on Noah's Arc" with a giant sailing CV that includes winning the Admiral's Cup. In the 2015 Rolex Fastnet Race they entered Rawlings' J/105 Jester and proceeded to beat the Loisins into second place (albeit by just 14 seconds) in IRC Two Handed, and across the fleet were top British finishers, coming home fourth overall under IRC.
In 2015 Childerley admits they toughed it out with a boat lacking good comms (for downloading forecasts) and an effective autopilot, but this time they have a tricked-up Sun Fast 3300, Aries: "When we saw the course change [finishing in Cherbourg] and the first opportunity to race on it we thought it would be a great challenge and we had to have a go."
In the intervening six years the standard of doublehanded racing in the UK has leapt, Childerley observes, but this too was a big attraction along with the opportunity to race in the sizeable fleet of Sun Fast 3300s - a modern IRC boat, tailored for shorthanding in terms of its cockpit layout, sail controls, ballast, twin rudders and much better equipment. However they too are having to get up to speed with technology, with Rawlings mastering the routing software. Childerley says they are keen not to get bogged down in this. So for example they are taking asymmetric kites, but no symmetrics. "If we over-complicate things we are just going to confuse ourselves. We are trying to stick with our principles in keeping it simple, progressing through the race, making decisions and sailing the boat so as not to lose the race. If we can be in a good position in the last quarter of the race, we'll be very happy with that."
Winning last year's IRC Two Handed Nationals, James Harayda's Sun Fast 3300 Gentoo, will be competing with round the world sailor Dee Caffari in the 2021 Rolex Fastnet Race © Paul Wyeth/pwpictures.com
Other notables in the Sun Fast 3300 fleet include James Harayda and round the world legend Dee Caffari on board the former's Gentoo, winner of last year's IRC Two-Handed Nationals. Then there is regular competitor Ed Broadway with his latest Hooligan VIII, Sea Ventures' own Nigel Colley aboard Fastrak XII and Irish former Mini and Class 40 sailor Cian McCarthy aboard his latest Cinnamon Girl. A similarly tough group are the Sun Fast 3600s. They include Rob Craigie and Bellino, who finished third in 2017 with Deb Fish (the subject of this week's Time Over Distance series – link - https://www.youtube.com/watch?v=gb8tbTBGpvU), when they went on to win the Two Handed class for the season. Then there is Nick Martin whose J/105 Diablo J was RORC Yacht of the Year and the season's IRC Three winner in 2012.
Other British contenders to watch out for are Richard Palmer and Jeremy Waitt on their JPK 10.10 Jangada. Jangada was the RORC's 2020 Yacht of the Year following a big season that started with outright victory in the Transatlantic Race and ended with their winning the IRC Two-Handed Autumn Series. At the IRC Two-Handed Nationals Jangada was beaten to the podium by Mike Yates and Norwegian sailmaker Eivind Bøymo-Malm on the J/109 Jago. Eighteen J/109s are competing in this year's race, five of them doublehanded, Jago among the top tipped.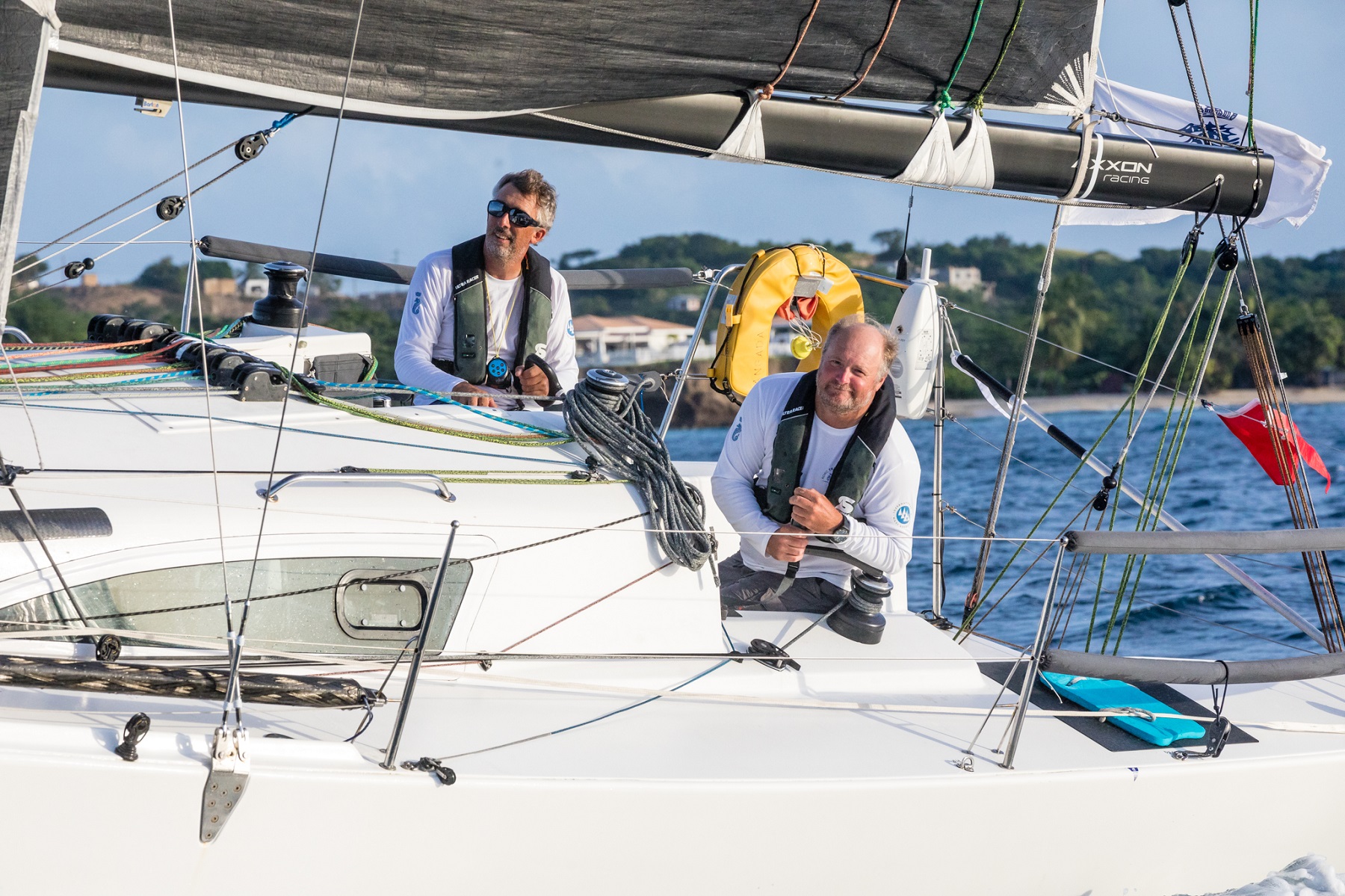 Richard Palmer and Jeremy Waitt on JPK 10.10 Jangada - RORC 2020 Yacht of the Year following a big season that started with outright victory in the Transatlantic Race and ended with their winning the IRC Two-Handed Autumn Series © Arthur Daniel
UK leads France numerically in the IRC Two Handed class, but the line-up is international with 12 nations represented, including two from the USA, one apiece from Hong Kong and Poland. Top contenders again returning from the Netherlands include local champions Robin Verhoef and John van der Starre aboard their trusty J/122e Ajeto! They finished second in IRC Two Handed in 2017 and on their previous J/111 J-Xcentric were third in 2011.
The IRC Two Handed fleet largely comes from IRC Three and IRC Four, but the biggest racing is Richard Tolkien's Open 60 Rosalba while the smallest (also in the IRC fleet overall) is once again Neal Brewer's modified Humphreys 30, Bespoke.
The IRC Two Handed class will also see a return to the race course for two notable solo offshore sailors. Alex Bennett was for a while the top ever British finisher in the Mini Transat when he came home fifth in 1999. He was one of Pete Goss' crew on the ill-fated mega catamaran Team Philips. He has since been through an Open 50 and the Class40 Fujifilm (back this year as Fuji with Finnish sailor Ari Kaensaekoski) in which he came within a minute of winning the two handed Round Britain & Ireland Race in 2010.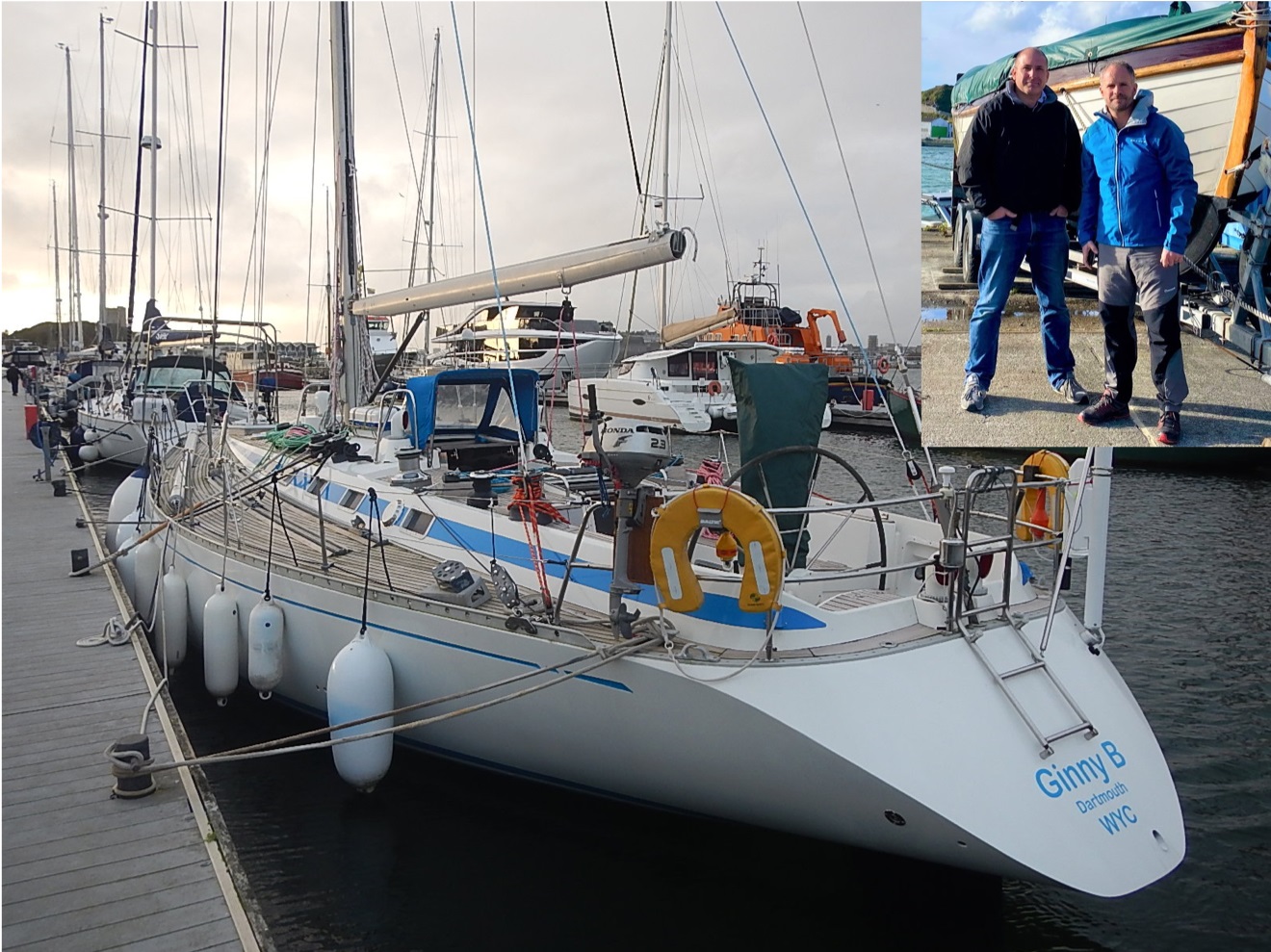 Alex Bennett will race his Swan 46 Mk1 Ginny B doublehanded with fellow solo offshore sailor Conrad Humphreys © Ginny B
In 2019 Bennett acquired a Swan 46 Mk1 and has spent most of lockdown pampering her. Now a family man with two sons, he says Ginny B fulfils his needs for a boat on which to teach his family sailing and he can race. However he admits lacking time on the water with her - to date their only outing was a delivery from Dartmouth to Plymouth.
Bennett is racing with another solo sailor, former Vendée Globe and winning BT Global Challenge skipper Conrad Humphreys. "The challenge is always bigger when you go shorthanded and it offers the greatest challenge over this kind of course," says Bennett, who is in awe of the IRC Two Handed fleet. "It is huge - like the Mini Transat fleet in terms of numbers."
The Swan 46 is a cruiser-racer and a very different prospect from the nimble thoroughbreds Bennett is used to racing. "She is a big heavy boat, not set up for shorthanded sailing - you can do it, but it will be a challenge. The reality is that we are we are up against some hot modern designs and really good sailors in Sunfast 3300s and JPKs, so it is a very diverse fleet. It will be interesting to see where we fit in."
Bennett first sailed the Fastnet in 1995, when, aged 19, he led the Fastnet Youth Challenge to second place in class aboard a Sigma 36.
Ginny B is by no means the oldest boat in the IRC Two Handed fleet: This is Paul Moxon's 50ft yawl Amokura, launched in 1939.
Current Two Handed Entry Lists HERE
Full entry list: https://www.rolexfastnetrace.com/en/follow/follow-the-race/entrylists