IRC One will be one of the toughest battlegrounds within the Rolex Fastnet Race, and the French will be a hard act to beat. Among the leading contenders are Jacques Pelletier's Milon 41 L'Ange De Milon which won IRC One in the 2019 edition. Runner-up to Pelletier in 2019 was outright race winner in 2017, Didier Gaudoux's JND39, Lann Ael 2. Gaudoux is returning with the same boat and much of the same victorious crew, who will be part family and part offshore experts such as Figaro veteran Fred Duthil.
There have been few indicators of offshore form over the past 18 months but Lann Ael 2 did win the IRC division in the 2020 edition of the Drheam Cup, ahead of Eric Fries' JPK 11.80 Fastwave 6 and Laurent Charmy's J/111 SL Energies Groupe Fastwave, both of whom will be competing in the Rolex Fastnet Race in IRC Two.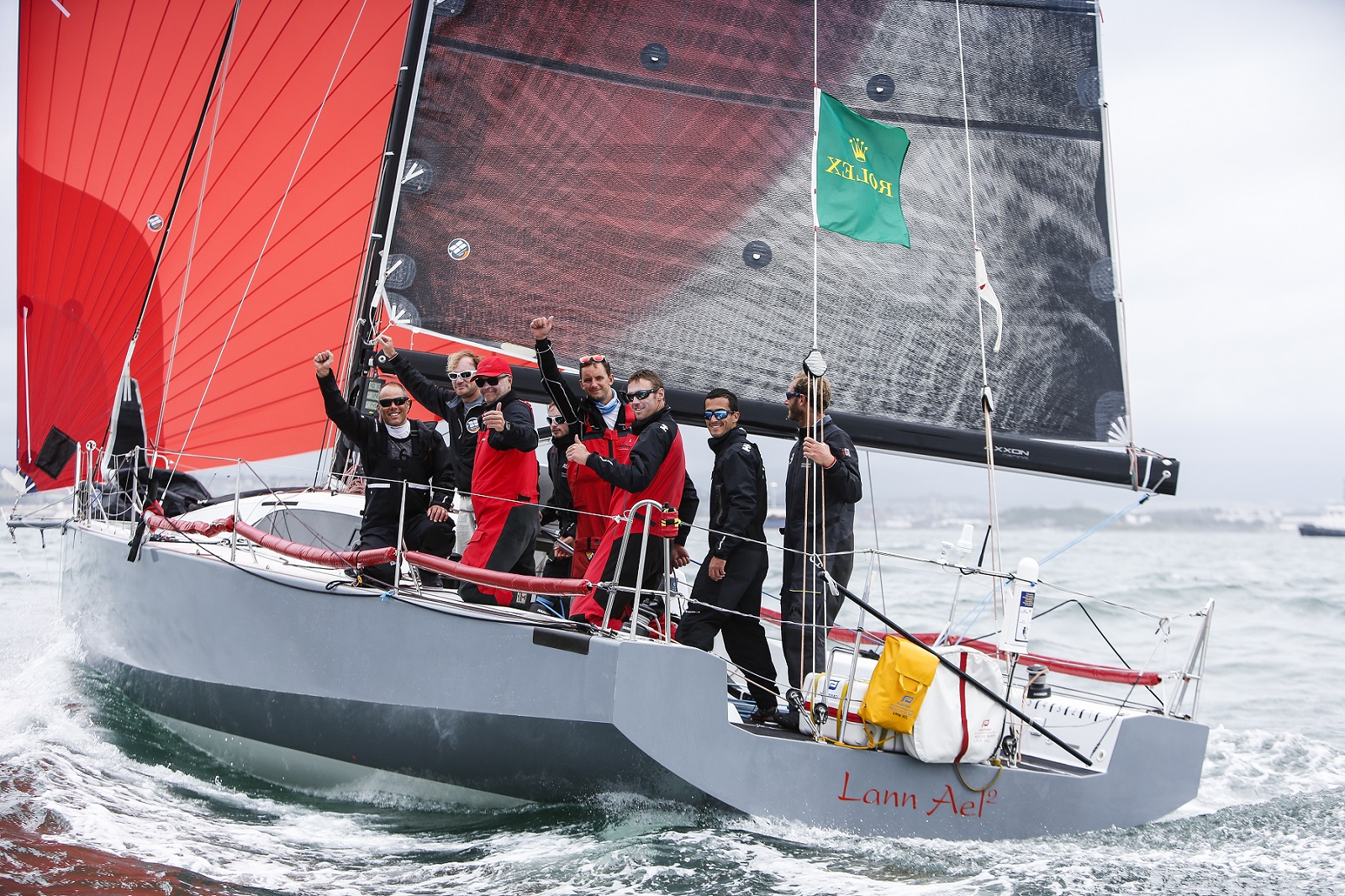 Overall winner in the 2017 Rolex Fastnet Race - Didier Gaudoux's JND39 Lann Ael 2 © Paul Wyeth/pwpictures.com
Philippe Frantz always puts a good campaign together with his NMD 43 Albator. Launched in 2017, Albator was immediately fast out of the shed, with class wins in the RORC Caribbean 600 and the Rolex Middle Sea Race, where she also finished third overall. This will be Frantz's second attempt at the Rolex Fastnet Race, with a crew from a variety of high-level offshore backgrounds.
From the same designers as Albator, Phosphorus II is a one-off Archambault 13. Formerly Teasing Machine when successfully campaigned by Eric de Turckheim, Mark Emerson bought the boat in 2017 and has continued to prove the A13's pedigree. In 2019 the crew campaigned on the RORC offshore circuit extensively, scoring two class wins, one overall win, plus multiple other podiums and were second overall for the season in IRC One and fourth in IRC overall.
There's a strong British contingent from the FAST 40+ class that spend a lot of time short-course racing in the Solent, but some of which are capable of gearing up for going offshore. Names to watch include Dutchman Bastiaan Voogd's Hitchhiker, although the boat has been out of the water for a year. With her water ballast and lighter bulb set-up Ed Fishwick's Redshift could excel in light winds, whereas in stronger conditions the advantage will move towards RORC Commodore James Neville's Ino XXX who has recent form in winning the 2021 Cowes Dinard St Malo race. Twin rudders and high-clew reaching sails make this HH42 well suited to fast and furious offshore conditions.
Christopher Daniel's J/122E Juno, winner of the Performance 40's second season in 2019 © Rick Tomlinson/rick-tomlinson.com
The slightly lower rated Performance 40 fleet (read more about them here) will provide a fascinating 'race within a race', with more than 50 boats spanning two classes, IRC One and IRC Two, dependent on their IRC rating. As a concept the Performance 40 has only been around for three years but it has quickly captured the imagination of many sailors. Christopher Daniel, owner of the J/122E Juno, which won the Performance 40's second season in 2019, says the creation of the category was successful from the outset. While most of their racing is done inshore on windward-leewards, Daniel points out: "Most Performance 40s are perfectly capable of going offshore. This theory that your boat is either an inshore or an offshore racer is wrong." And so we have 50-odd boats setting out to prove Daniel's point.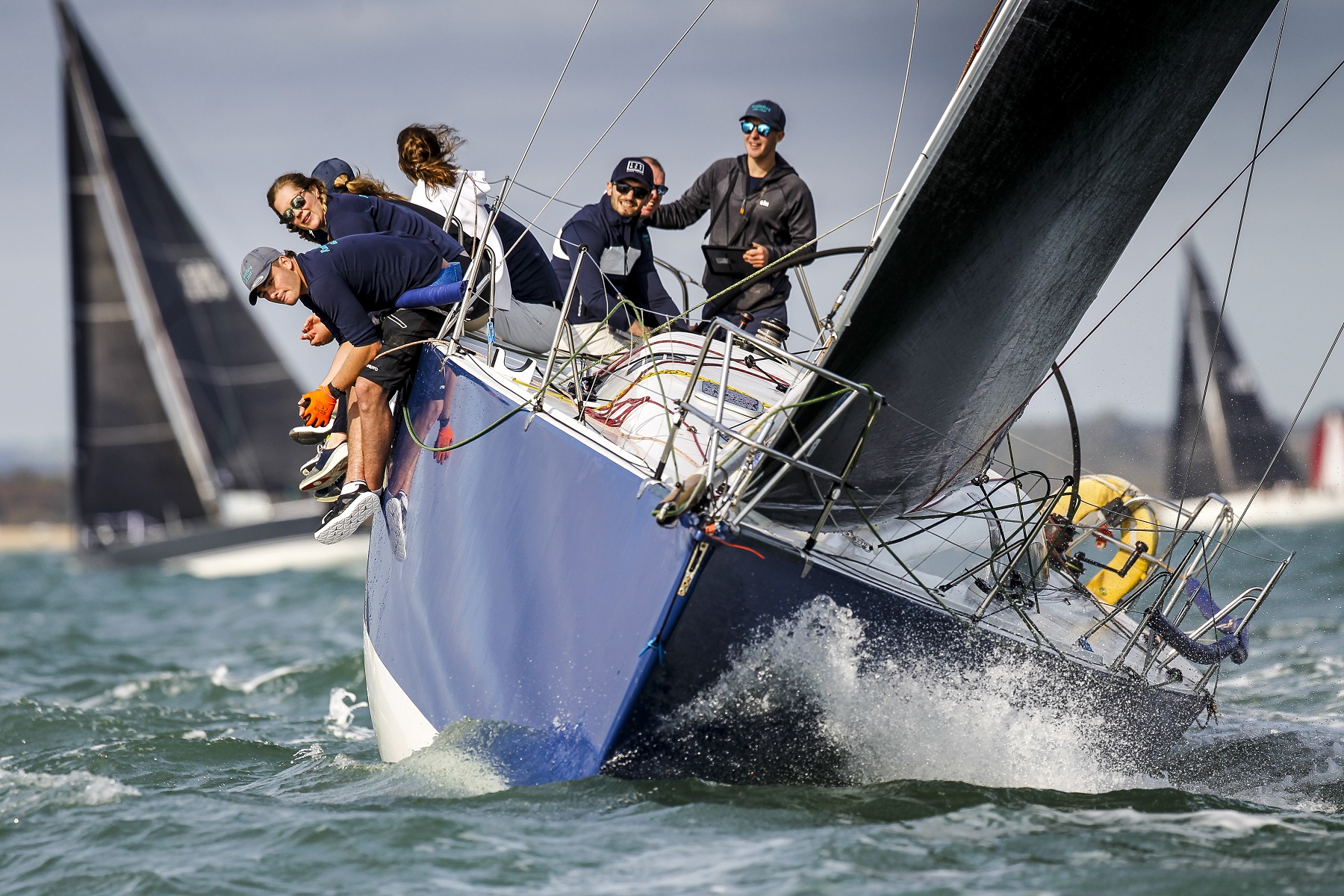 Performance 40 - David Cummins's Ker 39 Rumbleflurg © Paul Wyeth/pwpictures.com
Creating the Performance 40 category has given many boats a renewed lease of life. Robert Bottomley has transferred the name Sailplane from his First 40 in favour of a MAT 12. Others to watch in this field include David Cummins's potent Ker 39 Rumbleflurg, formerly RORC Admiral Mike Greville's Erivale. While the Performance 40s' bread-and-butter racing might be windward-leeward contests in the Solent, if regular southwesterlies kick in for the out and back trip to the Fastnet Rock, they could do very well under IRC.
Rock Lobster is a J/121 owned by Nick Angel. Crewman Jonathan Boyd describes himself as 'the other old guy' on the crew. "Our immediate goal is to beat the other J/121 in the fleet. Darkwood has been having a great season and is really competitive, so if we beat those guys we'd be pretty chuffed and we would probably have finished in a respectable place. Most of our crew are young and small - Nick and I are the only ones with any 'weight' - so we're hoping the wind doesn't blow too hard! The youngest is Willow, 21 years old, a student at Exeter University and weighs about 8 stone. She is a great sailor - a member of Exeter Uni's team - and doesn't let her lack of weight get in the way of any of the physical jobs on the boat."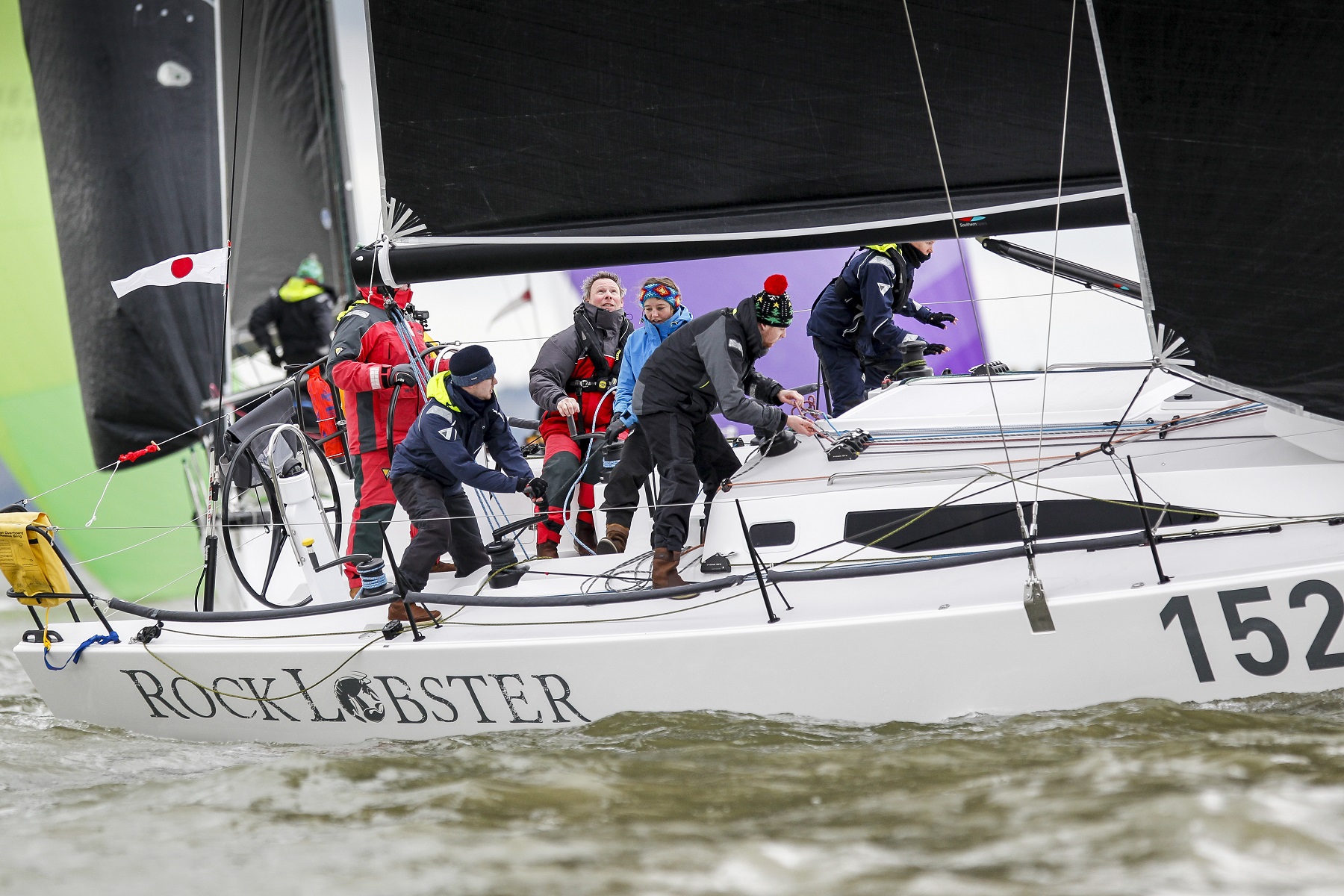 Rock Lobster is a J/121 owned by Nick Angel and sailed with a young crew © Paul Wyeth/pwpictures.com
Being based out of Ipswich, the Rock Lobster crew don't really know where they will fit in with the rest of the fleet having trained mostly on their own. "We're based on the East coast and there haven't been many races up here this season for us to practise. The North Sea race was cancelled and the East Coast Race will be the only significant test before we head south to the Solent. We have been concentrating on training days, relearning the manoeuvres that we unlearned last season when almost nothing happened."
Boyd anticipates a good welcome in Cherbourg at the end of this new course being run for the first time. "We're really looking forward to it. We thought the finish in Plymouth was underwhelming. I'm confident that the city of Cherbourg is going to make more of an effort and I am expecting a greater sense of celebration at the finish."
Darkwood will certainly be one to watch for a division win. Owner Michael O'Donnell, along with Steve Lawrence, have done a lot of optimisation to the boat, moving the ballast, and have an overlapping, triple-head rig for some serious downwind horsepower which helped them win the RORC Channel Race in 2019. A 4th place in this year's Myth of Malham also bodes well for this immaculately prepared crew.
Stockholm, about 1200 miles of sailing away from Cowes, is a long way to come for a 600-mile race. But Swedish entry, an Elliot 44 CR called Matador, is well used to big journeys for milestone races. Twice winner of 'Offshore Sailor of the Year' in Sweden, Matador's crew have competed in several editions of the Rolex Sydney Hobart Race, Rolex Middle Sea Race, RORC Caribbean 600 and two Rolex Fastnet Races.
For Demian Smith, owner of XP44 Simples, the racing is just one component of the overall experience. "We are primarily a group of friends and family who have all met through various sailing events and clubs. With a broad range of experience and a desire to push ourselves to always do better, we prioritise safety, happiness and speed in that order." There's a strong youth focus in the crew with a number of teenagers on board, the youngest of whom is 15-year-old Freddie Denton, son of Mark Denton who skippered of BP Explorer in the 2001/2 BT Global Challenge. Smith is excited about returning to the Rolex Fastnet Race. "It's the world's largest and best offshore race where amateurs can compete with professionals and we can race against some of the best performance yachts in the world."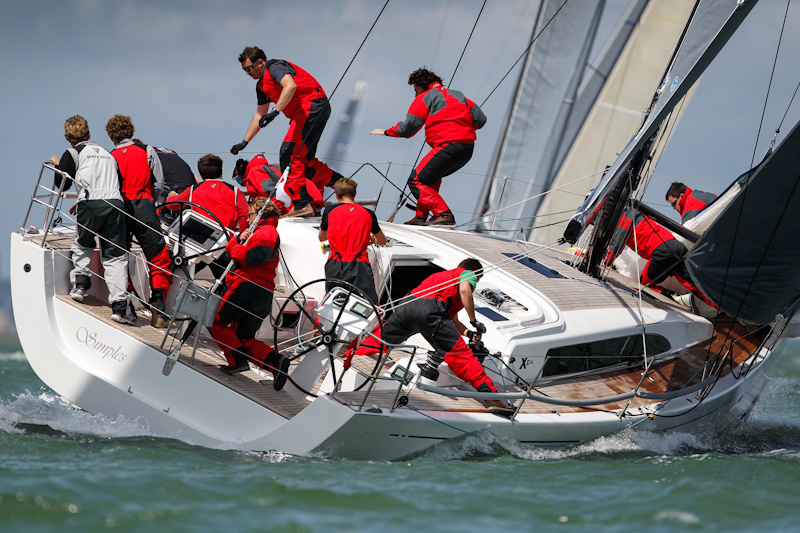 A strong youth focus on Demian Smith's XP44 Simples - competing with family and friends as crew © Paul Wyeth/pwpictures.com
Another crew with a strong emphasis on family are the Goubau clan from Belgium aboard their First 47.7 Moana. François Goubau races with his wife and three sons and they have formed into a highly competitive unit. Incredibly this will be the Belgian boat's 10th Rolex Fastnet Race and one of the three sons, Mathieu, will be steering the boat as he has been since the age of 16. Now aged 38, this will be Mathieu's 11th Rolex Fastnet Race. Since 2005 they have stood on the class podium three times and there's every possibility they'll do so again in 2021.
Slightly higher up the size range is Pata Negra, an IRC 46 designed by Marc Lombard and built by CSC Composites in 2016. The boat was overall winner of the 2018 Sevenstar Round Britain & Ireland Race, first in class in last year's RORC Caribbean 600, and second in class in the 2017 Rolex Fastnet Race, and could be a force to be reckoned with in a range of conditions. Owner Andrew Hall and his son Sam are taking part in their second race: "We're really looking forward to doing the Rolex Fastnet Race again," said Andrew, veteran of many big offshore challenges including the Newport Bermuda Race. "We need to do well, not just for the sake of the Rolex Fastnet Race itself, but we're looking to get to Cherbourg as quickly as possible so we can be back in time to take part in the Welsh IRC Championships in our home port of Pwllheli."
The famous 1961 van de Stadt-designed 73ft ketch Stormvogel is on a mission just to get to England, with the boat needing to get from Bodrum in Turkey through the Mediterranean and up the Atlantic. But it's a historic year for Stormvogel, this being the 60th anniversary since she took line honours in the 1961 race when Francis Chichester was navigator for her original owner Kees Bruynzeel. Recently the boat has been through an extensive refit in Bodrum and according to Stormvogel's manager and Rolex Fastnet Race skipper Graeme Henry, "Stormvogel is back to a new level of performance while maintaining the original 1961 concept and 1960s' style."
A maxi from the subsequent decade but even more famous in this year's line-up is Pen Duick VI. The 73ft aluminium maxi competed in the first Whitbread Round the World Race in 1973-74 and then lapped the globe again alongside the second; an unofficial entry due to the spent uranium installed in her keel. Perhaps most amazing was that in between her legendary French skipper, Eric Tabarly, took this same boat in the 1976 Observer Singlehanded Transatlantic Race…and won it.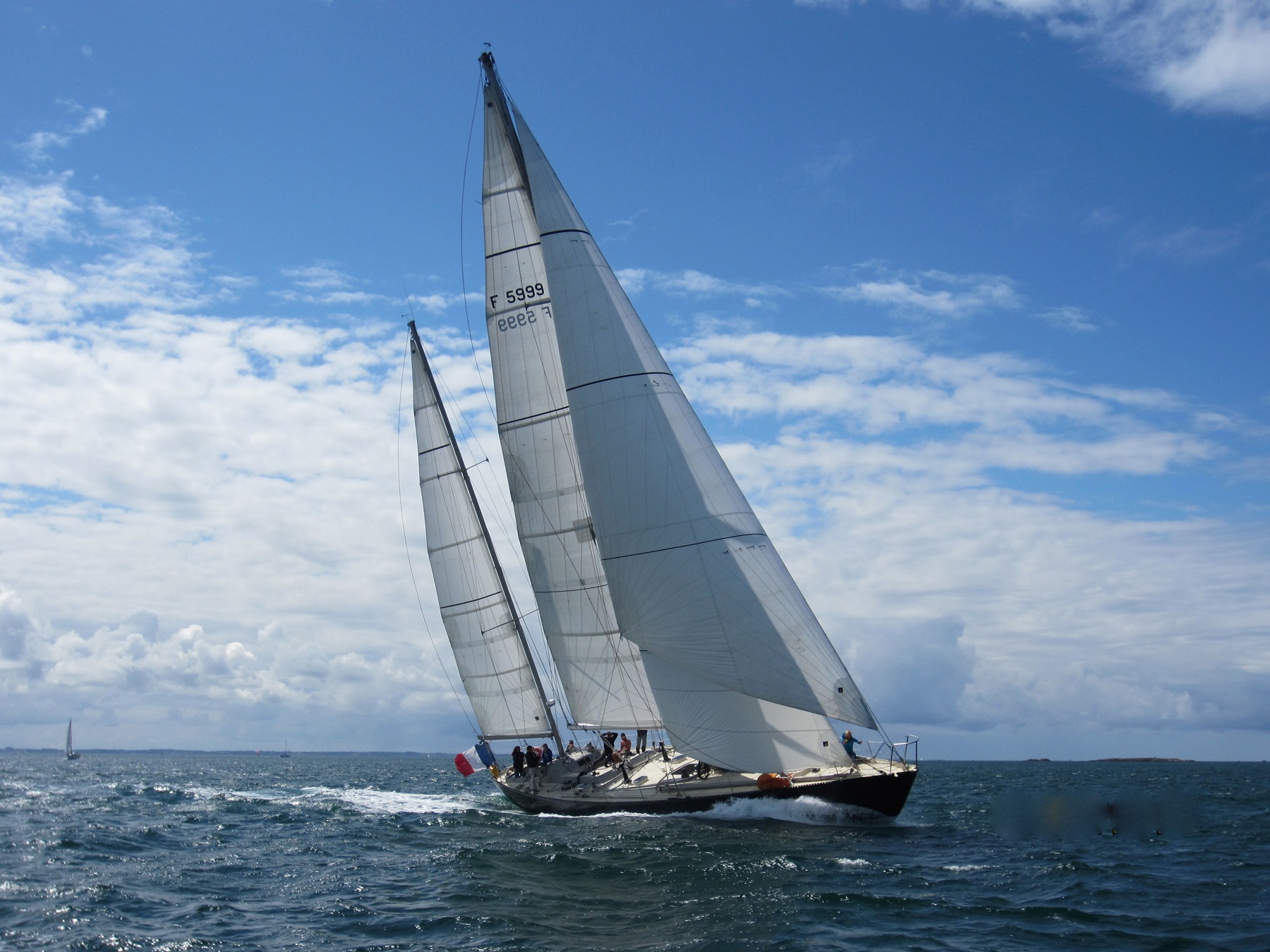 Pen Duick VI - The 73ft aluminium maxi competed in the first Whitbread Round the World Race in 1973-74 and is being sailed by Marie Tabarly © Pen Duick VI
Another big boat in this division is Tall Ships Youth Trust, one of three Challenger 72s in the race, skippered by Sue Geary. On board is the youngest sailor in the Rolex Fastnet Race, 12 year old Zoë d'Ornano who, as well as learning the ropes of offshore racing, will also be working hard to raise awareness of the vital work of the Trust and fundraising to give some of the UK's most disadvantaged young people a life-changing experience at sea. Zoë's arrival in Cherbourg will also be special because she holds dual French and British nationality.
While the Figaros have their own class this year, two of these 35ft long Beneteau-built foil-equipped speed machines are also racing in the IRC fleet in Irishman Conor Fogerty's Raw and Ross Farrow's Stormwave 2.0.
According to Didier Gaudoux, the Rolex Fastnet Race's overall winner in 2017, there is much to look forward to with the finish in Cherbourg. "It will be a new challenge tactically between the Scilly Islands and Cherbourg with the tide. A lot of people will be coming to visit, and the harbour is very close to downtown so it will be a special welcome."