1800 BST Monday 09 August
The demise of some of the leading contenders in IRC One has thrown the division wide open. As the bulk of this fleet passed the Lizard and closes in on the Land's End TSS, on corrected time Matador and Sailplane were neck and neck with barely a minute between them.
On the water, Jonas Grander's Elliot 44 CR, Matador, is 25 miles in front of Rob Bottomley's Mat 12, Sailplane, with the Swedish team having already passed Land's End and moving up the northerly side of the TSS zone, just two miles behind INO XXX, the IRC One frontrunner in terms of distance to the finish. Twice winner of "Offshore sailor of the year" in Sweden, Matador's crew has competed in several editions of the Rolex Sydney Hobart Race, the Rolex Middle Sea Race, RORC Caribbean 600 and two Rolex Fastnet Races. So it's no surprise to see the Swedes near the front in such a challenging first 24 hours at sea.
RORC Commodore James Neville has had his HH42, INO XXX, reconfigured with twin rudders and high-clew reaching sails for exactly these heavy-going conditions, the Fastnet Race playing to the strengths of INO XXX's new optimisations.
"Just passed Land's End after a tough and bumpy 24 hours," reported Neville earlier this afternoon, having spent the first phase of the race flying a J4 or J3 headsail. "We settled on the J2 once the wind moderated to less than 20 knots deep in the Channel. We had a glamour sail around Lizard and Land's End, and now we're expecting a beat most of the way to the Rock."
INO XXX sits around half an hour behind the front two on corrected time, and just a nose ahead of Pata Negra, the IRC 46 designed by Marc Lombard which won the Sevenstar Round Britain and Ireland Race in 2018.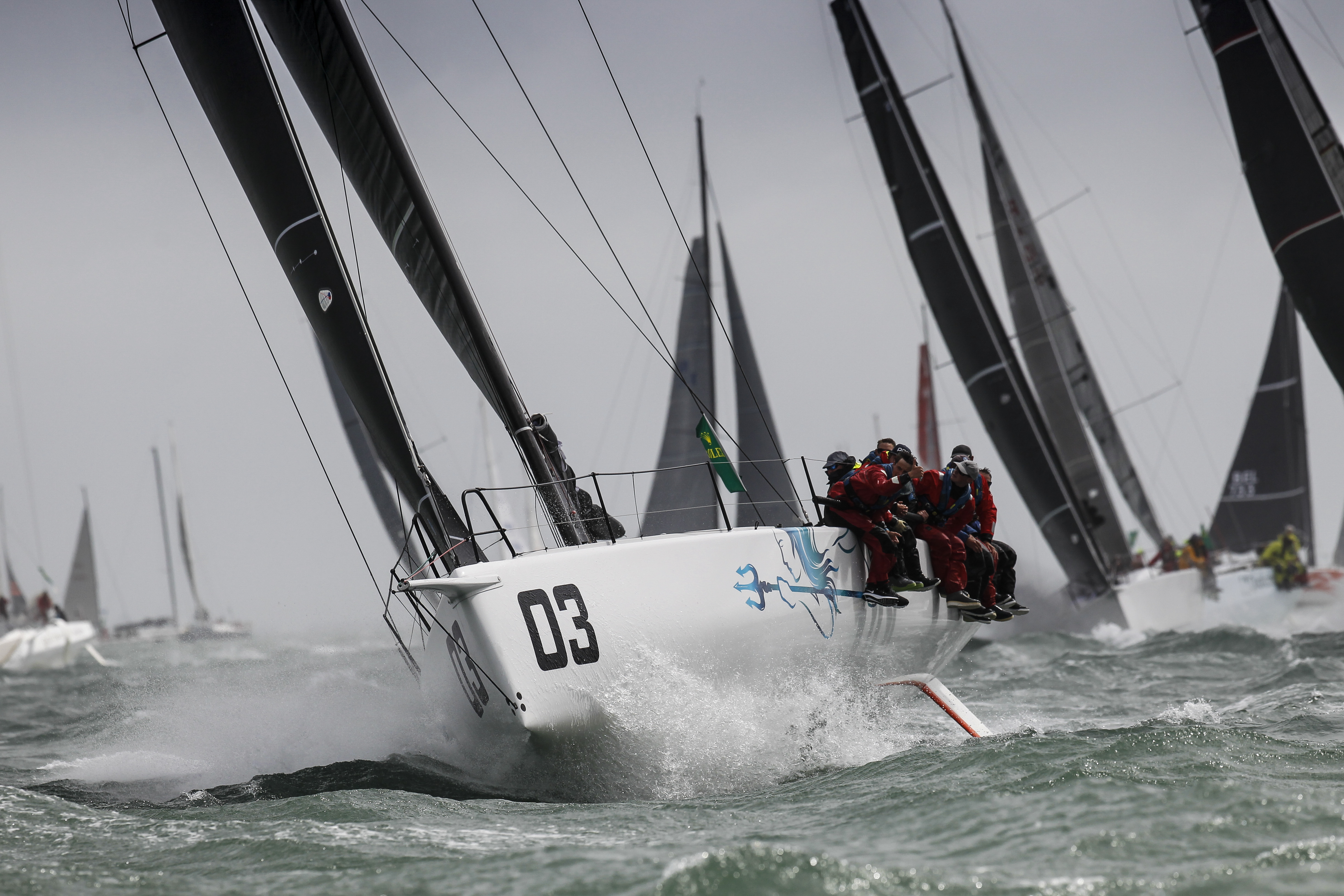 INO XXX, owned by RORC Commodore James Neville. © Paul Wyeth/www.pwpictures.com
The big surprise is that there are few French boats currently in the running, in a division where the French are used to being dominant. Among the pre-race favourites were Jacques Pelletier's Milon 41 L'Ange De Milon which won IRC One in the 2019 edition. She is out after the mainsail track ripped off the mast. Runner-up to Pelletier in 2019 and outright race winner in 2017, Didier Gaudoux's JND39 Lann Ael 2, has also retired following damage to the mainsail.
François Goubau's First 47.7 Moana, a mainstay of the Rolex Fastnet Race, broke her forestay and has retired from the race after so many successful finishes for the Goubau family over the years. Such is the way of the Fastnet, and especially the early stages of this edition as the fleet exited the Solent and found themselves crashing through such severe and steep-backed waves.