0700 BST 10 August
By the morning of the third day of the Rolex Fastnet Race all of the boats still racing in IRC Four had passed Lyme Bay. The leaders on the water have made Land's End and are readying themselves to pass the Isles of Scilly and into the Celtic Sea. Ludovic Menahes & David le Goff, racing JPK 10.10 Raphael are still leading on the water; an admirable achievement for one of the smallest boats in the race as well as sailing doublehanded. Harry Heijst's S&S 41 Winsome has recorded the best 24-hour run in the class and is second on the water having skirted close to the exclusion zone overnight.
A pack of boats racing Two-Handed are south of Winsome's position, including Vincent & Jacques Rigalleau on the Sun Fast 3200 Enedis, Emmanuel & Etienne Pinteaux on JPK 10.10 Gioia, Richard Palmer & Jeremy Waitt's JPK 10.10 Jangada, and Tim Goodhew & Kelvin Matthews on the Sun Fast 3200 Cora.
Fully crewed teams in the leading pack are Francois Charles' Dehler 36 Sun Hill 3, Peter Butters' JPK 10.10 Joy and Benoit Rousselin'a JPK 10.10 Delnic. Ronan O'Siochru's Sun Fast 37 Desert Star Irish Offshore Sailing has chosen to pass to the north of the exclusion zone and it will be interesting to see if the strategy pays off. Desert Star Irish Offshore Sailing leads IRC Four after an estimation for time correction. Raphael is second and Sun Hill 3 is third.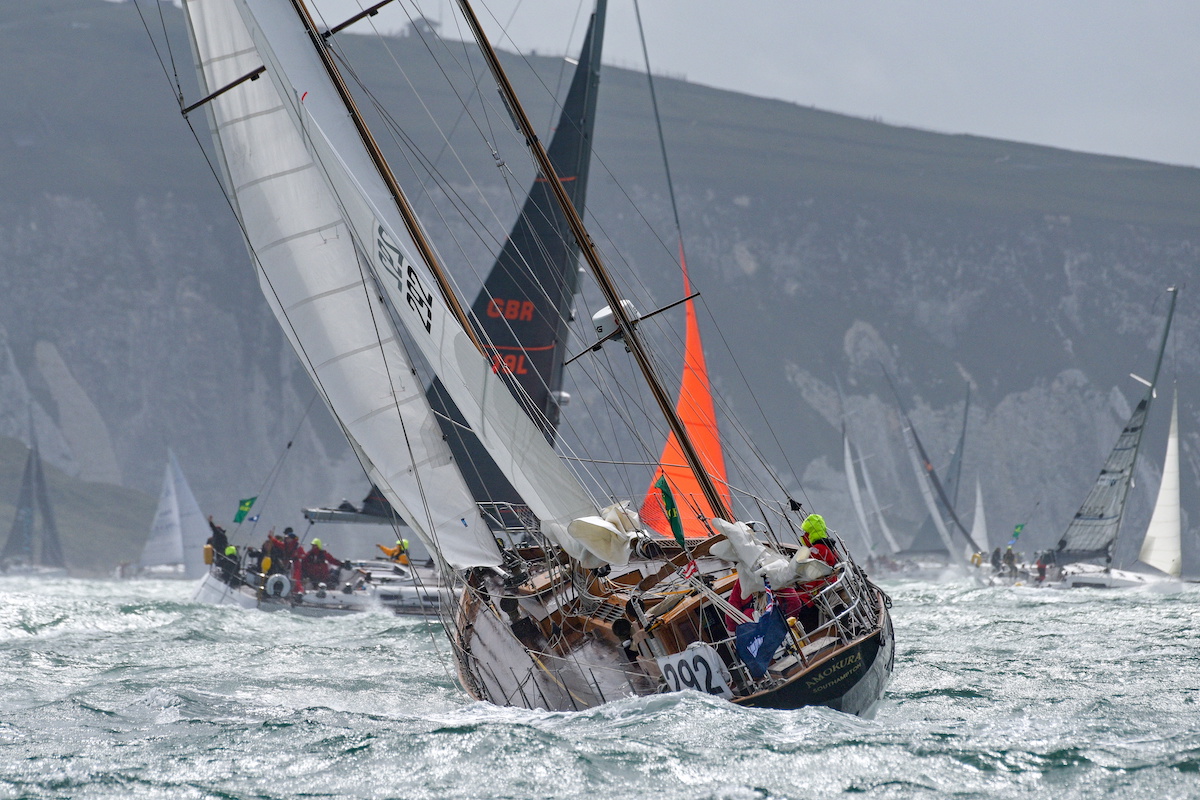 Amokura, Paul Moxon & Steve Jones's Classic Yawl. © Rick Tomlinson/www.rick-tomlinson.com
While the Ultime Maxi Edmond de Rothschild has now finished the race, all of the teams racing in IRC Four still have over 500 miles to complete the Rolex Fastnet Race. Paul Moxon & Steve Jones' Amokura is the oldest boat in the race with the pair racing the 1939 55ft yawl doublehanded in IRC Four. Paul contacted the media team as Amokura passed Salcombe, 572 miles from the finish.
"The start in the Solent was quite stressful as there were a lot of boats and we are not very manoeuvrable, especially with just two of us on board, but we got out without breaking anything so that was a big tick in the box," commented Paul Moxon. "It has been quite lumpy in the open sea, with a short, sharp chop. We are doing everything we can to prevent her getting stopped in her tracks. Since we have got through Lyme Bay, the weather has moderated a bit. It has been less choppy and we have picked our speed up. It has been a challenging start but we are making progress. Once we have rounded Land's End we are hoping for a bit more of a reach and that's when the boat really opens up. Up until then we are plugging away, she is a big boat with high loads to deal with, but Amokura is a stable platform in big conditions."
Paul Moxon sent in a video portraying life on board Amokura in the Rolex Fastnet Race.
70 teams started the Rolex Fastnet Race in IRC Four; as of 0700 BST 10 August, 15 teams have now retired or discontinued racing. Go to the YB Tracker page to follow the fleet.