0700 BST Tuesday 10 August
IRC Two is living up to expectations of being a close battle between the JPK 11.80s, a design that has proven highly potent in previous editions of the Rolex Fastnet Race. More surprising is the fact that the French teams are trailing their JPK 11.80 rivals from Great Britain and the Netherlands.
Currently heading the IRC Two standings on corrected time is Tom Kneen's Sunrise which is engaged in an upwind duel with Astrid de Vin's Il Corvo [Spanish for 'The Crow'] to the Fastnet Rock, with the British boat six miles ahead of the Dutch and about two hours in front on corrected time.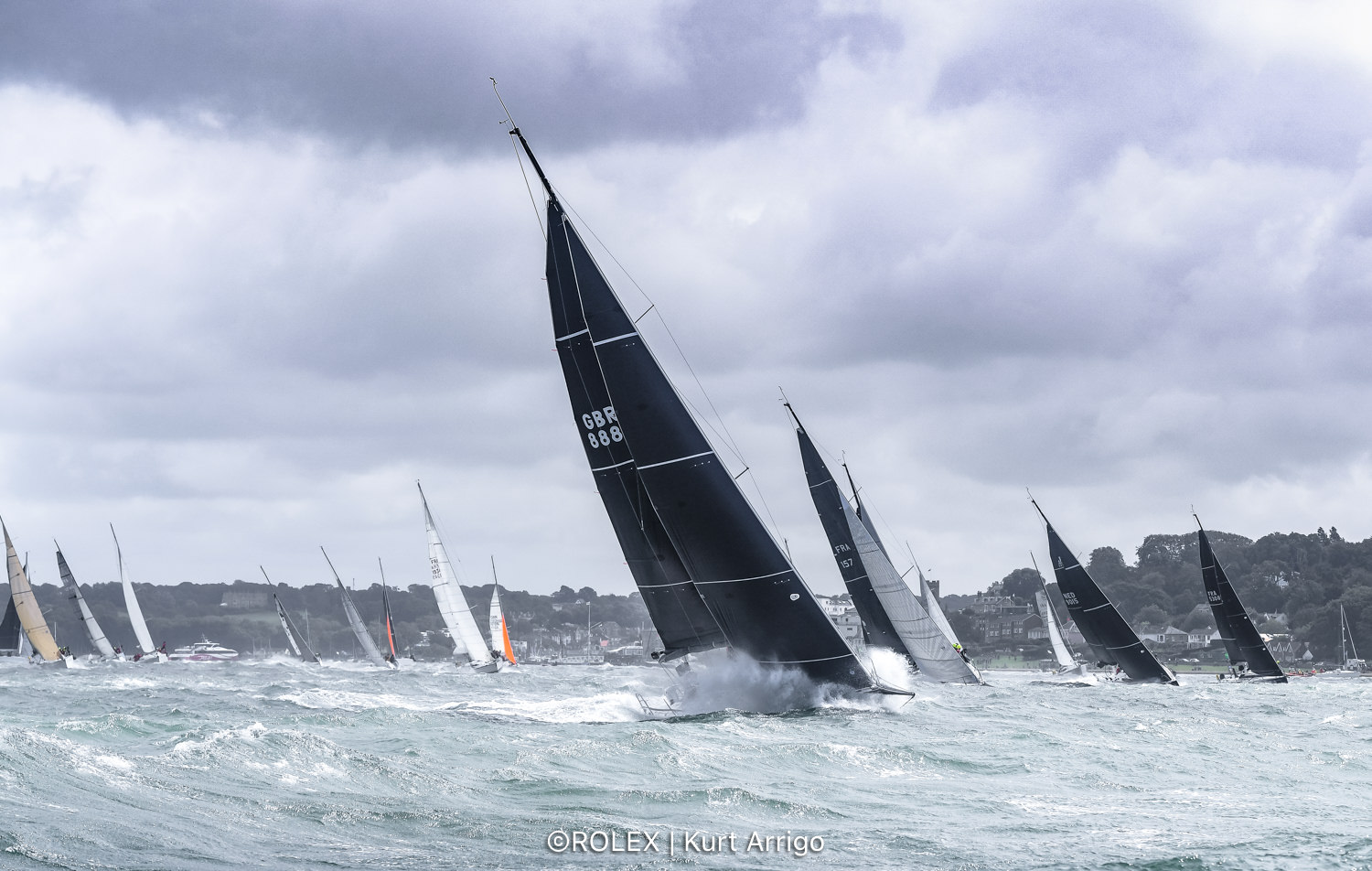 Thomas Kneen's Sunrise has enjoyed an upwind battle with fellow JPK 11.80 Il Corvo. © Kurt Arrigo/Rolex
There's a couple of French JPK 11.80s in a close fight for third, with Richard Fromentin's Cocody and Eric Fries' Fastwave 6 locked together on the water and on corrected time. Keeping close company with these two is Nicolas Loday and Jean Claude Nicoleau's Grand Soleil 43 Codiam, which won this division in 2009 and 2011.
After the frenetic first 24 hours of the race the conditions are now very benign in the Celtic Sea, the breeze blowing around 10 knots. Not quite as much breeze as most sailors would want, but much more frustrating for the boats that retired in the early stages along the south-west coast of England.
Christopher Daniel, owner of the J/122E Juno, reported: "It's been pretty straightforward after the start. The worst was leaving the Solent to be honest, and the overfall off the Needles. Once we were through that it all settled down and we've been trucking along since then. It's been a good race so far."
Tough to take for those who didn't make it far out of the start. A collision between Corinne Migraine and Gilles Fournier's J/133 Pintia and Ed Bell's JPK 11.80 Dawn Treader resulted in the retirement of both these teams, Dawn Treader suffering a dismasting in the process. Both of these teams would very likely have been in contention for overall honours but will have to wait until 2023 for better fortune.
Another retirement due to a broken mast is Nutmeg Solidaire En Peloton, the MC34 skippered by Corentin Lognone.
Vladimir Cherpurnoi and his crew on the First 40 Jazz have retired due to taking on water through the keelbolts, and headed to Falmouth, after receiving assistance from Mussulo 40, the Class 40 owned by Afanasy Isaev.