1200 BST Wednesday 11 August
Just before 4 am BST on the fourth day of the Rolex Fastnet Race, Ludovic Menahes & David le Goff, racing JPK 10.10 Raphael Two-Handed, rounded the Fastnet Lighthouse - the first boat to do so in IRC Four. Raphael also led the class after time correction by over two hours. Racing a 10-metre boat in the Rolex Fastnet Race is an arduous task, coupled with the brutal conditions experienced in the first 24 hours, their performance so far has been nothing short of breath-taking.
"We are both well and so is the boat," commented Ludovic Menahes, as Raphael rounded the Fastnet Rock. "We did break a door in the early part of the race, but nothing serious and the boat is going very well. We have not had a hot meal since day one, and we hope to after rounding the Fastnet, but we still have not hoisted our spinnaker!"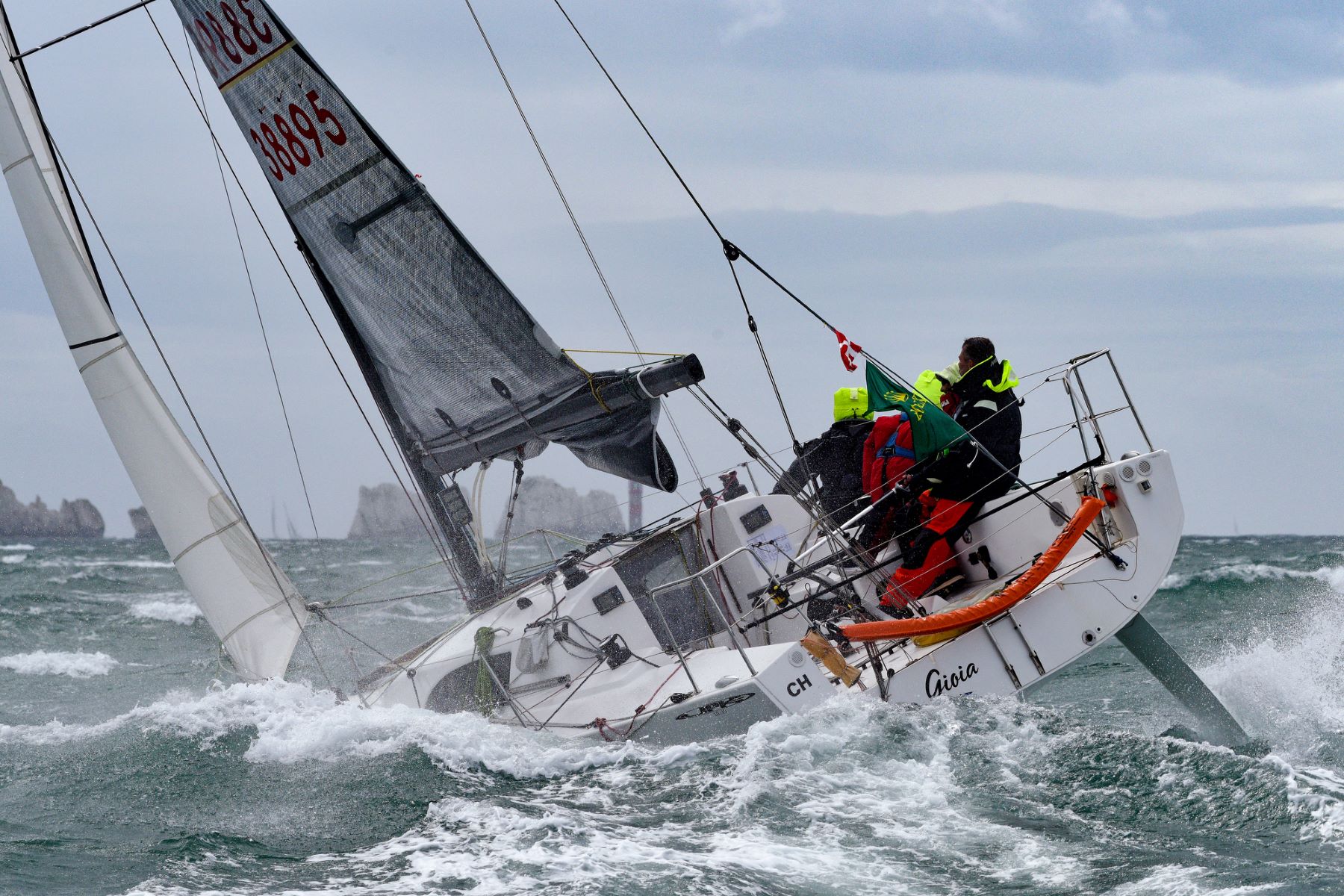 Gioia, JPK 10.10 in IRC Four followed Raphael round the Rock © Rick Tomlinson/www.rick-tomlinson.com
Forty seven minutes after Raphael rounded the Fastnet Rock, Emmanuel & Etienne Pinteaux's JPK 10.10 Gioia was to follow. The brothers from St Vaast, racing fully crewed with friends, had put the pedal to the metal through the Celtic Sea, recording the quickest stage time from The Lizard to Fastnet. Harry Heijst's S&S Winsome was the second fastest yacht in IRC Four for the same stage. Gioia and Winsome are virtually tied for second place after IRC time correction, although on the water Gioia is two miles ahead. Francois Charles' Dehler 36 Sun Hill 3 is estimated to be fourth in class after time correction and have set their sights on a podium result, as Francois explained from the Fastnet Rock:
"A Good passage to the Fastnet Rock; a climb without too many tactical options which forced us to make this small and old boat run as quickly as possible. We concentrated on not being passed by more modern boats and the excellent team racing S&S 41 Winsome. I can't wait to send the spinnaker up. The crew is in good shape, we are happy to have turned south at the lighthouse for the third race in a row on Sun Hill 3. Now we go to work to make the podium!"
At 1200 BST on Wednesday 11 August, 15 teams in IRC Four had rounded the Fastnet Rock. Thirty eight teams in IRC Four have still to round the iconic symbol of the Rolex Fastnet Race. A frontal system is expected to arrive on the West Coast of Ireland at about midnight tonight, bringing stronger wind from the south, adding yet another twist to a fascinating challenge.
For the positions the fleet visit the Rolex Fastnet Race Tracker Page.