After the exceptional IMOCA win for Apivia early Wednesday morning, so there was yet more compression in the fleet astern of the race winner as the already compacted Vendée Globe 60 footers fell foul of the Alderney Race. Nonetheless the defending Rolex Fastnet Race IMOCA champions Jérémie Beyou and Christopher Pratt on Charal managed to hang on to second.
"When we come to these races, it's to try to be on podium so obviously we are happy to finish there today," said Beyou. "We did the best we could, but Apivia was definitely a cut above the rest. We ended up wrestling with Arkea Paprec and it was interesting in terms of performance. They were going really fast and it was hard to stay ahead of them. Last night, we stayed focused because we knew that the fleet was going to come back from behind."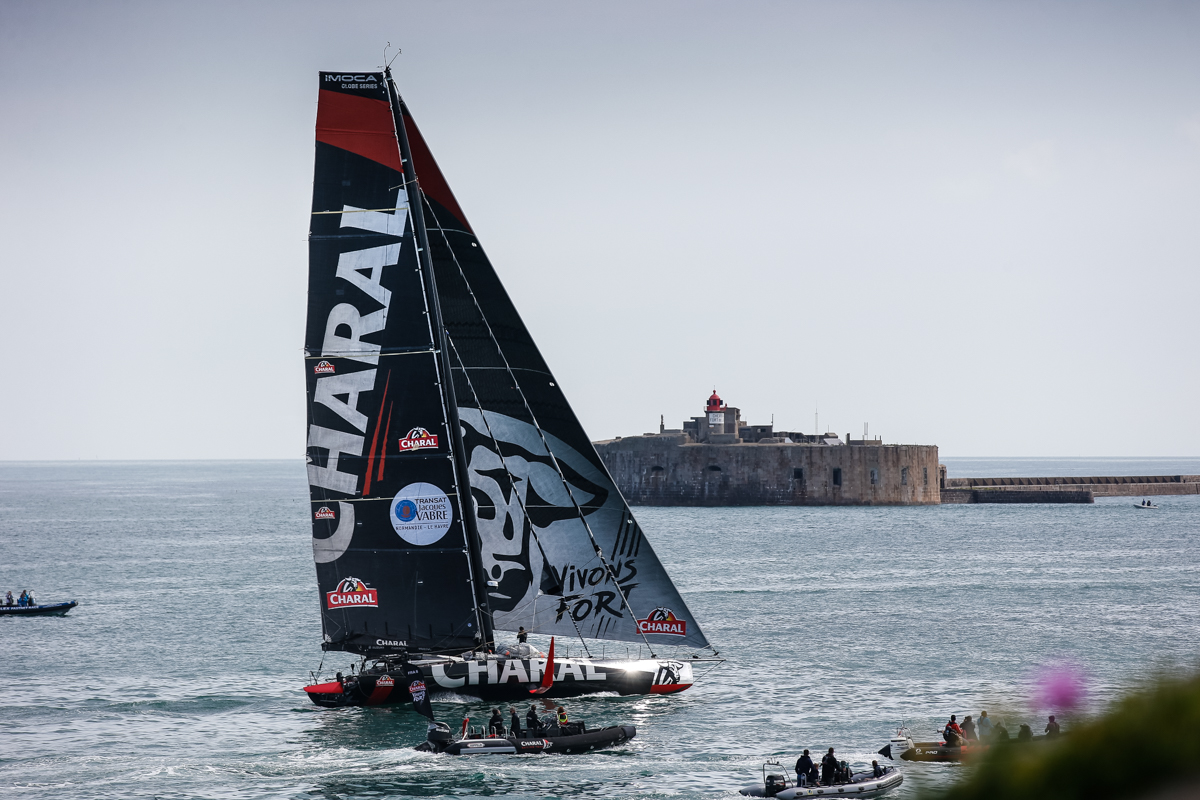 Charal, sailed by Jeremie Beyou and Christopher Pratt, came in to finish second behind Apivia © Paul Wyeth/pwpictures.com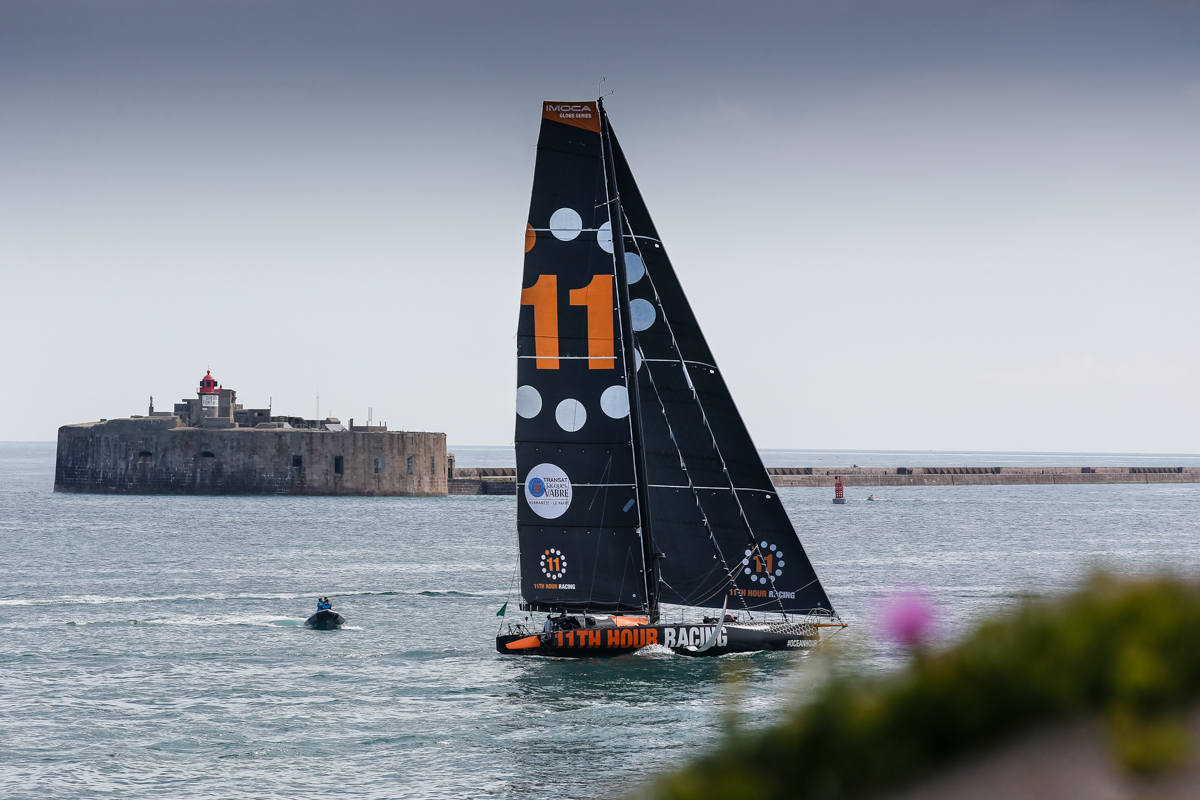 Rounding out the podium in third was 11th Hour Racing, sailed by Simon Fisher and Justine Mettraux © Paul Wyeth/pwpictures.com
The last challenge to Charal came from the Anglo-Swiss duo Simon Fisher and Justine Mettraux on board 11th Hour Racing (the 2016 vintage Hugo Boss but with new foils fitted), who in a neck-for-neck dive for the line missed second place by a mere 27 seconds.
"We are obviously very happy with the finish - to be pushing Charal for second place in the end there and to sneak past Arkea Paprec was a great result for us in our first doublehanded race. I am really happy with how it went and how Justine and I are working together on the boat. It was a belter of a race."
However Fisher said that for his first time being skipper of an IMOCA 60 and his first time competing doublehanded, he could have done a less brutal start than they experienced on Sunday.
"If I could ask for one thing on the start of a first doublehanded race in one of these boats is NOT 35 knots of wind on the start line! It was pretty full on. There were 50 boats on our start line and I tried to start somewhat conservatively, but that backfired on us because then we had to work through a lot more boats. The good thing was that when we got things settled down, our pace was good and we got out of the Solent cleanly which was our ambition. We had a few little mishaps but then buckled down into the race. Our pace was really good in that windy stuff and we punched our way through the mid-field quite quickly and got back to just behind Charal and Arkea."
Fisher admitted that they hadn't been bold enough to follow class leader Apivia's bold flier right across to the French coast and had lost out as a result.
"We made a bit of a tactical mistake - which was on me - I was a little bit nervous to be so punchy to send it all the way down through the Channel Islands on the first afternoon when half of the fleet had tacked off and I was worried that we might hit some foul tide going through there. So we went with a middle option beneath the Casquets TSS. In the end we got some foul tide and we had to scrap a bit before the leftie came in and we hemorrhaged some miles there. We lost a few miles but we got back in touch in about 5th place, roughly where we were before. Then we just tried to sail smart and just keep chipping away and use our boat speed when we could."
They also regained ground on the return journey from the Rock.
"It was pretty light, but We had a nice private breeze and managed to punch out quite nicely and put 25 miles on the boat behind us. Tuesday night was quite tense because the guys behind and were more headed with more pressure and we were more lifted and having to gybe down, always nervous that the boats behind would catch up and get inside us, so it was a bit tricky to manage that situation, when to gybe, when to protect, knowing that the breeze was coming from behind, but using the tracking and the AIS, where it was faster and slower. We basically worked our tails off all night to make sure we kept going fast and we were very happy we did a good job of not wearing ourselves out and not having anything left for the finish. We both got a couple of good hours sleep and hit it hard for the last miles.
"We were a little faster than the boats behind and then we started hitting the current off Alderney and then the Alderney Race had us pointing 50° from course just to go due east. So everything came together again but it was first in, first out…"
In the last miles 11th Hour Racing was able to pass Arkea Paprec and then made a dramatic lunge for the line trying to pass Charal.
"We would get a light spot and we'd chase up to them and then they'd get away a bit and we thought we might get around outside of them, but it wasn't quite to be. But we were very happy just to get ourselves on the podium. It would have been a fairy tale to have snuck past Charal. I am thankful we both didn't just park and everyone else go around the outside!"
Second placed Charal and the four boats astern of her all arrived at the Cherbourg finish line within 14 minutes.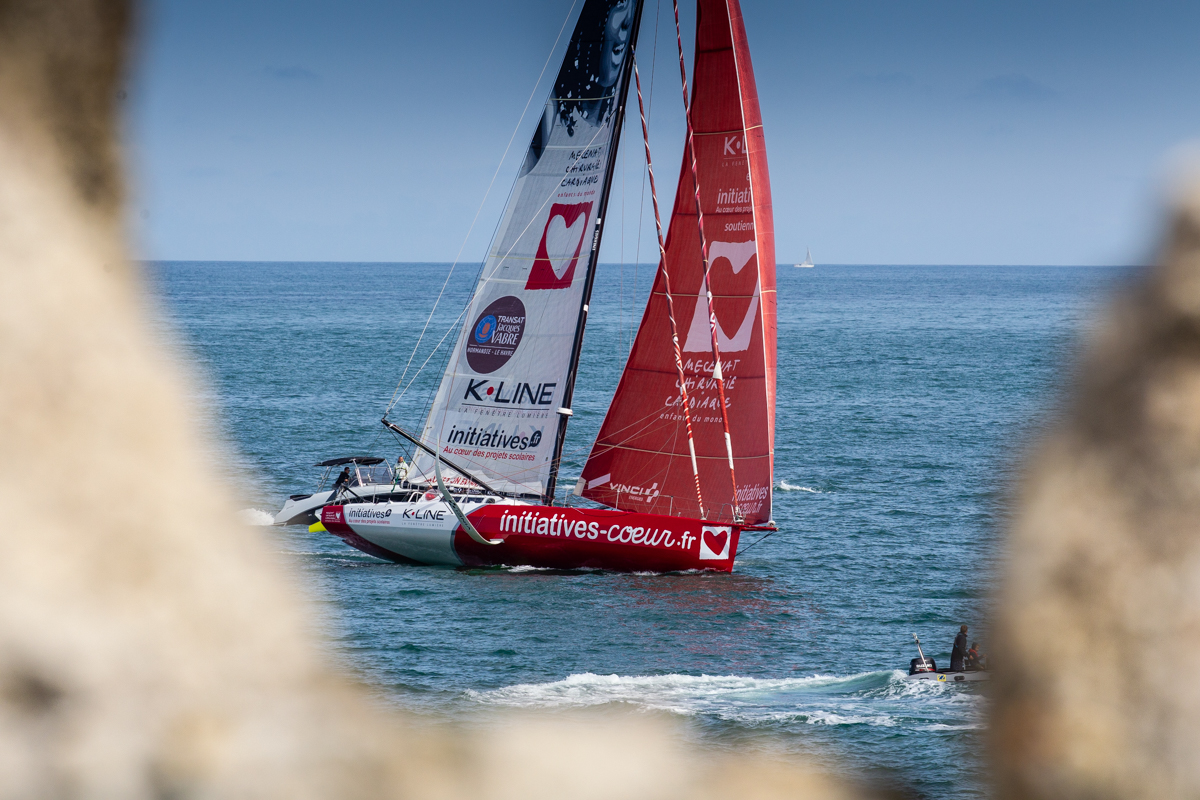 Sam Davies' and Nicholas Lunven, racing IMOCA Initiatives Coeurs, arrive in Cherbourg © Paul Wyeth/pwpictures.com
On board Initiatives Coeur, Sam Davies and Nicolas Lunven arrived in fifth place. Of the compression Sam said:
"Groupe Apicil was 50 miles behind us and at the end they caught us right up and they are really good in the light. They were the threatening ones, but there was no point in getting too stressed. You just had to sailed in the right direction and accept that we would all park up together.
"In fact we didn't park up, it was just that the leaders slowed down and the people behind were always faster and then Romain [Attanasio - Fortinet - Best Western – her partner] caught us up and we were at an angle where his boat goes faster than ours, but we managed to hang in there. Then there was a bit of tactics around Alderney. We arrived when the tide turned, but there was so much current that it cancelled out the wind, so then you end up with no wind and the current is sluicing you out of the Alderney Race to the north. So we tried the northerly outside option to have less sideways current and more forwards current and that gave us a big gain at the end which made it safe with Romain, because he got a little bit stuck there while we caught up the others."