This year the Rolex Fastnet Race featured on the Classe Figaro calendar. Unfortunately the proximity of it to the mid-August start of La Solitaire du Figaro, the class' premier event and the effective World Championship of solo offshore racing, meant that just five Figaros took part. Victory went to a rookie pairing.
Built by Beneteau and designed by VPLP, the 32ft Figaro 3 is an early generation foiler monohull that replaced the Figaro 2 in 2019. But to give some idea of its exceptional performance, the boat has an IRC TCC of around 1.115 - around the same as a Corby 38 or Ker 39.
Sadly the big 35 knot upwind, wind against tide conditions at the start put two Figaro 3s out of action. British favourites, the mixed duo of Cat Hunt and former Artemis Offshore Academy student Hugh Brayshaw aboard Ross Farrow's Stormwave 2.0 retired after their D2 broke. Meanwhile sail damage on Eric & Denis Delamare's Hope forced them to limp into Cherbourg.
And then there were three
In the conditions Ireland's Kenny Rumball and Pamela Lee on RL Sailing did a better job playing the shifts and tides. As they rock-hopped around the Lizard they had pulled into the lead ahead of Figaro class rookies Yael Poupon and Victor Le Pape aboard AD Fichou - Innovéo / Bihannic. These two Figaro 3s match raced their way across the Celtic Sea with the Irish leading around their rock with a 20 minute advantage.
After being on the wind all the way down the Channel and on one tack for most of the crossing, the return journey back from the Fastnet Rock to Bishop Rock on a reach in a bit more wind finally enabled the powerful Figaro 3s to make use their boats' foils. They kept west and rounded the west side of the Traffic Separation Scheme west of the Scilly Isles before getting parked in a ridge in the early hours of Thursday morning.
After three or so hours the two managed to find the breeze but, getting out first, RL Sailing benefitted from being able to sail a largely direct course as AD Fichou - Innovéo / Bihannic lost ground putting in gybes. The two boats ultimately played the approach to the Alderney Race differently with the Irish ducking south of Guernsey and then allowing themselves to get drawn north on the powerful Alderney Race as their rivals managed to soldier through gybing downwind to the north. RL Sailing ultimately arrived in the early hours of Thursday morning more than five hours ahead of her rivals. Sadly the race's jury later found that RL Sailing had unintentionally entered a TSS (prohibited zones under race rules) and awarded them a 10% penalty dropping them to last place.
This handed victory to AD Fichou - Innovéo / Bihannic sailed by former French Laser champion Yael Poupon (no relation to 3x Solitaire de Figaro and Route du Rhum winner Philippe) and Victor Le Pape (son of the long term head of France's most famous training centre for offshore racing, Pôle Finistère course au large in Port la Fôret). Aged 22 and 23 respectively they represent a new generation of Figaro sailors coming through in France. For Le Pape in particular watersports are part of his family DNA. His elder brother Martin is also a Figaro sailor and his sister is IMOCA skipper Charlie Dalin's girlfriend. He spent 10 years windsurfing before he started sailing in anger on board J/80s and Open 5.70s then getting drawn, like a big magnet, towards the Classe Figaro, joining forces with Poupon.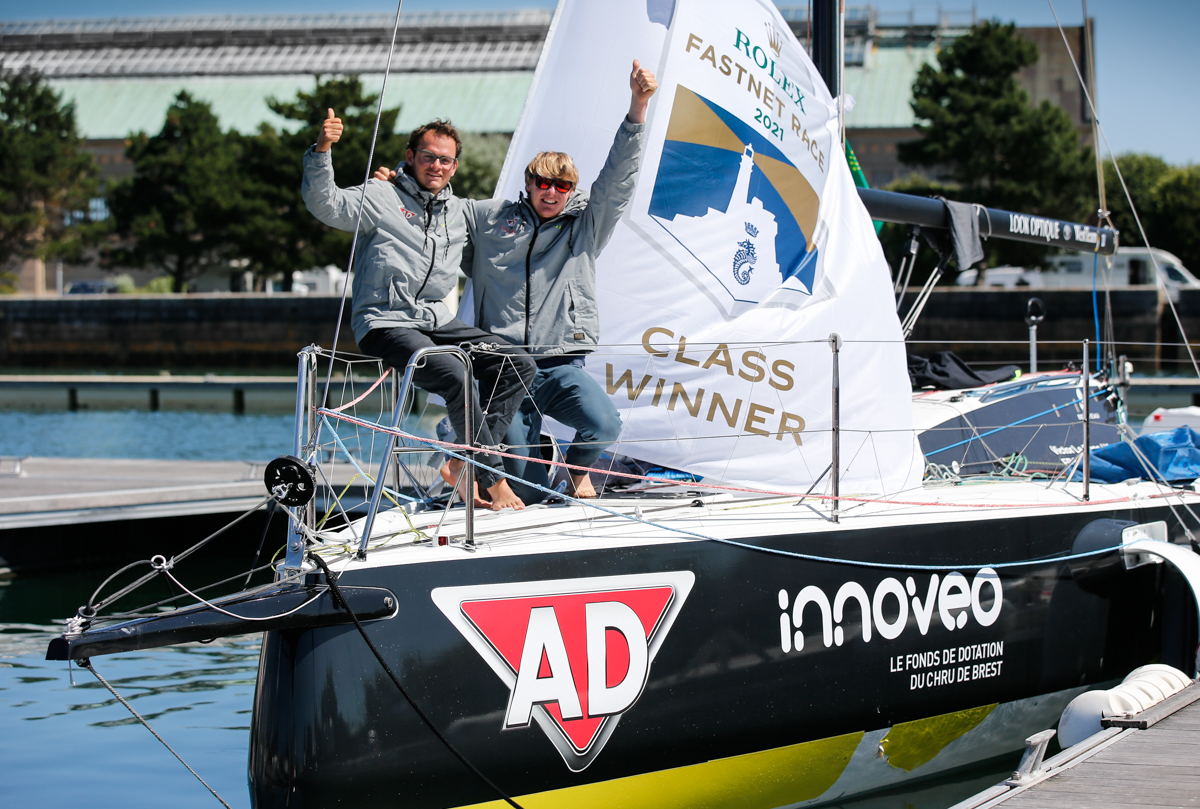 Waving the Class winner flag - AD Fichou - Innovéo Bihannic celebrates winning Figaro 3 © Paul Wyeth/pwpictures.com
In 2021 Poupon and Le Pape are known as 'bizuths' in France, ie Figaro sailors in their first season, and this year have competed in the Figaro class' Tour de Bretagne and singlehanded in the Solo Concarneau (in which Poupon raced another Figaro). Neither is racing in La Solitaire this year.
For both this was their first Rolex Fastnet Race. Of Sunday's lively start Le Pape admitted it was alarming. He joked:
"Everyone I spoke to said 'you are crazy to do it in a Figaro3'. After that first night, I think they were right. Next time I might take a drier boat!"
However both were impressed by the huge fleet and its diversity from 100ft Ultime trimarans and the mighty ClubSwan 125 Skorpios down, via the IMOCA fleet including many of France's best known sailors.
"It was a spectacular start but it was very hard," said Poupon. "The waves were very strong. We put a reef in the mainsail and a reef in the jib - I have never sailed this boat in this configuration before." He also admitted that compared to sailing in the Figaro fleet where speed differentials between the boats is usually no more than a small fraction of a knot, in the Rolex Fastnet Race fleet bigger boats were passing them sailing several knots faster. "There's no other event where you can sail with so many boats and so many different boats - it is a new experience. And in 35 knots! Our goal was not to break anything as we knew that a few hours after it would be more calm and we wanted to have all our sails in one piece."
Rounding the Fastnet Rock was dramatic – at 0200 and in thick fog. As le Pape explained:
"We didn't see the rock, just the light. There was perhaps 0.1 miles of visibility and we couldn't see anything. Yael said to me 'okay the Fastnet is here'. And I was going 'where? Are you sure??' I can't see anything! It was amazing - a crazy experience."
For them they were only trapped in the Scilly Isles for around three hours before setting off downwind for the south side of the Casquets TSS. However they did well in the Alderney Race. "We arrived at Cape de la Hague at a good time becasue the current had turned and we just had a little bit of current with us."
So will they return to do the Rolex Fastnet Race?
"Yes," says le Pape. "But I don't know in the Figaro. Maybe in a Class40. I want to come in a bigger boat!"
Disappointment for RL Sailing
The penalty for the Irish was naturally a disappointing conclusion for their doublehanded Figaro season. The experienced offshore sailing duo, who by coincidence both herald from Greystones in County Wicklow, were brought together with the common aim of competing in the elusive mixed doublehanded offshore event proposed for Paris 2024. This season they had already spent the first four months at the Figaro training centre in Saint-Gilles-Croix-de-Vie and were therefore familiar with the set-up, settings and modes of their quirky foil-born yacht. They then competed in the class' Sardinha Cup and doublehanded Tour de Bretagne à la Voile.
Of their Rolex Fastnet Race Rumball reflected:
"We were a lot closer than we realised. Coming out of the Solent was tough, there was a lot of wind. We reefed the main and the jib and were the first Figaro out of the Solent...

"Our closest competition was Victor le Pape – he was right on us the whole time and we were doing a lot of the same stuff at the same time which was kind of nice. It was good to have a real battle. We were playing the currents a lot and there were one or two points when we were going out to specifically play the current and that then paid."
Lee continued: "We came off Portland well, and then at Start Point we went in and tacked our way up to the tidal gate. We were pretty well set up for the leg up to the Fastnet. We went south of the TSS and did well to get the breeze and current. It was a beat round the Scillies and then we quickly cracked off, went to a Code Zero and then our small spinnaker. It was quite a closely hauled reach on the way back from the Fastnet – we were on a J2, we couldn't put up the Code Zero which would have been great.
"Then we had the shutdown at the Scillies. We went south of the west of the TSS, it looked like others got stuck behind us but we managed to slip through just. We all parked up though – we were thinking about kedging, counting the lines to see if we had enough! - but we had a feeling the breeze would come in south, so focused on getting south, and it did and so, of the people parked up, we were the first to get the wind. We were parked for six hours, the same time as it took to get from the TSS to Guernsey!
"Then we were set up by Guernsey and were three-sail reaching again and caught a lot of boats on that leg under small spinnaker and Code Zero. That was ripe for the Figaro, the ideal point of sail; we were probably averaging 13/14 knots - we just hammered it."
Lee felt their boldest move was at the Alderney Race.
"At Guernsey the tide was going to be against - we'd done loads of routings and knew it was a big risk because the wind was a bit fickle and wasn't filling in, but we were the only boat to go south and came up around Guernsey and hopped into the tide there and that shot us north around the headland. We got the tide the whole way up and only hit negative tide just near the finish. It was a risk - but it paid. We were doing 12 knots over the ground – faster than the wind speed for a while!"
Both Rumball and Lee are keen to continue doublehanding but, with no firm Olympic goal, this is now harder to do commercially:
"It makes it harder to get funding – with Olympics as the goal then it made it tangible – they understand, they get it. But if you say you want to go off and sail doublehanded, they ask 'why?..' it makes it more challenging to formulate a campaign. But I think, regardless, how doublehanded sailing has taken off, I'd find it hard to go back to fully crewed."