This evening is the prize-giving for the 49th edition of the Rolex Fastnet Race, taking place in the race village on the waterfront at Cherbourg's Port Chantereyne.
As overall winner of the race, Tom Kneen's JPK 11.80 Sunrise is going to need a bigger cabinet to store the trophies which include the Foxhound Cup for victory in IRC Two as well as the coveted Fastnet Challenge Cup for winning the Rolex Fastnet Race outright. A new prize, the David Seth Smith Trophy is also for Sunrise as the best Performance 40. The Alf Loomis Trophy goes to the navigator of the best yacht overall, although as co-navigators Suzy Peters and Tom Cheney will have to argue over who gets to take that one home. With two years until the next edition of the race, at least Tom and Suzy can keep it for a year each.
Matador sailed a long way to compete in the Rolex Fastnet Race, around 1,200 miles from Stockholm. Fourth overall, Jonas Grander's crew had an impressive race aboard their well-travelled Elliot 44 CR, for which they are awarded the Arambalza Cup for best non-British yacht overall.
"For me, the best part of this race has been sailing with the team," said Grander. "We have lots of fun on board, and we look out for each other; whenever someone is tired, there's someone else always ready to step in. We saw some beautiful sunsets and sunrises too."
Grander had a last-minute panic just before the race started out of Cowes.
"Half an hour before we were due to dock out from Cowes, we realised we had left our trysail in storage." To legally start the race, Matador would need to find a replacement. "Fortunately someone found one for us just in time, and we need to find out whose trysail we got because we want to say thank you. We've bought an expensive bottle of whiskey for them. It was a huge stress before leaving the dock although we later found out that with three reefs in our mainsail that we didn't need the trysail after all."
Stepping ashore in Cherbourg, Grander appreciated the chance to catch up with his rivals and comrades at sea.
"It's good to be around some other offshore sailors, to have a good talk with them, the social side of these events is something we really value. With the pandemic it was hard to organise everything to take part, but for sure it was worth the effort. Full credit to everyone organising the race, because it's not easy to make this happen."
Matador, Elliot 44 sailed by Swede Jonas Grander wins the Arambalza Cup for best non-British yacht overall © Kurt Arrigo/ROLEX
Winning the Berrimilla Dog Bowl for the best two-handed yacht in IRC Four are the 'weekend warriors' on Mzungu, Sam White and Sam North © Carlo Borlenghi/ROLEX
The Berrimilla Dog Bowl goes to the best two-handed yacht in IRC Four, which this year goes to Mzungu, a Sunfast 3200 sailed by two friends both called Sam - Sam White and Sam North. True weekend warriors who do this for the love of the sport, they will be flying high to have scooped this award.
The Brunskill Trophy goes to the best two-handed yacht overall. Local Cherbourg hero Alexis Loison semi-owns this trophy as this is the fourth time he has won it, the most times anyone has won it. He was its defending champion but his most famous IRC Two-Handed victory was when he and his father Pascal became the first, and to date only, doublehanded winners of the Fastnet Challenge Cup in 2013. As in 2019 Loison won this year on board Léon, a JPK 10.30 but this time with his protégé Guillaume Pirouelle.
Léon also successfully defended its IRC Three title for which her crew will receive the Favona Cup this evening.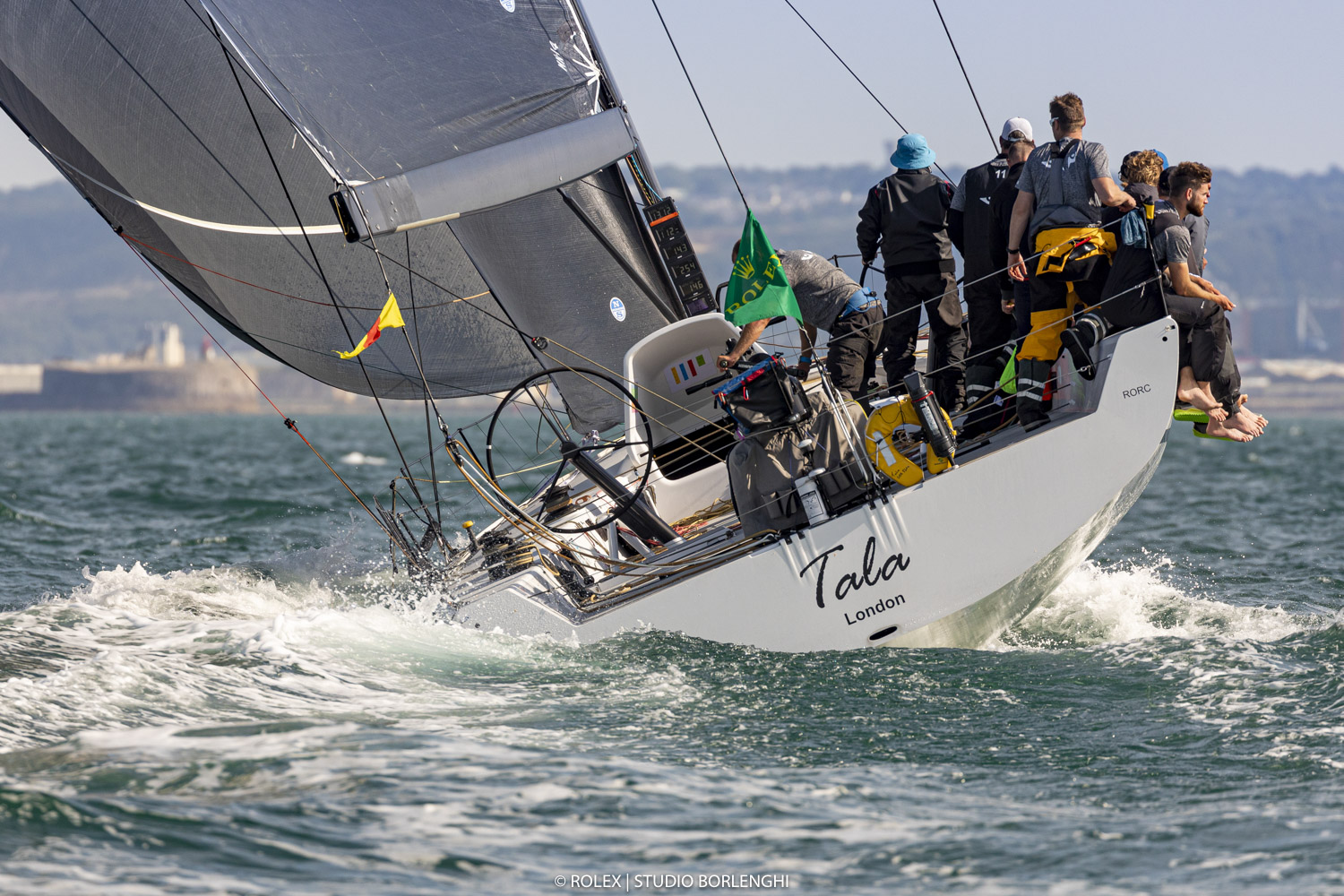 Tala, David Collins' Botin 52 took the Clarion Cup as the first British yacht home, ie. to cross the finish line in Cherbourg © Carlo Borlenghi/ROLEX
The first British yacht home, ie. to cross the finish line in Cherbourg, is awarded the Clarion Cup which this time goes to Tala, David Collins' Botin 52. For a while it looked like Collins would be in with a good shout of winning the Rolex Fastnet Race overall after some good navigational calls by veteran navigator Campbell Field who enjoyed the headscratching conundrum of how to handle the final obstacle on the new course: the Alderney Race.
"We came up with a plan after spending the best part of 20 hours worrying about how we were going to tackle it," said Campbell. "We had a good run in at the end, overtaking some of our competitors who went a different route up the coast and only doing two knots. It was nice to get that last part of the race right after thinking about it for so long."
Allegra wins the Croda Wave Trophy for the best MOCRA multihill overall, Adrian Keller's Irens 84 performance cruising catamaran dealing very comfortably with all the different conditions that the fleet encountered on the race course.
The Culdrose Trophy maintains a strong tradition of participation by the armed forces in the race, with the Sunfast 3600 Fujitsu British Soldier, skippered by Major Henry Foster, taking the award for being first IRC [armed] service yacht round the Rock on corrected time.
"We were delighted to get around the Rock in 10th overall," said Foster, "but we made a rookie error at the Scillies, going what turned out to be the wrong side of the TSS and getting stuck in the high pressure. We were conscious the Navy boys on Jolly Jack Tar were breathing down our necks, but fortunately we were able to push the boat hard on Thursday afternoon when we had a few hours of champagne sailing in strong downwind conditions, and that helped get us through the Alderney Race by the skin of our teeth. Full credit to the Navy - they were very strong this year so we're delighted we were able to hold on to the services win."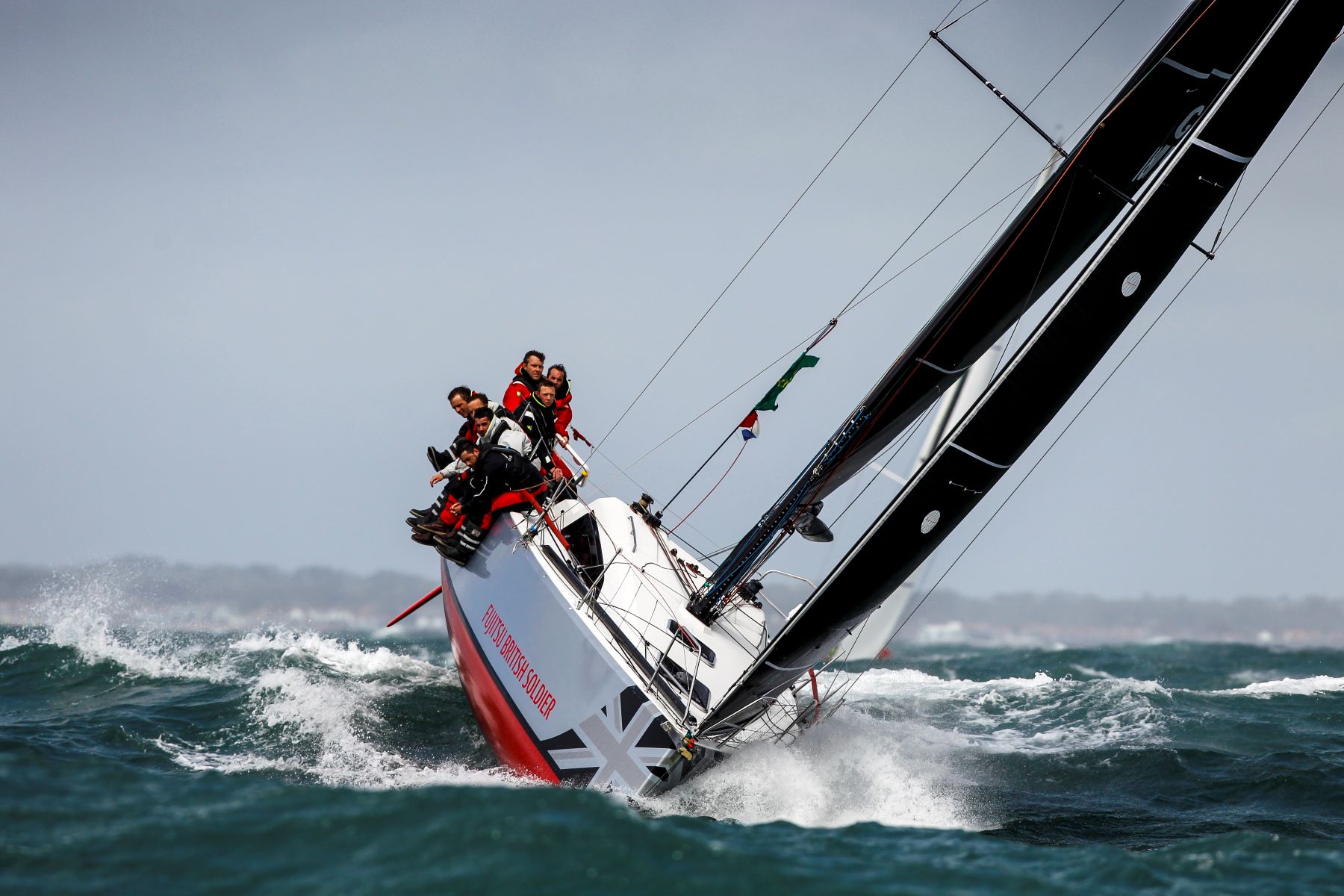 Winning the Culdrose Trophy for being first IRC [armed] service yacht round the Rock on corrected time is Sun Fast 3600 Fujitsu British Soldier, skippered by Major Henry Foster © Paul Wyeth/pwpictures.com
Having just completed his 23rd edition of the race, the skipper of CF520 Oystercatcher XXXV, Richard Matthews is awarded the Dennis Doyle Memorial Trophy. He also receives the Royal Thames Spirit Cup for being first Royal Thames member home.
The Dorade Cup is for the best performing classic yacht under IRC and there couldn't be a more appropriate winner than Stormvogel which took line honours in this race exactly 60 years ago in 1961. Skipper Graeme Henry and his crew moved heaven and earth, as well as the heavily refurbished 74ft van der Stadt ketch boat from Turkey to get her to the Cowes start line on time. As well as taking the race incredibly seriously, and finishing a highly respectable seventh overall, the crew still made time for celebrating their team mate Rachel Ward's 24th birthday with a hot roast dinner mid-race.
Germany's Katrina Westphal is awarded the Maite de Arambalza Trophy for best yacht with a female skipper. The 25-year-old architecture student from Hamburg was competing in her third edition and her second as skipper, this time of the Carkeek 47 Störtebeker.
"The first night was super tough," she reported of the lively opening 24 hours. "Everything was wet, including all sleeping bags and we had to get water out of the boat all the time. In the morning it was quite a bit better and we could finally find our focus on fast sailing rather than keeping the boat in one piece. We were very lucky with the current when we reached the Irish Sea, which was way smoother than expected. After a tough start it was a really good race and we really enjoyed the sailing."
There are so many other award winners we'd love to tell you about, not least the magnificent line honours winning 125 footer Skorpios, but also Chris Choules' Sigma 38 With Alacrity, Michael O'Donnell's J/121 Darkwood, Harry J Heijst's S&S 41 Winsome, Grzegorz Baranowski's VO70 I Love Poland, and the Sun Fast 3300 Swell sailed so expertly by Henry Bomby and Shirley Robertson.
With around 20 yachts yet to reach the finish line, we can't yet tell you who will win the Galley Slaves Trophy for the yacht with greatest elapsed time. Suffice it to say that having only just passed the Fastnet Rock earlier today and with more than 300 miles to Cherbourg, Pierre Legoupil's 1962 vintage CMN-built Maïca, Le Loup Rouge Of Cmn, is looking like a strong contender for the trophy. The very best to Pierre's crew and all those still at sea.