With its new course and giant fleet, the Royal Ocean Racing Club's Rolex Fastnet Race this year provided an even greater test of racing and seamanship skill for its competitors. At 695 miles, the new course to Cherbourg was 90 miles longer than before, but as usual, required competitors to negotiate a complex mix of coastal, oceanic and tidal sailing. More extreme than usual were the conditions. For the start there was a near gale and a vicious wind-against-tide sea state to exit the Solent, but these slowly abated and later there were periods of flat calm and fog.
The move of the finish from Plymouth to Cherbourg was due to the increased facilities, including a huge marina and berthing in the heart of the city, as well as taking the world's largest offshore race to a country where public interest and enthusiasm for this form of yachting is unparalleled. It came about thanks to the co-operation of the City of Cherbourg-en-Cotentin, the Communauté d'agglomération du Cotentin, the Conseil départemental de la Manche and Région Normandie.
For competitors, the new finish port threw up a fascinating final challenge: The Alderney Race (Raz Blanchard). This resulted in wide-ranging tactics with boats approaching the top of Cherbourg's Cotentin Peninsula from both the extreme north and south, and all points between, according to the tidal state.
While the pre-race entry list at one point exceeded 450, given Brexit, the pandemic and its travel restrictions, and, closer to the start, a severe forecast, it was impressive that come start day on Sunday 8 August, still 337 yachts set off. As usual the fleet was highly diverse. At the top end were some of the fastest offshore racing machines on the planet, such as the giant new ClubSwan 125 Skorpios, the 32m Ultime trimarans, and numerous high profile 'pro' boats, including several IMOCAs that competed in the Vendée Globe, as well as a huge Class40 entry. The IRC fleet was divided into five and included past overall and classes winners such as Didier Gaudoux's JND 39 Lann Ael II and Jacques Pelletier's Milon 41 L'Ange De Milon. Lowest rated was Pierre Legoupil's 11m Illingworth/Primose-designed Maica classic, Le Loup Rouge of CMN, while the shortest boat was Tim Whittle 9.33m T3 Trifoiler L'Albatros, in the MOCRA fleet.
From at least a week out the forecast for the start predicted strong west-southwesterly headwinds and lumpy wind-against-tide seas. The race did coincide with UK COVID-19 restrictions easing, but only on the morning of the start. Because of this, the RORC set up an additional base in Cherbourg pre-start (along with Hamble and Cowes) where registration took place for French and international entries.
Come 8th August, the rolling starts for the individual classes, beginning with the multihulls, were dramatic. Due to concerns with the bigger boats ploughing through the smaller ones in the strong conditions, their start was moved ahead. Aside from the sheer mass of yachts beating west down the Solent, the most spectacular displays were that of the mighty Ultime Maxi Edmond de Rothschild, the defending Ultime winner, and the speedy foil-born IMOCAs, notably Apivia, demonstrating their superb upwind foiling ability.
Charlie Dalin's IMOCA Apivia dominated class throughout the race © Rick Tomlinson/rick-tomlinson.com
Inevitably in the harsh conditions there were retirements. Most high profile was Vendée Globe winner Yannick Bestaven's IMOCA Maître CoQ, with bow damage. Former class winner Pintia collided with Ed Bell's JPK 11.80 Dawn Treader causing the latter to dismast and both to retire. Also damaged at the start was British doublehanded favourites Rob Craigie and Deb Fish on the Sun Fast 3600 Bellino, while 2015 IRC Two-Handed winners Kelvin Rawlings and Stuart Childerley on the Sun Fast 3300 Aries chose not to start.
The first night saw a wide variety of tactics playing out. The faster French classes charged off south of the Casquets traffic separation scheme, the Ultimes tacking around Alderney, while the IMOCAs went even more extreme, Apivia only tacking some 17 miles off the French coast. This tactic, skipper Charlie Dalin later explained, uniquely allowed them to benefit from favourable current off Alderney, a shift, then favourable current off Île-de-Bréhat. The result was that early on the Monday morning south of the Land's End TSS, Apivia converged with Skorpios, which had taken the more classic Rolex Fastnet Race route, along with the majority of the fleet, tacking down the English coast.
The brisk, bumpy conditions experienced over the first 24 hours sadly resulted in further casualties. Lining up for a good fight with American Jason Carroll's all-star cast on board the MOD70 Argo, Italian Giovanni Soldini was forced to retire his Maserati trimaran after a winch blew up. British doublehanders James Harayda and Dee Caffari on the Sun Fast 3300 Gentoo retired with mainsail damage. Two of the usually robust Figaro 3s, Stormwave 2.0, sailed by Cat Hunt and Hugh Brayshaw, and Eric and Denis Delamare's Alive, were also forced out, the former with rigging failure. Yann Marilley's Outremer 5x Racing MOCRA class contender No Limit dismasted as did Axel Trehin's Project Rescue Ocean in Mounts Bay while leading the Class40s. Two French boats jockeying for IRC One honours, Lann Ael 2 and L'Ange De Milon, also retired as did RORC Vice Commodore Eric de Turckheim's much fancied NMYD 54 Teasing Machine in IRC Zero.
With a long beat down the Channel and a fetch to the Fastnet Rock, this was not going to be a record breaking year. Nonetheless Maxi Edmond de Rothschild romped around the course, speeding into Cherbourg in 1 day 9 hours 14 minutes and 54 seconds, establishing a benchmark time for the new course. In the conditions they didn't manage to achieve top speeds, but briefly hit 40 knots passing Bishop Rock.
Maxi Edmond de Rothschild co-skippered by Franck Cammas and Charles Caudrelier © Paul Wyeth/pwpictures.com
As the giant trimaran docked in Cherbourg's Port Chantereyne marina crowds had turned out en masse to welcome home the crew, including two of France's most accomplished sailors, her skippers Franck Cammas and Charles Caudrelier. This also provided a glimpse of the French public's mass interest in offshore racing.
At the time Maxi Edmond de Rothschild finished, her Ultime rivals Actual and Sodebo Ultim 3 still had 100+ miles to sail. Skorpios, the leading monohull, was one third of her way into her return to Bishop Rock, while IRC One and the Class40s were setting out across the Celtic Sea, the IRC Two leader was at Land's End, while IRC Three and Four's frontrunners were tackling the Lizard.
Monaco-based Russian Dmitry Rybolovlev's Skorpios arrived mid-evening on the Tuesday, establishing a monohull record for the new course of 2 days 8 hours 33 minutes and 55 seconds. The Rolex Fastnet Race was the awe-inspiring ClubSwan 125's first ever competition and the team, including many Volvo Ocean Race A-listers, and led by Spanish Olympic gold medallist Fernando Echavarri, was relieved to have completed the course on their complex boat without incident. Her main competition, George David's Ramber 88, line honours winner in the previous two races, was scored NSC for not leaving the Fastnet Traffic Separation Scheme to port after rounding the Fastnet Rock.
Skorpios on her maiden race, owned by Dmitry Rybolovlev © Kurt Arrigo/Rolex
At this point, the IRC Zero boats were doing well with the Polish National Foundation's VO70 I Love Poland leading IRC overall.
One of the race's most resounding performances was that of Apivia. Incredibly, sailed doublehanded, she kept up with Skorpios, a boat more than twice her length, across the Celtic Sea, rounding the Fastnet Rock just 49 minutes behind. Within the IMOCA class, Apivia, sailed by Charlie Dalin and Paul Meilhat, were in a different league, finishing 6 hours and 9 minutes ahead of Jérémie Beyou and Christophe Pratt on second-placed Charal. Huge compression in the fleet approaching Bishop Rock meant that just 14 minutes separated second from sixth at the finish. Simon Fisher and Justine Mettraux aboard 11th Hour Racing enjoyed a particularly good race end, coming home third in their first ever IMOCA race.
After Argo, second multihull home in the MOCRA multihull class was Adrian Keller's magnificent Irens 84 fast cruising catamaran Allegra, finishing in 3 days 18 seconds. The crew, led by the world's fastest sailor Paul Larsen, went to considerable lengths to both get the most out of their palatial vessel in good conditions, but look after her in the particularly severe seas after the start. As a result they won the MOCRA class overall.
Compression at the Scilly Isles caused the former VO70s and 65s to lose their grip on IRC Zero honours which ultimately went to David Collins' Tala. Top British finisher in 2019, the Botin 52's time corrected out to 1 hour 34 minutes ahead of the Carkeek 47 Störtebeker, one of three competitive boats in the race from the Hamburgischer Verein Seefahrt club. This was a resounding result for the young German crew and 25-year-old skipper Katrina Westphal, who at Saturday's prizegiving received the Duncan Munro Kerr Trophy for the best skipper aged 18-30 and the Maitre de Arambalza Trophy for the best female skipper. In third was the brand new CF520 Oystercatcher XXXV of race veteran, Richard Matthews, competing in his 24th Rolex Fastnet Race.
IRC One saw a two horse race for the lead on the water between the HH42 INO XXX of James Neville, Commodore of the Royal Ocean Racing Club, and Swede Jonas Granders' Elliot 44 CR Matador. At the Fastnet Rock the IRC One leaderboard was topped by Rob Bottomley's MAT12 Sailplane with a slender lead over Andrew Hall's much travelled Lombard 46 Pata Negra which had blown out two headsails. However, as the on-the-water leaders extended on their return from Bishop Rock, they prevailed on corrected time. INO XXX finished in 3 days 10 hours 39 minutes and 58 seconds after a nerve wracking finish – coming in with the tide, but running out of wind short of the line.
At this point INO XXX was looking good to win the Rolex Fastnet Race overall, the first time an incumbent RORC Commodore might have won since Captain JH Illingworth on Myth of Malham in 1949. Pulling in late on Wednesday evening, Neville received a rousing reception from the club's staff, including outgoing and incoming CEOs Eddie Warden Owen and Jeremy Wilton and members, including former Commodore Michael Boyd. Ultimately Pata Negra snuck in ahead of Matador to take second, 1 hour 40 minutes after INO XXX under IRC.
Special mention should go to the 1961 van de Stadt-designed 73ft ketch Stormvogel. Celebrating the 60th anniversary of her Fastnet Race line honours victory, then in the hands of owner Cornelius Bruynzeel, Stormvogel proved her lasting pedigree, finishing sixth in IRC One.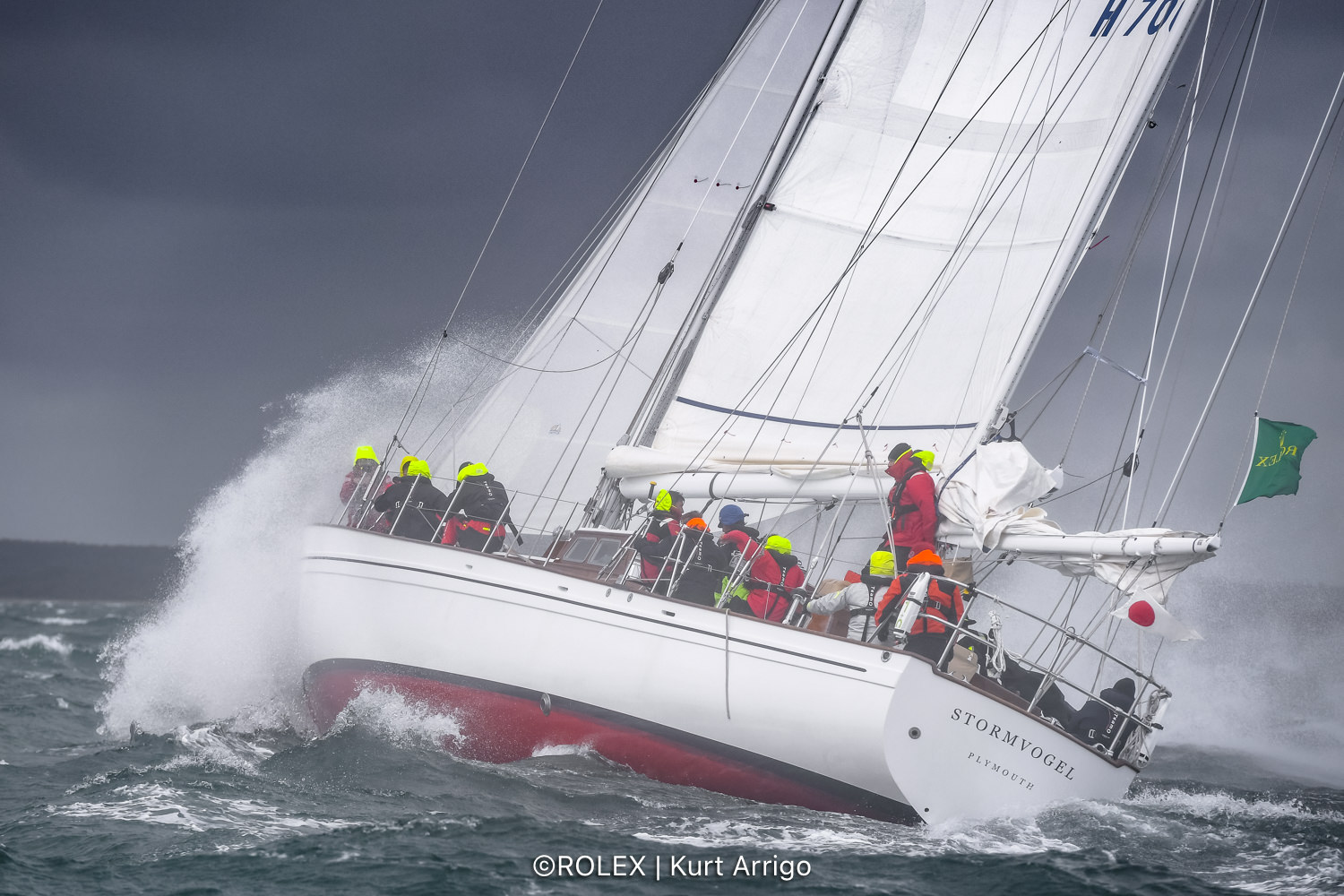 Stormvogel, the classic Staedt 74 © Kurt Arrigo/Rolex
Alongside IRC One was the massive 35 boat Class40 fleet, whose race featured several lead changes and an even more tense finish as the wind turned patchy short of the line. This resulted in the first six crossing within an hour. After Project Rescue Ocean's dismasting, 2019 winner Luke Berry's Manuard-designed Mach 40.3 Lamotte - Module Création pulled into the lead and clung on as sheets were cracked returning from the Fastnet Race. However at this point he was outgunned by the newer scow bow Mach 40.4s, with London-based Frenchman Antoine Magre on Palanad 3 edging ahead.
A compression in the back eddie south of Alderney could have seen any of the top trio of Class40s take the lead, compounded when the wind then shut down overnight approaching Cherbourg. Palanad, with a crew including former Artemis Offshore Academy Figaro sailor Will Harris, clung on, while Valentin Gautier and Simon Koster's Banque Du Leman pipped Luke Berry at the post to take second. Antoine Carpentier's Courrier Redman, with Géry Trentesaux and the others from his 2015 Rolex Fastnet Race winning team on board, were fourth.
While there were some strong leads in other classes, none was more exceptional than that of Tom Kneen's JPK 11.80 Sunrise in IRC Two. The Plymouth boat had pulled out a 1 hour 12 minute lead under corrected time at the Fastnet Rock, but key to her massive lead was staying one step ahead of a ridge that formed over the Scilly Isles. This engulfed every other boat in IRC Two trailing her. Finishing with a corrected time of 4 days, 6 hours, 45 minutes 4 seconds, at the time Sunrise crossed the line her nearest rivals on the water were just passing the Lizard.
Early on, the IRC Two leaderboard had resembled a JPK 11.80 championship, but the Scilly Isles restart upturned this with Ross Applebey's Lightwave 48 multiple winner, Scarlet Oyster sneaking into second, ahead of Richard Fromentin's Leclerc Hennebont / Cocody, with Christopher Daniel's J/122e Juno a close fourth.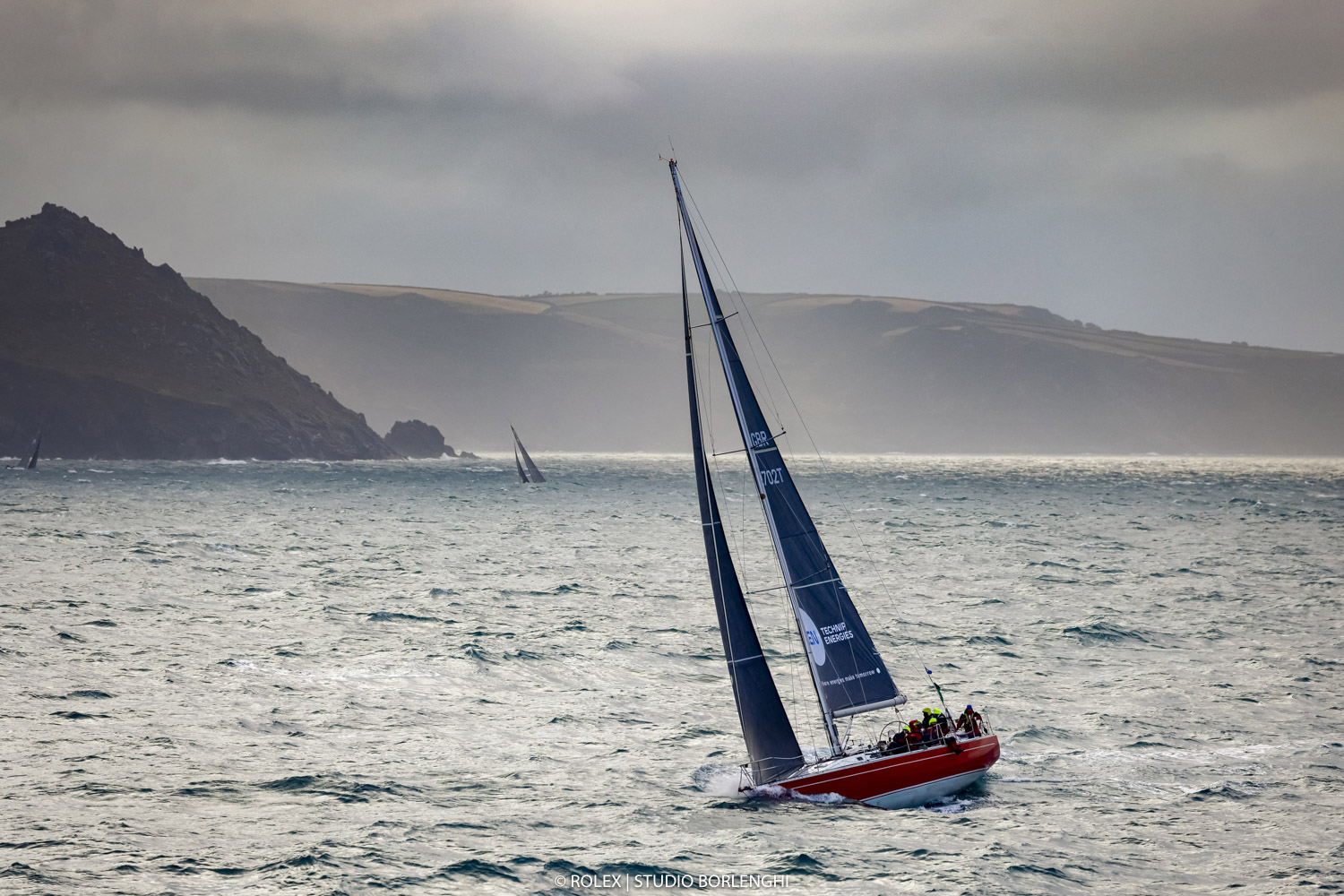 Ross Applebey's Lightwave 48 Scarlet Oyster sailing in IRC Two © Carlo Borlenghi/Rolex
In IRC Three there was a clear target on the back of local hero Alexis Loison and Guillaume Pirouelle's JPK 10.30 Léon, Loison having sailed her to victory both in class and IRC Two-Handed in 2019. IRC Three was also home to the top IRC Two-Handed competition. Ultimately being fully crewed, doublehanded or mixed doublehanded made little difference, with examples of all three reaching the podium.
While the Sun Fast 3600 Fujitsu British Soldier did well, leading the fleet on the water, at the Fastnet Rock Léon was looking strong, holding a 44 minute corrected time lead over Louis-Marie Dussere's fully crewed JPK 10.80 Raging-bee², a mere second ahead of Philippe Girardin's J/120 Hey Jude. However the ridge created a virtual restart for IRC Three at the Scillies. Benefitting most from this were the British duo, Volvo Ocean Race sailor Henry Bomby and double Olympic gold medallist Shirley Robertson on the Sun Fast 3300 Swell. Back in the Channel, they overtook Léon to lead on corrected time. They did well to stay in front, but approaching Cherbourg the local sailing heroes gybed closer to Cap de la Hague and recovered enough against the higher rated Swell to beat them by 36 minutes under IRC to retain their IRC Three and Two-Handed titles. Raging-bee² was third just ahead of Olivier Burgaud and Sylvain Pontu on the JPK 10.80 Aileau, which claimed third place in IRC Two-Handed.
There was much disappointment for Ireland's Kenneth Rumball and Pamela Lee in the Figaro 3 class. After an exceptional race, they arrived more than five hours ahead of the nearest competition, but then received a 10% time penalty for cutting the corner at the Fastnet Rock TSS. This dropped them to last. Victory deferred to Figaro class first timers, 20-year-olds Yael Poupon and Victor Le Pape on AD Fichou - Innovéo / Bihannic.
IRC Four entrant, Sun Hill 3 at the start of the race in Cowes © Paul Wyeth/pwpictures.com
The ridge over the Scilly Isles coming back from the Rock also caused a restart in IRC Four. Up to this point Ludovic Menahes and David le Goff on the JPK 10.10 Raphael had nosed in front both on the water and under IRC. At the Fastnet Rock Raphael led the Pinteaux family's sistership Gioia and Francois Charles' Dehler 33 Cruising Sun Hill 3. However the Scilly Isles reshuffle, where Raphael effectively parked for four hours, benefitted the lower rated and thus at the finish the IRC Four podium was occupied by 20+ year old boats.
Honours went to Alain Guelennoc's X-332 Trading-advices.com on her second attempt at the Rolex Fastnet Race. Ten minutes behind on corrected was the Irish Offshore Sailing's Sun Fast 37 Desert Star, a modified charter boat fitted with 700 Euros worth of secondhand Figaro mainsail. Skipper Ronan O'Siochru and his sailing school crew had only competed in one race before. Sun Hill 3 was third, followed by the top British boat - Chris Choules' Sigma 38 With Alacrity.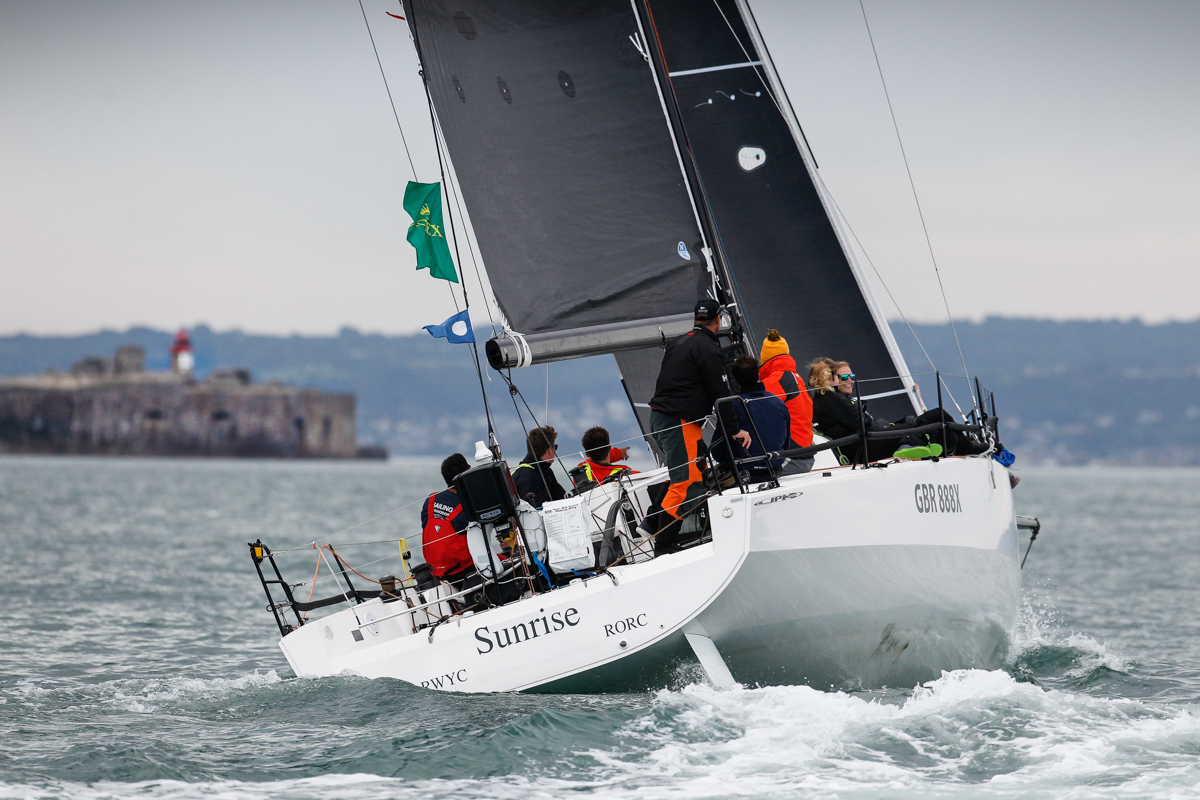 Sunrise heads towards the Cherbourg finish line © Paul Wyeth/pwpictures.com
Ultimately thanks to their monster lead, Tom Kneen and his young team on Sunrise were overall winners of the 2021 Rolex Fastnet Race and recipient of its top trophy, the Fastnet Challenge Cup, as well as winning IRC Two and the David Seth Smith Trophy for best Performance 40. Upon hearing the news, Kneen was both delighted and emotional, thanking his partner Francesca and his crew:
"It's all about the people. It doesn't really matter what level in the fleet you're at. As long as you have a good crew, and the right support, then you can win your class. And if you can win the class you can win overall, although that depends tidal gates, wind conditions; things that are much more in the hands of the gods."
Kneen is the first British winner of the race since Charles Dunstone and his maxi Nokia Enigma in 2003.
Volvo Ocean Race veteran Dave Swete was the only pro sailor on board. Apart from Swete and Kneen, in their late 30s, the rest of the crew were all in their 20s, some part of the RORC's Griffin programme to nurture young offshore racing talent. Suzy Peters and Tom Cheney were co-navigators, joined by Quentin Bes-Green, Angus Gray-Stephens, George Kennedy and Victoria Tomlinson.
In this race, the success of Tala, INO XXX and Sunrise, finally saw the Anglo-Saxon fleet making a comeback against the usually dominant French. In 2019 French boats won nine of the 11 main classes (losing IRC overall for the first time since 2018). This year they still claimed seven of the 12 available (including all the grand prix classes such as the IMOCAs and the reintroduced Figaro class), while Switzerland won one (MOCRA) and Britain, significantly, scored solid victories in the three larger IRC classes and the overall IRC prize.
Race Director of the Rolex Fastnet Race Chris Stone commented:
"After all the issues we had prior to the start, especially the COVID travel restrictions changing repeatedly, I am delighted we were able to run the race so successfully. With the tough conditions we had at the start, the beat down the Channel, the crossing to the Rock and back, followed by a highly tactical finish, the Rolex Fastnet Race is now a race of many parts; a great challenge for all its competitors.
"As a new finish venue, Cherbourg has been great with all the berthing it offers, plus a lively atmospheric race village where public and competitors have been enjoying themselves. I'd like to thank all of our partners in Cherbourg for making this possible."
For 2023 the Royal Ocean Racing Club has big plans afoot for the Rolex Fastnet Race which will celebrate its 50th edition since it was first held in 1925.
Class winners
IRC Overall (and IRC Two): Sunrise (GBR) - JPK 11.80 – Tom Kneen
IRC Zero: Tala (GBR) Botin 52 – David Collins
IRC One: INO XXX (GBR) HH42 – James Neville
IRC Three and Two-Handed: Léon (FRA) JPK 10.30 – Alexis Loison/Guillaume Pirouelle
IRC Four: Trading-advices.com (FRA) X-332 - Alain Guelennoc
IMOCA 60: Apivia (FRA) – Verdier foiler - Charlie Dalin/Paul Meilhat
Class40: Palanad 3 (FRA) – Mach 40.4 Antoine Magre
Figaro 3: AD Fichou - Innovéo / Bihannic (FRA) - Yael Poupon/Victor Le Pape
MOCRA: Allegra (SUI) – Irens 84 catamaran - Adrian Keller
Open Multihulls: Maxi Edmond de Rothschild (FRA) – Verdier foiling Ultime trimaran – Charles Caudreler/Franck Cammas
Click here for a list of full results.