On the occasion of the arrival of the 50th edition of the Rolex Fastnet Race in July 2023, the association Arrivée Fastnet Cherbourg, which organises the finish, offers you the Roman du Fastnet. A monthly podcast in six episodes which, in the company of guests with a history with the race, looks back at the highlights of this almost one hundred year old event.
Let's discover the third episode together.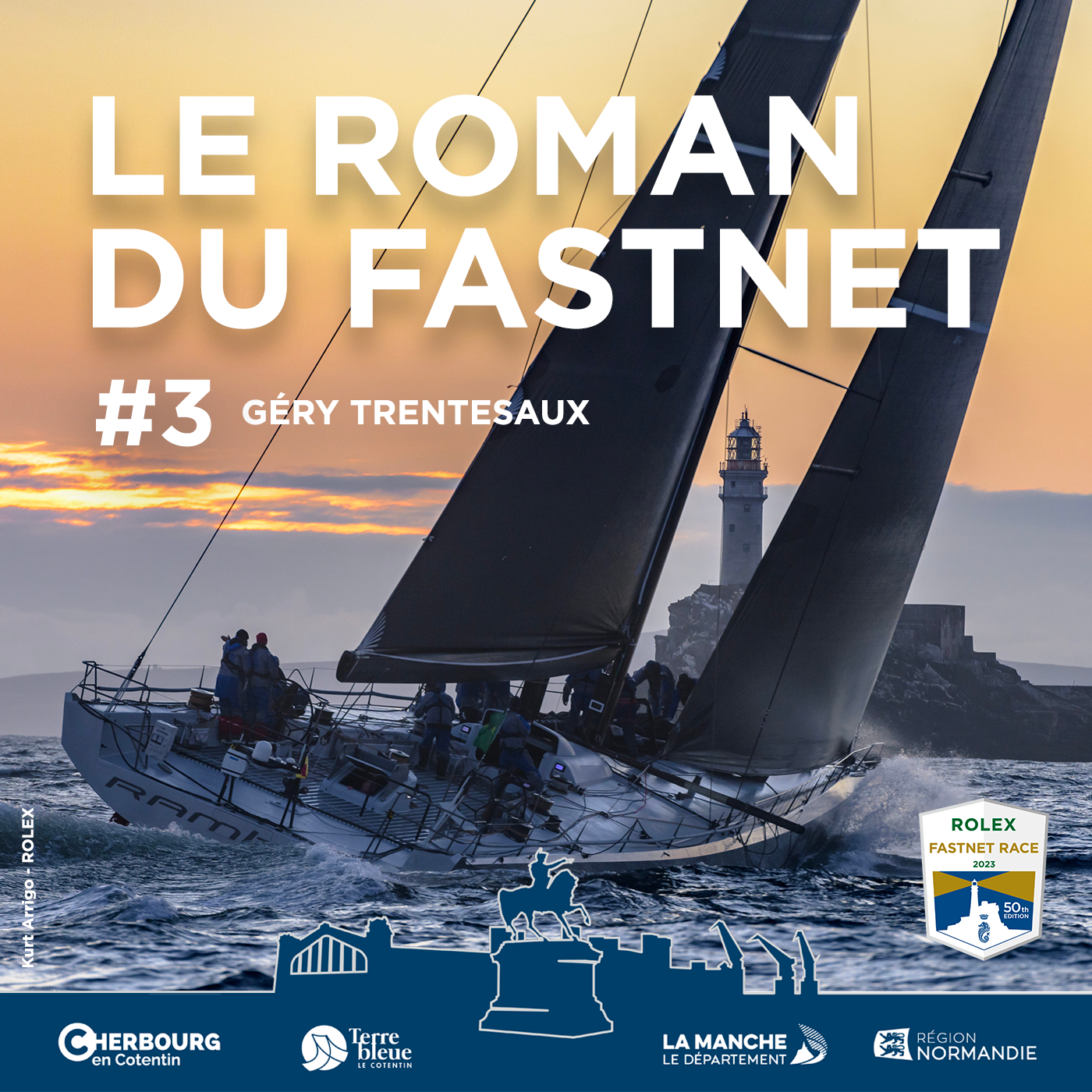 Episode #3 - Géry Trentesaux: for the love of Fastnet
With 16 participations in the Rolex Fastnet Race, the first at the age of 20 in 1977, Géry Trentesaux from the North of France is one of the pillars of a race that he has won five times. On his boats, which all bear the prefix Courrier in homage to Antoine de Saint-Exupéry's Courrier Sud, he carefully selects his crew for THE race of the odd season.
"Not everyone who sails a Courier during the season is allowed to race the Fastnet on board," says the man who experienced the dramatic 1979 edition, but also the 2007 edition, with its fearsome weather. "On this race, you need good sailors, but also solid crew members, because it can be tough," he adds.
Géry Trentesaux thinks about the Fastnet all year round from his home in Brussels or from his office in the suburbs of Lille. "The week before the start, I isolate myself in Brittany, I project myself into the race and I want to be left alone!
Introduced to ocean racing by his parents, he met Piet Vroon in 1978. A true figure of ocean racing in the Netherlands, a businessman and a regatta competitor, the latter took the young sailor aboard his boats Formidable and Tonnerre de Breskens for seven seasons, with three participations in the Admiral's Cup. Then came the Figaro years (three participations in the Solitaire, including a podium in 2004), but Géry Trenteseaux loved the crew and the Fastnet too much.
A member and former vice-commodore of the Royal Ocean Racing Club, he finally won it for the first time in 2001 on Courrier Nord, an IMX 40. This was followed by victory in 2007 on Courrier du Cœur (First 44.7), Courrier Vintage (Lombard proto built at Marsaudon) in 2013, Courrier du Léon (JPK 10.80) the following year and Courrier Recommandé (JPK 11.80) in 2019.
Géry is also a lover of the Fastnet, a rock that "always reminds him of Tintin's Black Island", as well as of IRC boats, which need to be prepared and optimised. After having thought about hanging up for a while, he decided to come back and try his luck for the seventeenth time this year and will compete in the 50th edition of the Rolex Fastnet Race in July on a Ker 43, launched in March. From the 14th of July onwards, his entourage will be told: Do not disturb!