On the occasion of the arrival of the 50th edition of the Rolex Fastnet Race in July 2023, the association Arrivée Fastnet Cherbourg, which organises the finish, offers you the Roman du Fastnet. A monthly podcast in six episodes which, in the company of guests who have a history with the race, looks back at the highlights of this almost hundred-year-old event.
Let's discover the fourth episode together.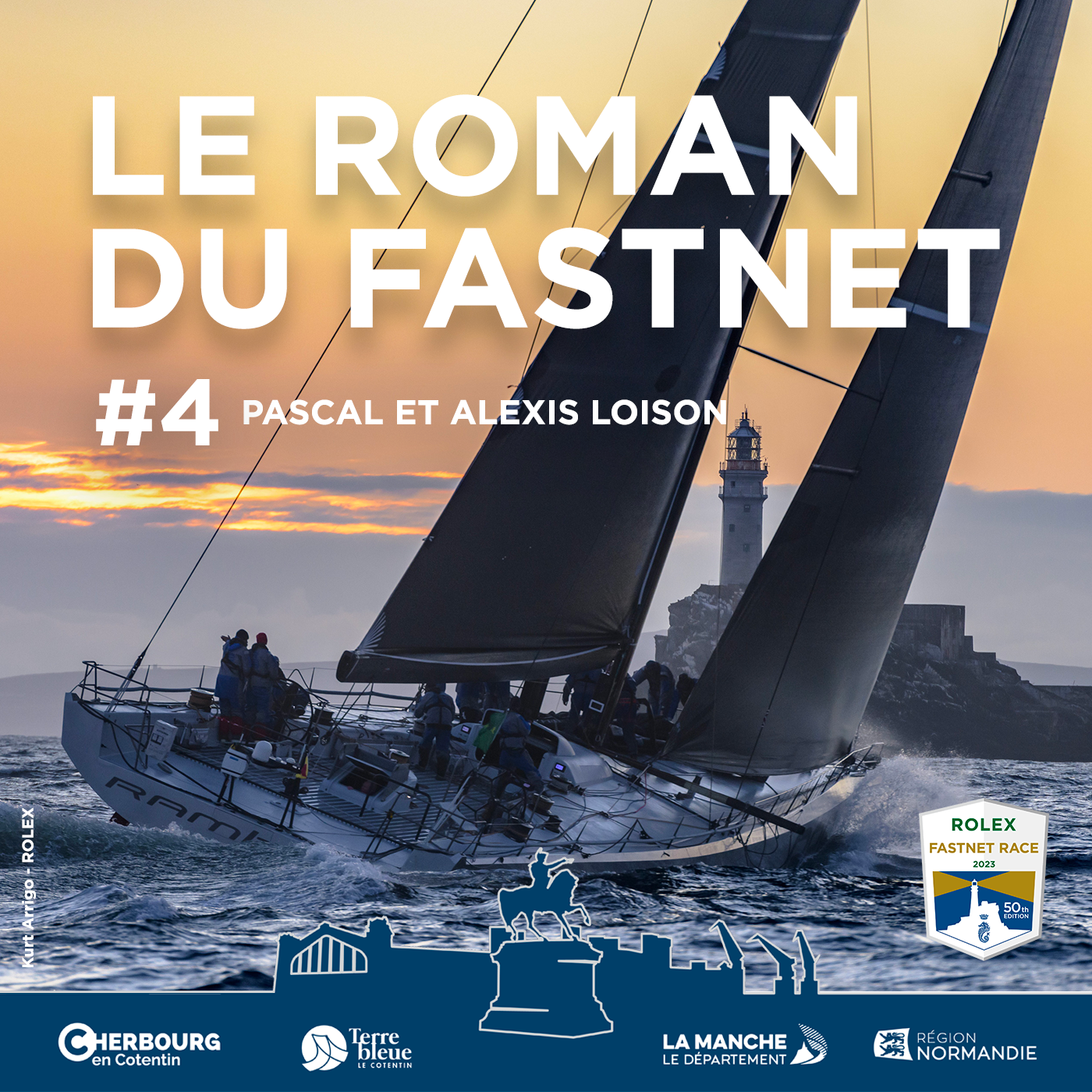 The Fastnet Novel - Episode #4
With Pascal and Alexis Loison
At the start of the Rolex Fastnet Race in 2013, Night and Day, one of the 8 JPK 1010s entered, is one of the favourites to win in IRC 3. In addition to this classification, Pascal and Alexis Loison can also claim to win in the double-handed category, which they did in 2005 during their first Fastnet race on their previous Night and Day, a J105.
Even if the double-handed category is more and more contested (more than 60 duos in 2013), no tandem has so far beaten the crews in the history of the race. However, the JPK 1010 of Loison father and son has just shown that the feat is within its grasp by winning the Channel Race overall, which makes Pascal say that
"In certain conditions, there is no reason why a well-run double-handed team on a well-prepared boat should not win.
On the start line, the Rolex watch promised to the winner of all classes remains a joke between Pascal and his son Alexis, who is well versed in ocean racing via the Solitaire du Figaro, which he has not missed since 2006. The family duo is focused on the race, which starts, as it often does, with a windward-leeward passage out of the Solent before crossing the large, trapping bays of Cornwall.
Day and night, the JPK 1010 carves out her route, never slackening the pace, as in the Cole Porter song from which she takes her name. As they passed the Fastnet, the two sailors from Cherbourg found a good network in spite of the pea soup and learned that they were... second! Foggy Dew, the fearsome JPK1010 of Noël Racine from Le Havre, had beaten them on the climb.
But between the Irish rock and Plymouth, in a brisk breeze with a crosswind, Night and Day took its revenge, which allowed them to pass the Scilly archipelago in the lead. The last 40 miles were very tense and the arrival in Plymouth in a torrential downpour was a memorable moment.
Night and Day is the first to achieve the feat of an all-class victory for a double-handed boat. A performance that has never been repeated since...