While the main kudos in the Rolex Fastnet Race comes from class wins or ultimately the Fastnet Challenge Cup for the overall IRC winner, who will simply be first home to Plymouth often turns into an engaging, heavyweight bout.
Among the monohull contenders this year, in one corner is the Hong Kong newcomer - Seng Huang Lee's 100ft Scallywag, skippered by Australian David Witt with a crew featuring many of the sailors from their Volvo Ocean Race campaign. In the other is George David's familiar Juan K-designed Rambler 88, a boat that has been tweaked to within an inch of its life by its fastidious crew including many former Alinghi/Team New Zealand America's Cup heroes.
For Scallywag, the Rolex Fastnet Race will be one of the pinnacles amid a major trophy hunting season that kicks off in the Caribbean at the Antigua Sailing Week and follows with the Antigua Bermuda Race, and then the historic Transatlantic Race 2019 from Newport, RI to Cowes via the Lizard. Post Fastnet Scallywag heads for the Med.
Part of Scallywag has enjoyed previous success in the Rolex Fastnet Race – her foredeck and some of her frames come from Charles St Clair Brown and Bill Buckley's Maximus, line honours winner in 2005. However, she was launched brand new for the 2014 Rolex Sydney Hobart as Ragamuffin 100 for Australian sailing legend Syd Fischer, who contributed to her design with Witt and naval architect Andy Dovell.
According to Witt, Scallywag, with a beam of 5.8m, falls between the slender multiple Hobart winner Wild Oats XI (5.1m beam) and the powerful Comanche (8m beam), the 2015 Rolex Fastnet Race line honours victor. "We are the lightest 100 footer with the most sail area," says Witt. The boat has a keel that cants to +/- 45deg, twin daggerboards and starts the season with a new boom.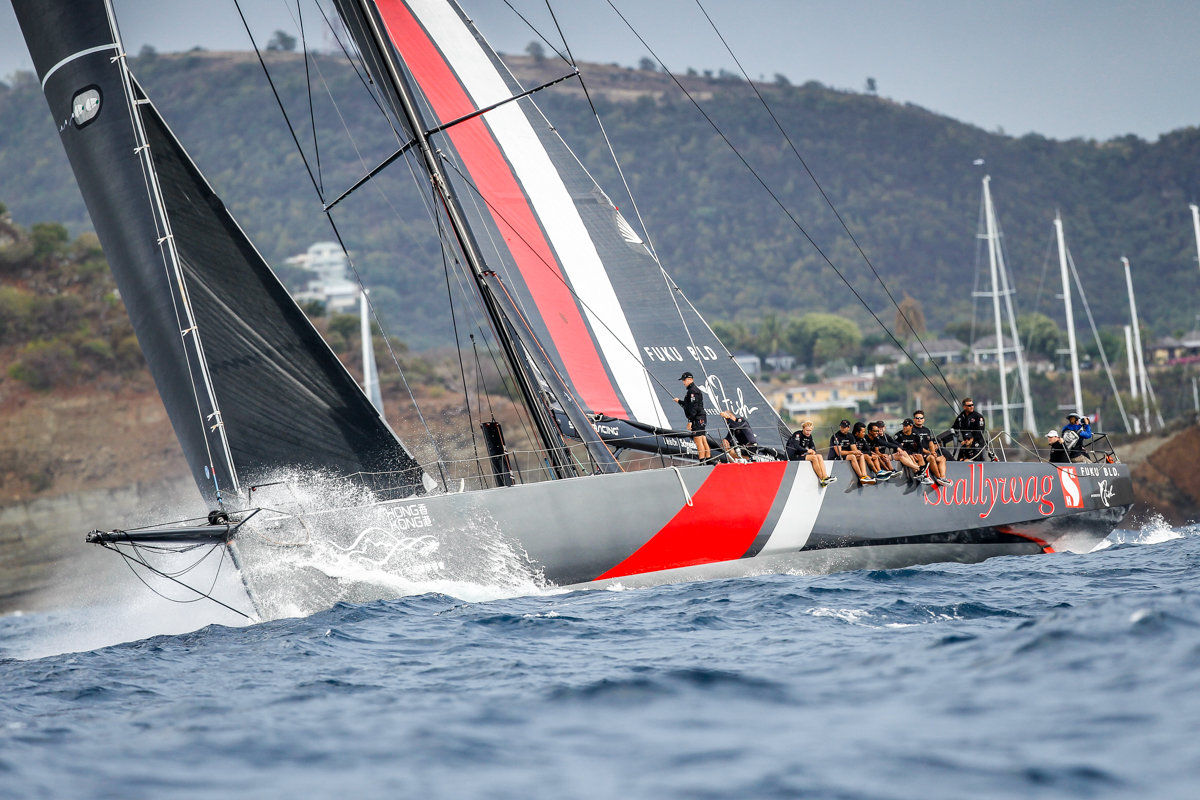 Seng Huang Lee's 100ft Scallywag, skippered by Australian David
Seng Huang Lee will be on board for the Rolex Fastnet Race. "His main goal with this boat is to win as many Rolex events as he can this year with the main emphasis being the Rolex Fastnet Race and the Rolex Sydney Hobart," explains Witt, who personally has sailed the Fastnet many times including on the Grand Mistral/Maxi One Designs, Nicorette and on Knut Frostad's VO70 Innovation Kvaerner.
Personally, Witt finds the Fastnet Race more challenging tactically than the annual race to Hobart: "It is around a rock, so it gives the chance to sail the boat in a different range of conditions. The Hobart race has been mostly straight downwind in recent editions."
As to how they will get on against Rambler 88, the last time the two boats met in the 2015 Rolex Sydney Hobart, it was close - the longer Scallywag (then Ragamuffin 100) gained the upper hand at the finish line to win by just over four minutes.
"I'd hope we're faster, but you never know," says Witt. "We have only raced Rambler 88 once before and we got the better of them. But it'll depend on far we have both come with our development."
One of the Rolex Fastnet Race's most faithful competitors, George David and Rambler 88, return for a fifth time in the hope of achieving a result they deserve finally. As David states: "Too often we have been bridesmaid, which could be what brings us back along with the great traditions and scenery of this classic race." And this is despite David coming close to losing his life when in 2011 his Rambler 100 lost its keel and capsized after rounding the Fastnet Rock, leaving him in the water drifting away from the boat. In that race David says they were on track to break the record, which ultimately went to the Ian Walker-skippered VO70, Abu Dhabi Ocean Racing with a time of 1d 18h 39m 00s, the present monohull race record, while Mike Slade's ICAP Leopard set the 'maxi' record of 1d 20h 09m 47s.
Recent races conditions haven't favoured big boats on handicap. In 2003 Charles Dunstone came close to claiming 'the double' (ie line and handicap honours) with his Reichel Pugh 76 Nokia but was beaten across the line by Neville Crichton's Alfa Romeo 1. The last boat to score the 'double' was Ludde Ingvall and his maxi Nicorette in 1995.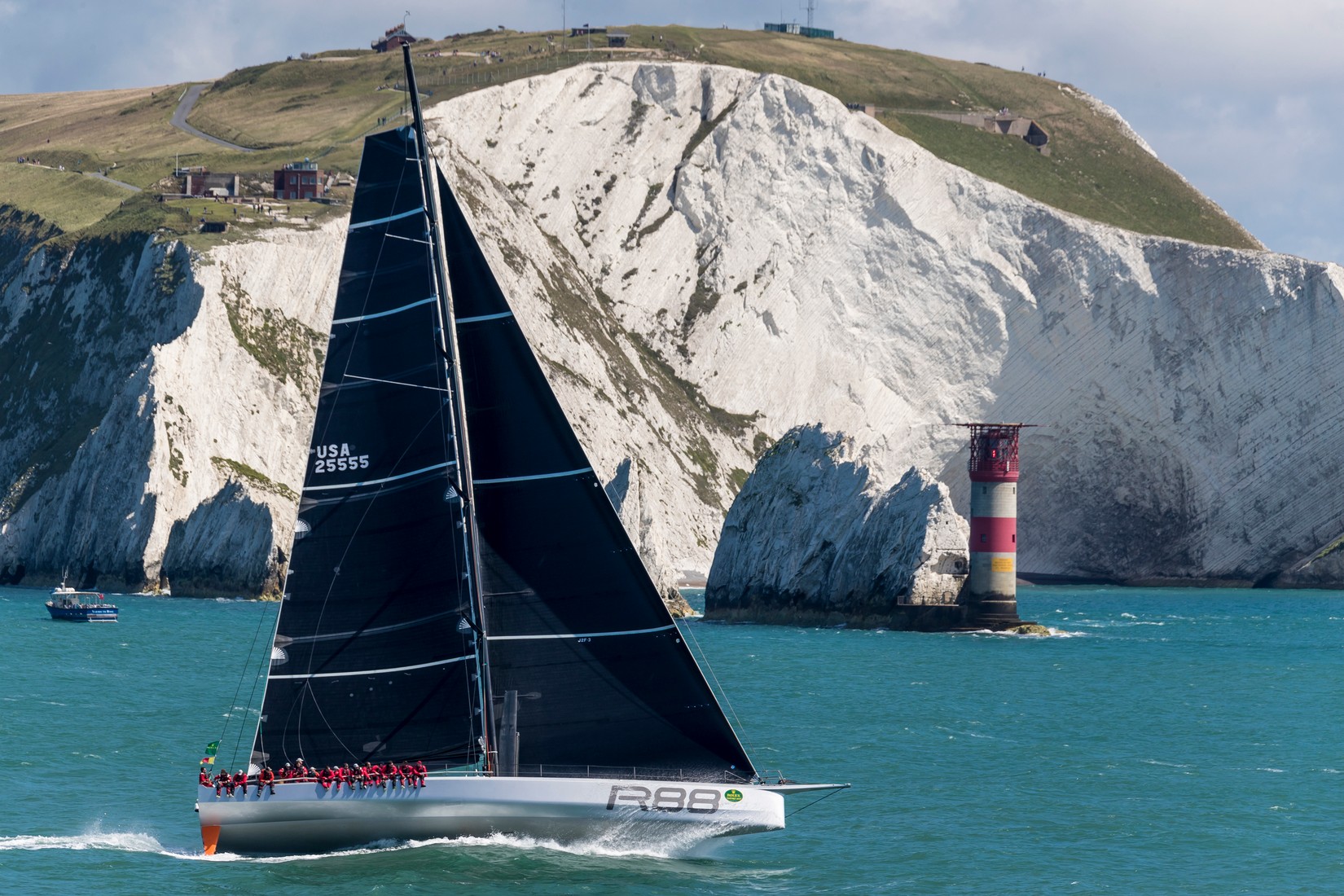 Even rarer are the 'triples' i.e. line and handicap honours plus the race record. Wild Oats XI managed it twice (2005 and 2012) in the Rolex Sydney Hobart and George David and Rambler have also enjoyed it in other races, notably the Rolex Middle Sea Race in 2007 (with a record that still stands), the 2016 Volvo Round Ireland Race and in last year's RORC Caribbean 600. "This has to be the goal for us in this year's Rolex Fastnet although – as always – the weather needs to cooperate," states David. "Big breeze should give us the edge against Scallywag and conversely lighter breeze won't."
This is the assessment too of Rambler 88's eminent tactician Brad Butterworth: "Scallywag is a pretty fast boat – it has got a lot of sail area and a lot of stability. If it is a predominantly light to moderate air race it will be difficult to keep up with those guys, but if the breeze gets up and it gets sporty, we'll have a chance. In 18 knots or more, we start to perform much the same as them."
Rambler 88 goes into its fourth season highly refined, benefitting from several keel modifications and an ever-evolving sail wardrobe. "It has got better and better. Now it is going to its maximum," states Butterworth. New for this season is a slightly lighter mast and a deeper keel.
And while this might seem to be a match race, a possible re-enactment of Rambler 88's battle with Comanche in 2015, there are still other prospects. If conditions are brisk, how far behind them would a foiling IMOCA 60 like Jérémie Beyou's Charal be?