Louay Habib reviews IRC Three and Four in the build up to the race
For the previous four editions of the Rolex Fastnet Race, the elation of overall victory has been enjoyed by a team racing a yacht of less than 40ft. In the 2013 and 2015 editions of the 605 nautical mile offshore race, the top three boats overall came from IRC Three and Four. This year, currently 340 teams will race under IRC for the overall win and over half of them will be competing in IRC Three and Four. The vast majority of the 3,000-strong competitors in the 400-boat fleet are passionate amateurs, racing on a huge variety of boats, with 88 different designs found in these two classes.
Eighty-five yachts have entered IRC Three; 46 from Great Britain, 18 from France and also Belgium, Germany, Ireland, the Netherlands, Poland, Russia, Switzerland, and the USA.
Twelve JPKs will be competing in IRC Three this year, including their designer Jean-Pierre Kelbert, racing JPK 10.30 Léon Two-Handed, with Alexis Loison. JPK designs have an impressive track record, winning IRC Three for the last three editions of the race, and the race overall in 2013 (Pascal and Alexis Loison, JPK 10.10 Night and Day). In 2017, the class went to the wire, with Arnaud Delamare and Eric Mordret's JPK 10.80 Dream Pearls winning by just 71 seconds from Marc Alperovitch's JPK 10.80 Timeline. Alperovitch had previously won class in 2009, while taking fourth in 2013, as well as second in 2017. Both teams will be back this year, with Timeline now in two handed mode.
"We reckoned that there were 10 boats in a position to win and that included five British boats," says Timeline's owner, Alperovitch about the 2017 race. "There was always a competitive boat next to us, it is quite strange to be in the middle of the Celtic Sea and be racing as if it were 'round the cans', except it took roughly half a day to overtake another boat!"
Eight Sun Fast 3600s will be in action, including two British teams in top form.Trevor Middleton's fully crewed Black Sheep and Rob Craigie's Bellino, racing two handed with Deb Fish. The Rolex Fastnet Race is likely to decide who will be in pole position overall for the 2019 RORC Season's Championship. Four of the Black Sheep crew met on the Clipper Round the World Race and this will be Middleton's third race in succession.
"We are not thinking about the overall win, just to put in our best performance for the race," explained Middleton. "The competition in our class is really tough, but if I was to single out one area in respect of Bellino, it is that they run symmetric spinnakers to our asymmetric, so a tight reach back from the Rock would be just fine for Black Sheep."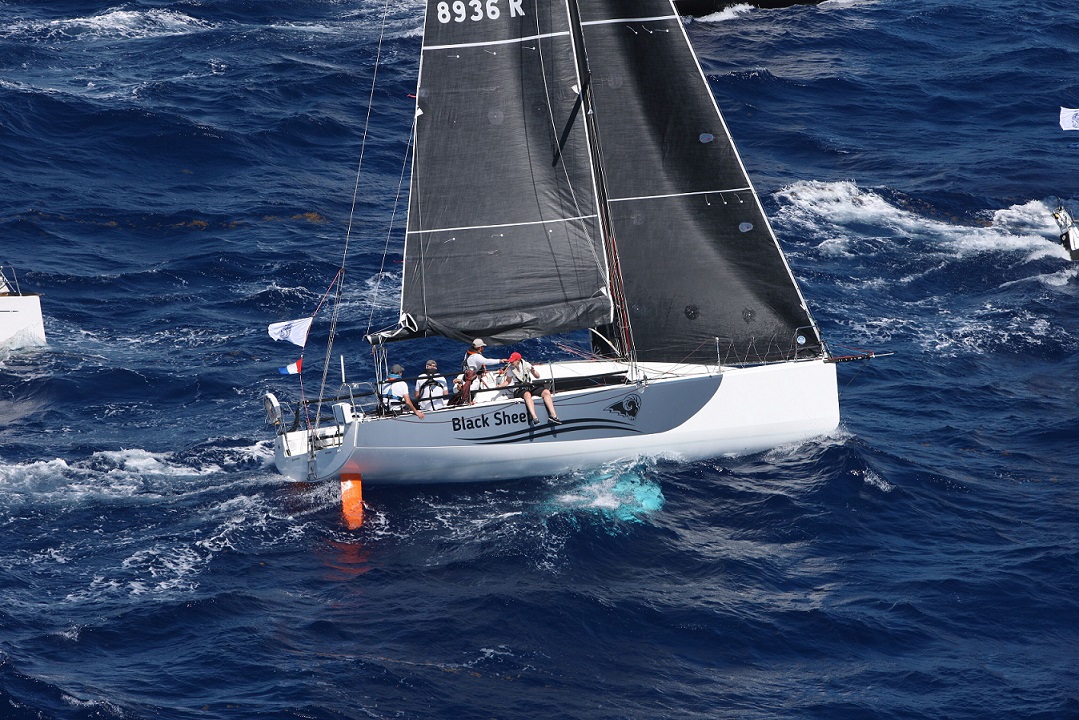 Trevor Middleton's Sun Fast 3600 Black Sheep © Tim Wright
Eighty-nine yachts have entered IRC Four; 52 from Great Britain, 16 from France and also entries from Belgium, Ireland, the Netherlands, and the USA.
Noel Racine's Foggy Dew is one of 11 JPK 10.10s racing in the class. Racing his former JPK 9.60 and his current charge, Noel Racine has an impressive record in the Rolex Fastnet Race. Taking part in all seven editions since 2005, Racine has won his class three times and placed third and second respectively in the last two races. In this year's 179-boat Cowes-Dinard-St Malo Race, Francois Moriceau's JPK 10.10 Mary was the class winner and second overall.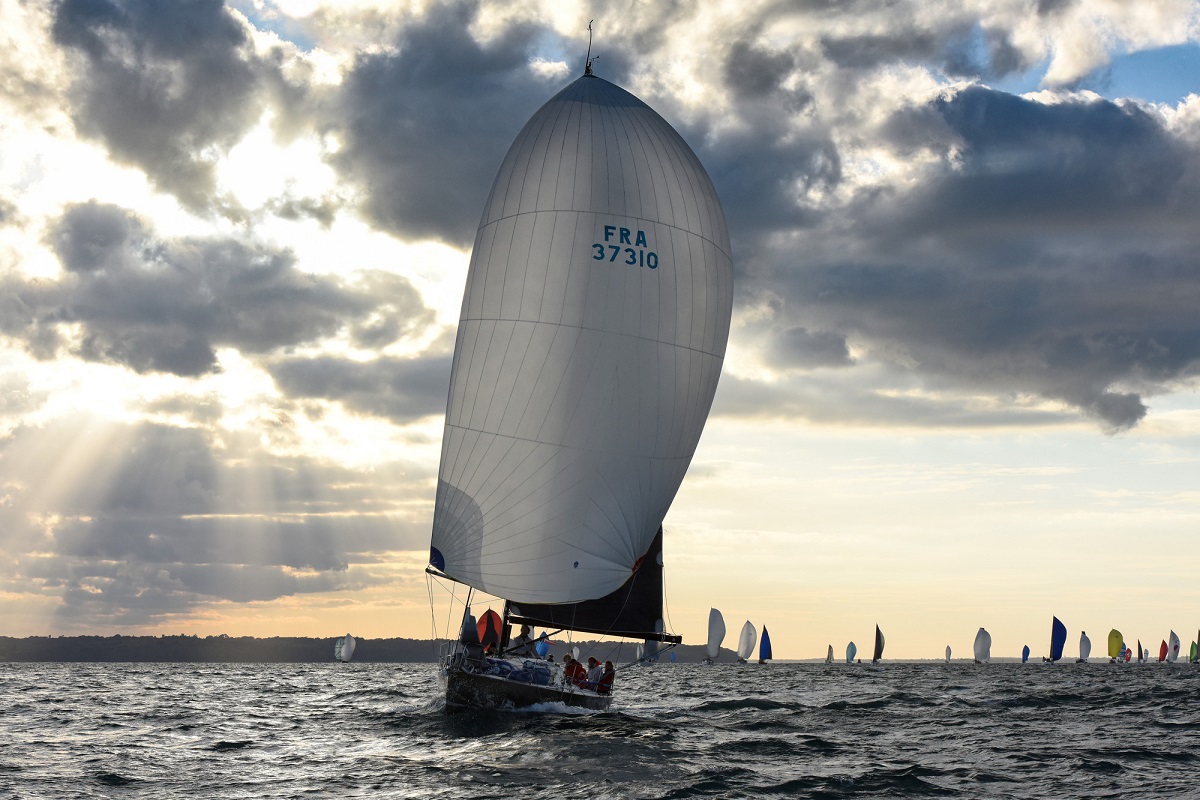 Noel Racine's Foggy Dew © Rick Tomlinson
Designed in 1985 by David Thomas in collaboration with the RORC and the Royal Thames YC, and built in Plymouth, Seven Sigma 38's have entered IRC 4. The one-design sloop was built to stand up to tough offshore conditions using data from the tragic 1979 Fastnet Race. Chris and Vanessa Choules' With Alacrity is the leading Sigma 38 for the 2019 RORC season. Since 2009, With Alacrity has completed all five editions of the Rolex Fastnet Race, finishing in the top three Sigma 38s every year, before finally winning in 2017.
"We have owned With Alacrity for 15 years and having done a transatlantic, we got hooked on the racing, particularly the competitive racing against other Sigma 38s. The Rolex Fastnet Race is the longest race we can realistically do, and we aim to get around safely and with a happy crew," explained Chris Choules.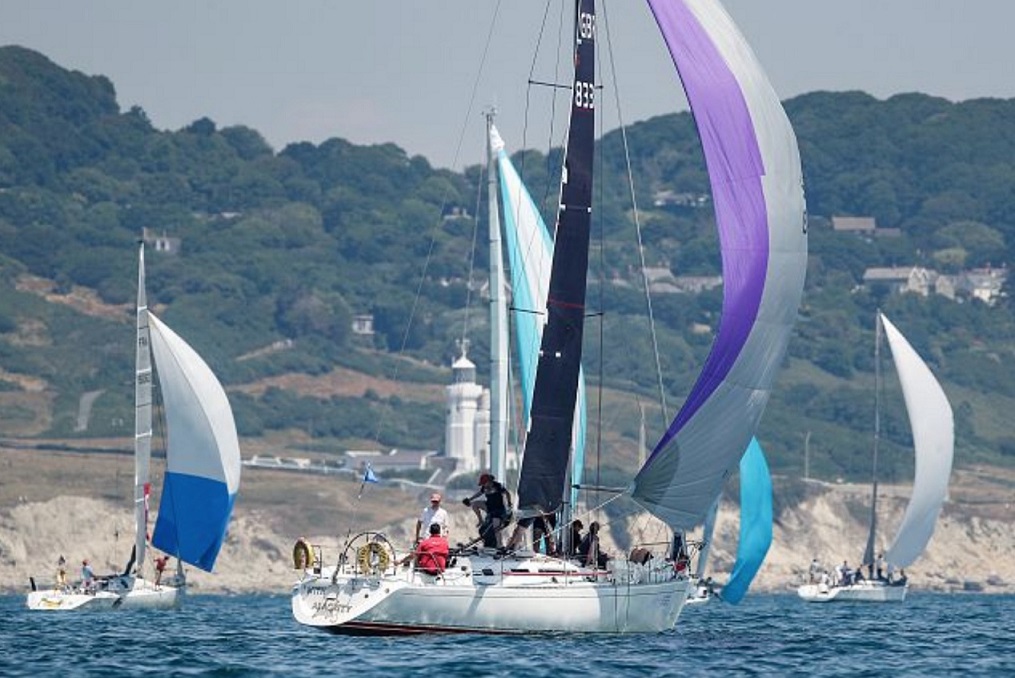 Sigma 38 With Alacrity © Paul Wyeth
Sixteen J/109s will be competing in IRC Three and IRC Four. The 35ft bowsprit design has its own prize, the J/109 RORC Trophy. The leading J/109 for the RORC season is David McGough's Just So, overall winner of the 2019 Morgan Cup with 85 teams racing under IRC. Just So won the J/109 RORC Trophy in the 2015 Rolex Fastnet Race.
The British Armed Forces have a long history in the race and this year, four teams from Her Majesty's Armed Forces will be racing in the J/109 fleet. The RAF with Red Arrow, the Royal Naval with Jolly Jack Tar, the Royal Engineers with Trojan, and the Royal Armoured Corps with Ajax.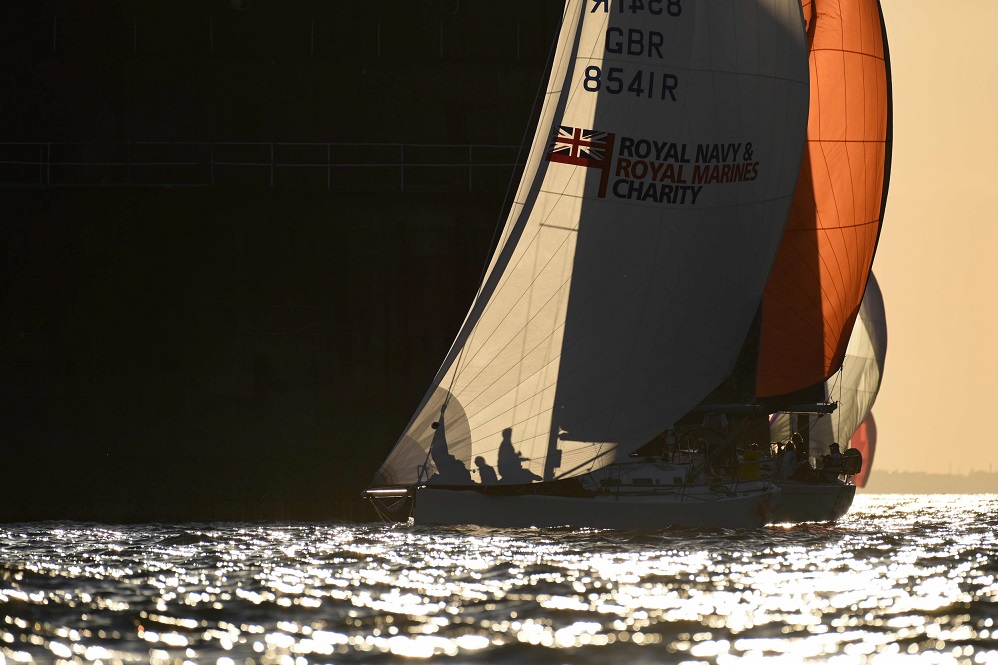 Jolly Jack Tar © Rick Tomlinson
Jolly Jack Tar's skipper Lt Tom Thicknesse RN started yacht racing with the Royal Navy; this will be his second race, and first as skipper. "Whatever the weather, we are expecting a mentally and physically draining race that demands everything from the crew. We have our sights set on the Inter-Regimental Trophy for the best service yacht and aim to be in the top five J109s overall," says Thicknesse. "Offshore sailing has been a key element of Royal Navy sport and adventurous training for many years as the mental and physical challenge gives the opportunity to develop the endurance, leadership, teamwork and courage of our crew. The race epitomises this challenge," continues Thicknesse.
Classic yachts abound in IRC Three and Four, including 17 Nautor's Swans and four more classics from the drawing board of Sparkman & Stephens. These majestic yachts with beautiful lines will also race for the S&S Trophy. All of the classics competing in the 48th biennial Rolex Fastnet Race will be eligible for a new trophy donated in 2017 by Matt Brooks and Pam Rorke Levy, owners of the S&S yawl Dorade, winner of the Fastnet Race in 1931 and 1933. Former Commodore of the New York Yacht Club, Rives Potts will race his McCurdy Rhodes 48 Carina having crossed 'the pond' with the 2019 Transatlantic Race this summer. Potts connection with the race goes back to the infamous 1979 Fastnet Race which he won as crew on media mogul Ted Turner's Tenacious.
The oldest boat in the race this year is Paul Moxon's 1939 Amokura. The Shepherd-designed classic yawl was built as 'a speedy vessel, suitable for both cruising and ocean racing' and designed for Major Ernest Harston, ADC to Lord Mountbatten. She will be joined in IRC Four by Sir Francis Chichester's famed 53ft ketch, Gipsy Moth IV which is run as a charity to maintain her sailing heritage.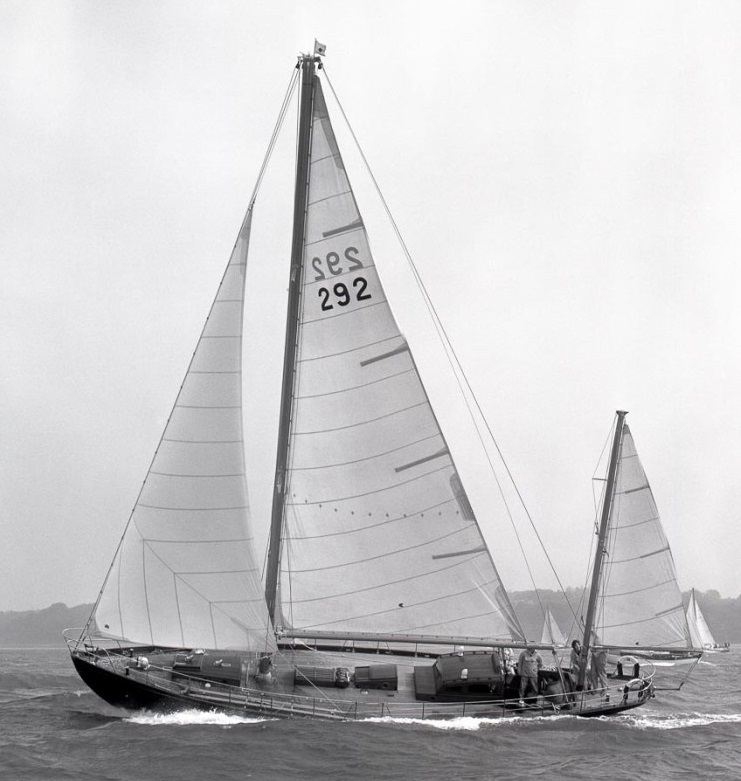 Paul Moxon's 1939 Amokura Shepherd-designed classic yawl © Beken
Another classic yacht with a strong connection to the 1979 race is the Contessa 32 Assent, which was originally named Tessa of Worth and the only yacht in Class 5 to complete the 1979 Fastnet Race. Assent is now owned by Kit Rogers and skippered by Simon Rogers. Their Father Jeremy Rogers set up Contessa Yachts in 1961. "This is a pilgrimage to show respect for the '79 race, now 40 years ago," commented Simon. "Our crew will be my oldest child Hattie, and Kit's oldest Jonah, who are both 19, and this will be in their first Fastnet." Assent has the shortest waterline length (24ft) in the 2019 Rolex Fastnet Race.
HOW TO FOLLOW THE RACE: Official hashtag - #RolexFastnetRace

TUNE IN: Live streaming of the start on Saturday 3rd August from 11.45-1430 GMT on:-

RORC Facebook Live: @royaloceanracingclub
and the event website: http://www.RolexFastnetRace.com/

RORC YouTube: @rorcracing
Live commentary - Fastnet Radio 87.9fm

TRACKING & VIRTUAL RACE:
Track the fleet or download the YB Races App
https://www.rolexfastnetrace.com
SOCIAL MEDIA:
RORC Facebook: @royaloceanracingclub
Instagram: @rorcracing
YouTube: @rorcracing
Twitter: @rorcracing