The great and the good of the 48th Rolex Fastnet Race appeared on a specially prepared stage set up for the public on Cowes Parade this afternoon.
Vendée Globe skipper Sam Davies, here racing her IMOCA 60 Initiatives Coeur with Route du Rhum winner Paul Meilhat, described her campaign:
"The IMOCA class is sailing here doublehanded as part of our official circuit, so it is a huge fleet. We are out there to defend the title Paul won two years ago and to see how we'll do against our competitors."
Luke Berry of Lamotte, Sam Davies of Initiatives Coeur and Hannah Stodel of Hannah Stodel Racing join the panel for the Press Conference © Rick Tomlinson/www.rick-tomlinson.com
Paralympic sailor Hannah Stodel, described how the Class40 she is racing in this year's Rolex Fastnet Race represents a stepping stone up to the IMOCA 60 class. "It is relatively idiot-proof, so perfect for me!"
Franco-Brit Luke Berry reckons that around six or seven boats are in with a chance of winning the Class40. His Sam Manuard-designed Mach 3, Lamotte - Module Création is among them:
"The Class40 is a good compromise between performance and budget. We are privileged to be able to sail in big offshore races like the Transat Jacques Vabre, Route du Rhum and the Rolex Fastnet Race."
Offshore race veteran Steve Hayles won back to back races as navigator on board Rán 2 in 2009 and 2011. This boat is back as Peter Harrison's Sorcha and Hayles reckons that in addition to he and former skipper Tim Powell, around one third of the crew was part of their previous winning crew. Rán 2 is the only two time winner in the recent history of the race, although during the 1920s and 1930s, Jolie Brise (first home in the inaugural race in 1925) was the race's only three time winner, while Captain John Illingworth's Myth of Malham won in 1947-1949 and Carina was the last back to back winner in 1955-1957.
Hayles enthused about the complexity of the Rolex Fastnet Racewith all its headlands and tidal gates, unlike the more straightforward among the other 'classic 600 milers' such as the Newport-Bermuda. As to their prospects this time, Hayles wasn't confident:
"We would ideally like a different forecast. The years we won it, it was a beat from here to the Fastnet Rock... The VO70s may be the same size, but this year's reaching race will be on their terms… I would be looking at a VO70 to win right now."
Representing the opposite end of the size spectrum was yacht designer Simon Rogers, racing the most famous of Contessa 32s Assent with his brother Kit and their eldest children. "Assent is 24ft on the waterline and 32ft overall. We will be lucky to be doing 120 miles/day!"
In terms of her Fastnet background Assent was the last boat to finish the tragic 1979 race. This season as part of her preparations for the Rolex Fastnet Race, Rogers competed doublehanded in 40 knots during the De Guingand Bowl. "When I think back to the 1979 Fastnet and you realise what they went through, even to have finished that race would have been remarkable."
While all the Ultimes are sailing to the Solent, competing in the race and heading back to France, all without touching land, Cowes resident Brian Thompson, was part of the Banque Populaire V crew when it set the course record under skipper Loick Peyron in 2011. He gave some insight how the 32m long foiling Ultime trimaran performance compared to the 40m long version he sailed:
"Sub-15 knots, the Ultimes are much faster as they have a higher power to weight ratio. They can reduce their drag by getting up on their foils.
"The Ultimes are incredibly quick and can do 2.5x wind speed, so in the upper teens they can be doing 40 knots because the sea state is fairly flat. As it gets windier they are not as quick. They could break the record this year." This year Thompson is competing with the Polish crew on Ambersail II, one of three VO65s competing.
David Witt, skipper of the largest monohull in the race, Seng Huang Lee's Dovell 100 SHK Scallywag, is a regular competitor in both the Rolex Fastnet and the Sydney Hobart Races. He was asked to compare them:
"They are the two best offshore races in the world. The Hobart race is the same-same, but a little different. The greatest thing about the Rolex Fastnet Race is that mums and dads can compete in the same race as the pros - there is no other sport like this where an amateur team can compete against the pros."
He also contemplated the prospect of scoring the 'double' – line honours and the IRC prize. "There is a small window and this race could be one of those. It depends on how well we get through the high pressure ridge."
A fully-Chinese crew is sailing board Giles Redpath's Lombard 46 Pata Negra. The leader of the Team China Sailing and bowman/helmsman, Li An described how they came to be competing in the Rolex Fastnet. China Sailing helps to get Chinese sailors compete in the world's major yacht races. Most of his crew have previously sailed the Rolex Sydney Hobart. This was the next step. "We want to enjoy it and sail safely on a good boat with a really good rating. We will try our best to race with competitive high level."
Paul Moxon is skipper of the oldest boat in this year's race: The 80 year old 50ft yawl Amokura, originally built for a New Zealander who was a major in the British army and raced but didn't finish the Rolex Fastnet Race in 1959.
"We will try and get a better result," says Moxon, who is competing doublehanded with Steve Jones, with whom he has sailed with extensively before but never doublehanded. "We are learning fast. Neither of us has had much experience in Amokura, but we will enjoy ourselves and hope to give the more experienced teams a run for their money."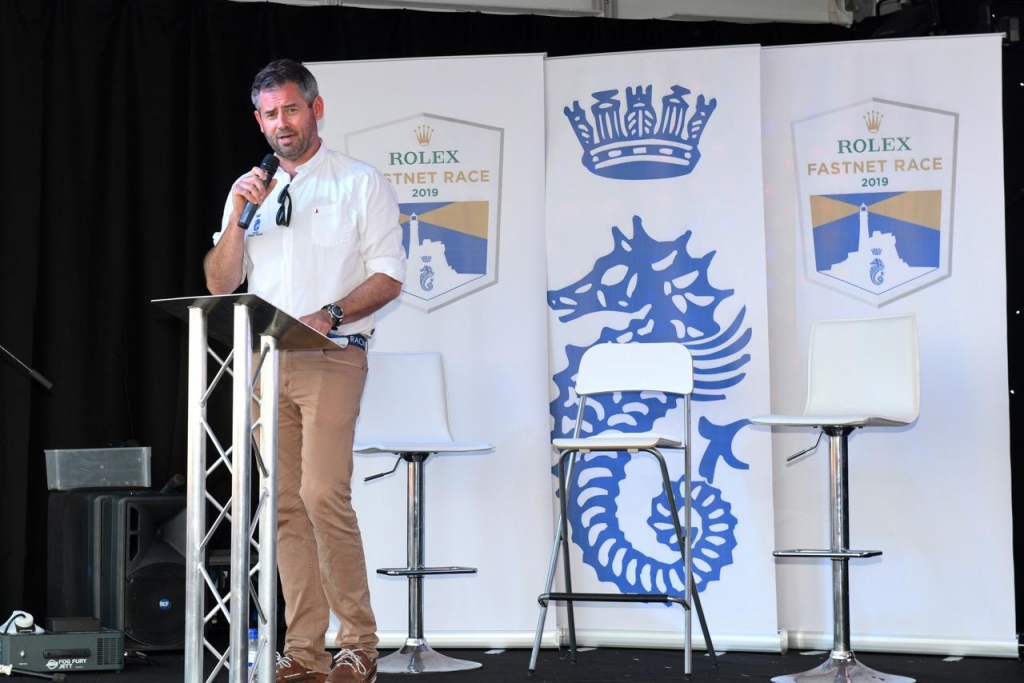 RORC Racing Manager Chris Stone leads the Skippers' Briefing © Rick Tomlinson/www.rick-tomlinson.com
Alexis Loison won the 2013 Rolex Fastnet Race as the event's sole doublehanded winner, the JPK 10.10 Night and Day. This year he is competing against doublehanded but with Mr JPK himself, Jean Pierre Kelbert on board the builder's latest model, the 10.30 Leon. "It is specially designed for reaching and downwind - I think the weather is good for us, but we will see." He also explained the attractive aspect of racing doublehanded. "You have to do everything so it is very interesting and there is no down time."
Defending Champion, Didier Gaudoux is back on his JND 39 Lann Ael II. So what is the secret to his success? "There is no secret unfortunately. I would love to have been one! It is a good boat and a good crew and good luck! Without luck it is impossible.
"For me the Rolex Fastnet Race is the best race in the world. It is a technical race, very well organised by the RORC, always on the same route and with fierce competition. It was my dream for 30 years to win this race."
Former Oyster Marine boss Richard Matthews is back as the veteran of some 22 Fastnet races.
"At my age it is a biennial test of my fitness! But it is mainly about spending quality time with some of your best friends. Among them will be Alan Brook – it's been 50 years since we did our first Fastnet together…" This time he is racing on Oystercatcher XXXIII, the Ker 51 that was formerly Piet Vroon's Tonnerre 4.
"1979 wasn't great, but we were happy to get ashore. Apart from that they have all been great," continues Matthews. "Our goal this time is the same every year - to get home safely, have fun and have goo comraderie with our shipmates. And to sail as well as we possibly can."
Keith Miller and his daughter Beth are sailing their first Rolex Fastnet Race on board a rare Yamaha 36, Andante.
"I bought the boat a couple of years ago. We have done the Round Ireland and this was the next logical step. I am looking forward to it. The boat is a comfortable heavyweight boat with a fin keel. It is a very safe boat - a good boat to start off with."
Heroes of the 2017 Rolex Fastnet Race were the inner city teenagers from Haringey's Greig City Academy, racing the Two Tonner Scaramouche. They are back this year with a fresh group of from the Academy.
18-year-old Azat Ulutas is the student captain on board and has been sailing for just two years on a variety of dinghies and keelboats, culminating in the offshore races. "One of my friends said 'why don't you come for a sail'. So I went out and ever since that day I have enjoyed it. Now I'm here," he said, adding that he especially enjoys racing and likes sailing because it is such a rare pastime for someone from his neighbourhood. In addition to the qualifications for the race, he and his crew have also gained their offshore survive and safety qualifications.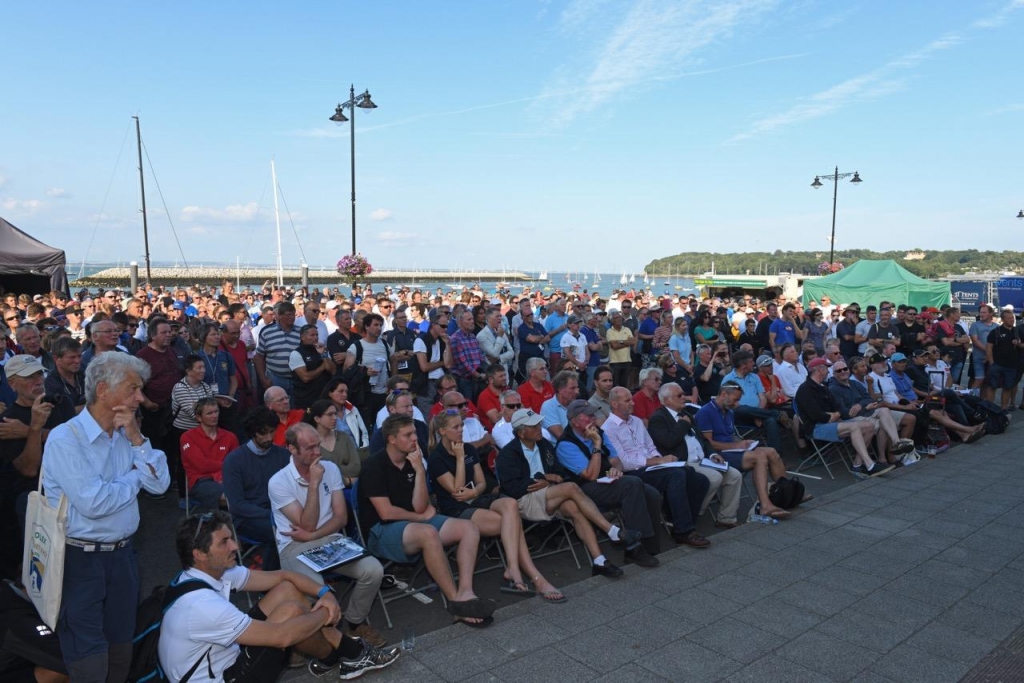 The Cowes Parade is jam-packed with skippers, crew and the passing public for the Press Conference and Skippers' Briefing © Rick Tomlinson/www.rick-tomlinson.com
However most impressive is Kai Hockley, who at 13-years-old is the youngest crew on Scaramouche and in this year's race. "I like it because it is a very active sport and you are always learning something," he said. "Racing offshore is so different to what I am used to. I am used to football and basketball…"
Lottie Hartland was representing yachts competing in this race that are representing charities. Her Ausome Charity, raising awareness of autism, has acquired the use of the Swan 431 Lyra of London. On board eight of the crew are autistic. "I started the charity to get autistic people to be more independent. Our main goal is to finish the race and to show that autistic can do whatever they want to," she explained.
Rounding off proceedings German Kim Magnussen was representing the youth team being fielded by Kiel Yacht Club, here racing the Baltic 52 Zukunft IV. Her crew are all members of Kiel Yacht Club whose average age is 23 years old, with the youngest being just 17.
You can view the Press Conference in full, and catch up with the Skippers' Briefing via the RORC Multimedia page