Rambler 88 has won monohull line honours this morning, after crossing the Plymouth finish line at 09:55:02. American Owner George David and his all-star crew were delighted to have beaten their rivals on the 100-footer SHK Scallywag to the punch.
For a while it looked like breaking the outright monohull race record was on the cards, especially after Rambler 88 set a new record from Cowes to the Fastnet Rock, George David beating his own record by 88 minutes, which he set on Rambler 100 back in 2011. The race back across the Celtic Sea towards the Scilly Isles was also very quick with straight-line sailing at speeds of around 20 knots. But it was the final run into Plymouth from the Scillies that put paid to any race record hopes. In the end, Rambler 88 finished in a time of 1d 19h 55m 2s, 1 hour and 16 minutes off the record set by the Volvo Open 70 Abu Dhabi Ocean Racing in 2011.
Not that George David was complaining. This was his fifth assault on the Rolex Fastnet Race and he has succeeded in repeating his line honours victory from two years ago.
"We're delighted to have that outcome. It was a contest this year because we had the big hundred footer Scallywag and they had some, should we say, strong statements ahead of the race about how good they were! And so we were especially motivated to get here 10 or 12 miles ahead of them, which we did. And we were in heavy competition right from the start."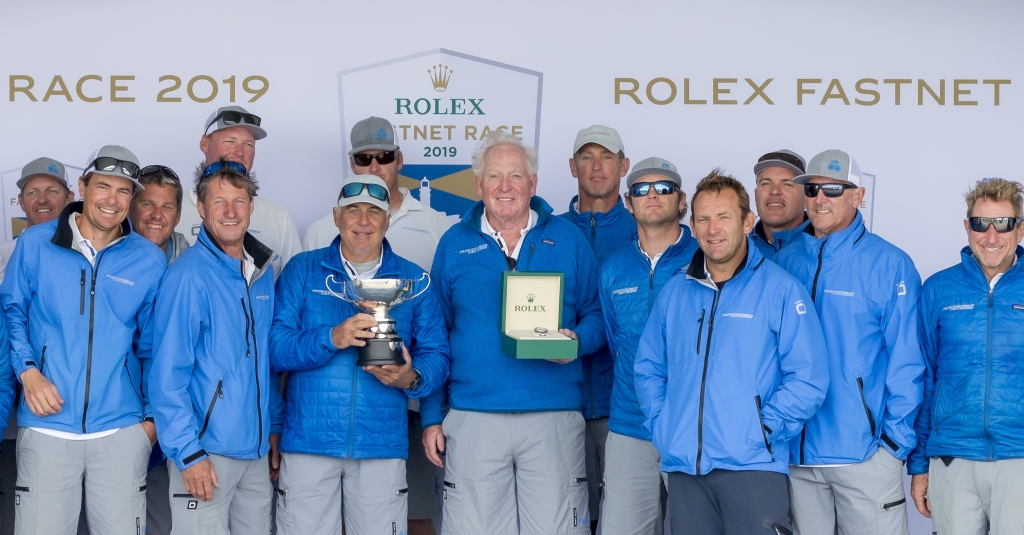 George David's Rambler 88 took monohull line honours at the 48th Rolex Fastnet Race © Carlo Borlenghi/Rolex
Passing the Rock was an emotional moment for David, with Rambler 88 encountering very similar, rough conditions that had befallen the ill-fated Rambler 100 there eight years ago. As the boat reached the Rock this time, David had no idea that he'd just set a new record to the Fastnet lighthouse.
"I had some other things on my mind - from 2011 when we were up there in comparable conditions, 25-30 knots in really lumpy seas a few miles west of the Rock. The keel came off, the boat rolled over and that was the end of that. So we have some special memories. At least I did personally.
"My wife Wendy wasn't on the boat this time. She was in 2011, and she and I spent three hours in the Celtic Sea courtesy of that little issue. Baltimore lifeboat was there yesterday, to meet and greet and wave and say hello. We know those people pretty well. We've been back to Baltimore four or five times since."
David paid tribute to everyone who helped in that rescue operation and remains grateful to this day for an outcome that could have been a lot, lot worse.
Once past the Fastnet, the New Yorker's mind turned towards the possibility of breaking the race record. It was looking good until the final run in from the Scillies:
"Our route plan at the rock was we would finish at six or seven this morning, which would have been ahead of the record. The problem was we turned the corner at the Scillies and came down the Channel and it was VMG the whole way. So we sailed probably an extra 40 or 50 miles. And that extra distance sailed added maybe another two or three hours on to our time.
Rambler 88's navigator, Jules Salter, had just completed his 14th consecutive Fastnet Race but said this was one of the best:
"That was a great run on board a fantastic boat with a really good bunch of guys. It would have been great to have beaten the record, but at least I've still got the record because I was on board Abu Dhabi in 2011. We'll have to come back for another go."
SHK Scallywag finished just 27 minutes after Rambler 88.
"It was a very close, exciting race," said owner Seng Huang Lee. "We had a little bit of everything – fine weather, rough sea and a squall just before we rounded the Rock. But these were the conditions that Rambler was designed for, so congratulations to them."
SHK Scallywag, Seng Huang Lee's Maxi Dovell rounding the Rock in the early hours of the morning © Kurt Arrigo/Rolex
Meanwhile at the opposite end of the fleet, the Rogers family's Contessa 32 Assent was this morning approaching the southern corner of the Land's End Traffic Separation Scheme. Simon Rogers reported: "We have boats behind us which is good news, doing 10 knots downwind with the tide."
The IRC Four leaders are currently half way across the Celtic Sea to the Fastnet Rock with Noel Racine's JPK 10.10 Foggy Dew leading on the water and under IRC, although sistership Emmanuel and Etienne Pintesaux's Gioia (formerly the 2011 Rolex Fastnet Race overall winner Night and Day) was just four miles behind.
Surprisingly only eight of the 87 boats in the larger/faster IRC Three are ahead of Foggy Dew, which is just 14 miles astern of the IRC Three on the water and IRC leader Arnaud Delamare and Eric Mordret's JPK 10.80 Dream Pearls. However Dream Pearls is facing a serious challenge from Alexis Loison and Jean Pierre Kelbert's JPK 10.30 Léon and Louis-Marie Dussere's JPK 10.80 Raging-bee². Overnight Hannah Diamond and Henry Bomby on their Sun Fast 3300 Fastrak XII have dropped back slightly, as have Rob Craigie and Deb Fish on the Sun Fast 3600 Bellino, after Fish had to make a trip aloft to free a stuck batten.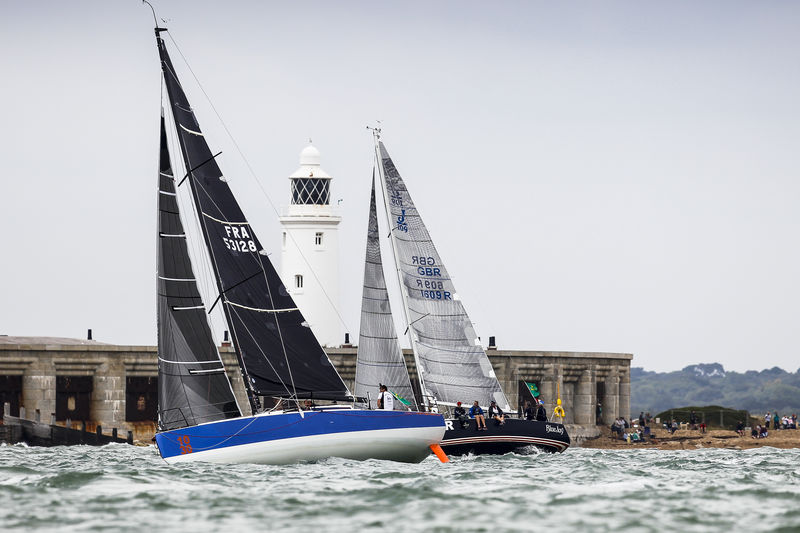 Léon, the JPK 10.30, sailed by Alexis Loison and Jean-Pierre Kelbert at the start of the 2019 Rolex Fastnet Race © Paul Wyeth/www.pwpictures.com
At 0900 the runaway leader in IRC Two, the JPK 11.80 Courrier Recommandé of 2015 Rolex Fastnet Race winner Géry Trentesaux, had just over 20 miles to go the Fastnet Rock and was looking strong. 14 miles ahead is her British sistership, Tom Kneen's Sunrise, which is now up to second with Nicolas Loday's Grand Soleil 43 Codiam having dropped back to third, just two miles astern.
Just before 0700 Frenchman Dominique Tian's Ker 46 Tonnerre De Glen was first boat in IRC One to round the Fastnet Rock. She was followed some 35 minutes later by James Neville's HH42 Ino XXX, these two boats both looking strong under corrected time. This morning at around 1040 Lars And Birgitta Elfverson's Ker 40 Keronimo rounded the Fastnet Rock, seventh under IRC. Navigator Nick Jones reported: "20 knots, quite bumpy seas – it's a bit like a washing machine down here at my navigation station, most things are broken, but it's been lots of fun with lots of banter."
Further up the race course, William Mathelin-Moreaux's Lift 40 Beijaflore led the Class40s around the Fastnet Rock at 0520. She was followed by Luke Berry's Lamotte - Module Création in second at 05:53, then Arthur le Vaillant's Mach 40.3 Leyton and Catherine Pourre's Eärendil. Broad reaching back southeast across the Celtic Sea, the Class40 frontrunners were making 15-17 knots.
The next class due into Plymouth this afternoon will be the IMOCA 60s, where Jérémie Beyou and Christopher Pratt on the new generation Charal currently hold an eight mile lead over Clarisse Cremer and Armel le Cleac'h on Banque Populaire, with the leader due to finish early afternoon today (Monday).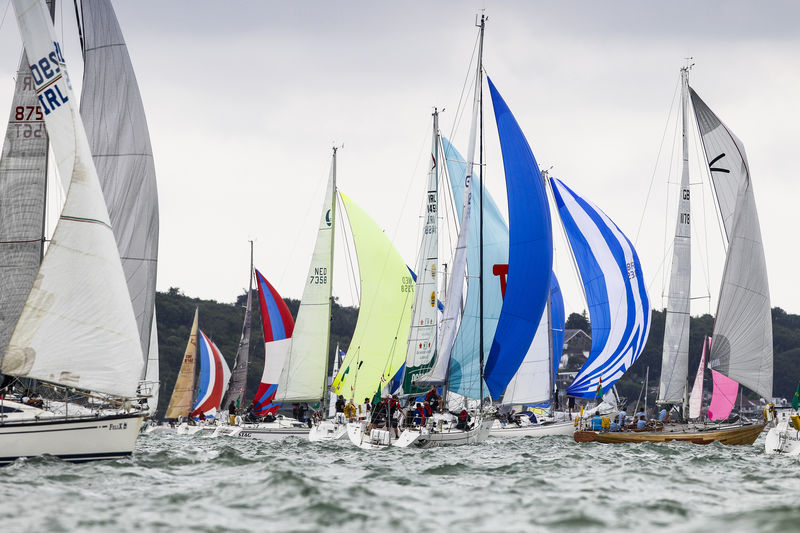 The colourful start of the largest class, IRC Four © Paul Wyeth/www.pwpictures.com
At 0900 this morning 42 boats had retired from 388 starters of which 333 were racing in the IRC fleet.
Some crews have chosen not to embark on the Celtic Sea crossing given that prolonged 20-25 knots southwesterly winds have been creating a building sea state. Some have had this decision made for them. Stephen Robinson's Class40 Jumpa Lagi dismasted yesterday after passing the Scilly Islands. All her crew were safe and they are pottering back east and this morning were just off the Lizard.
Regular French competitor Marc Alperovitch and his JPK 10.80 Timeline was forced to put in to Plymouth Yacht Haven prematurely when one of his crew injured his ribs in a fall. Embarrassingly this was an accidental tumble within the light conditions during the first few hours of the race. They continued and were doing well, but with the anticipated motion of the boat, given the waves in the Celtic Sea, was felt likely to cause too much pain for the crewman.