It has been a big morning in Plymouth with Rambler 88 taking monohull line honours, closely followed by arch-rival 100ft SHK Scallywag, and the VO70 Wizard scorching in behind the front two and looking like a very good bet for victory in IRC overall in this year's Rolex Fastnet Race.
George David's love affair with the Fastnet Race continues, the owner of Rambler 88 having just completed his fifth edition and successfully defending his line honours victory from 2017. "It was a very good start to the race, and I'm not sure anyone has sailed as fast from Cowes to Portland. Then we kind of parked up, got a little slow down the run between The Lizard and Land's End and that's where Scallywag got a three to four mile jump on us. But then we ground them down after we turned past Land's End and started reaching. This boat has so much stability that when it starts to blow hard from 70,80,90 degrees on the beam, then we keep up more sail area and we just keep driving.
"The boat has a very wide back end and the canting keel, so it has a lot of form stability. We made some changes in the last year; we extended the keel a full metre, so it's 23 feet or seven metres of draft in this boat and because of the lever arm being longer, that took a ton and a half of weight out of the boat. That has made a tremendous difference in the boat's performance. We have this new triple-head rig as if typically put either a J2 or sometimes that big masthead zero, and inside that a J4 and then a reaching staysail."
David had anticipated a close battle with the larger Scallywag, and predicted it would come down to whatever conditions arrived on race day. "I said a month ago that if it was light, Scallywag would have the advantage, and if it was heavy, we would have the edge. And that's what happened. When it was light, they got the jump on us. But the conditions out to the Rock and back were good for us. It was a tight reach going up and a more open reach coming down, and any one of those conditions suits this boat extremely well."
Owner of SHK Scallywag, Seng Huang Lee also enjoyed the tight battle with Rambler 88: "It was a very close, exciting race. We had a little bit of everything – fine weather, rough seas and a sudden squall just before we rounded the Rock. That took us a bit by surprise, as it did Rambler. But any race that is fast is good, and then a hot shower makes you feel better."
The approach to the Fastnet Rock delivered some of the roughest conditions of the race, and for George David it brought to mind all the memories and emotions of the rounding eight years earlier. David had no idea that he and the crew had just set a new record to the Fastnet lighthouse. "I had some other things on my mind - from 2011 when we were up there in comparable conditions, 25-30 knots in really lumpy seas a few miles west of the Rock. The keel came off, the boat rolled over and that was the end of that.
So we have some special memories, at least I did personally. My wife Wendy wasn't on the boat this time. She was in 2011, and she and I spent three hours in the Irish sea courtesy of that little issue. Baltimore lifeboat was there yesterday, to meet and greet and wave and say hello. We know those people pretty well. We've been back to Baltimore four or five times. We talked to the Valentia Island Marine Search and Rescue Centre who sent the helicopter to pick up my wife Wendy. So there's a lot of sentiment and emotion around that rock rounding, especially in those conditions in daylight at about the same time. We rounded within minutes of the same time that we did in 2011.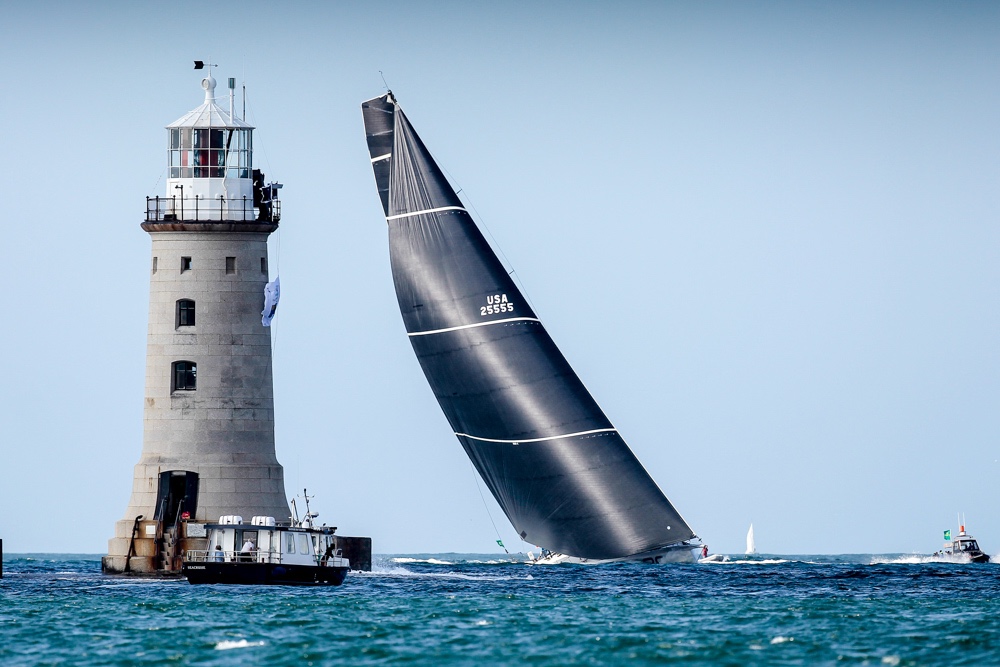 Rambler 88 made an entrance to Plymouth at the end of the Rolex Fastnet Race taking consecutive line honours © Paul Wyeth/www.pwpictures.com
"I got on the radio VHF with Baltimore lifeboat right there when we were rounding the Rock and they were alongside. We got in there on the radio with Valentia Island Marine Search and Rescue Centre. We expressed our congratulations and thanks to them for their outstanding performance. There was no doubt that, without their help, some people would not have come back."
With the Rock safely behind them, David had hoped for a tilt at the outright monohull race record. "For a while it looked like we'd have the record quite easily, but the problem was we expected more of a southwesterly breeze. We turned the corner at Land's End on the way back and instead it was more westerly. So it was essentially a dead VMG run. We'd probably sailed 50 miles further than we otherwise would have. So that was a shame to miss the record."
His love and passion for the race remains undiminished, however, even at the age of 77. "The Rolex Fastnet Race really is a blue water classic. We are very happy to have done it five times, even if we have never won it. We came close in 2007 when we were second on correctly time. That's the best we've ever done, but it's still great to have won line honours in 2017 and now again in 2019."