Monday 5 August PM - IRC Zero, One and Two
While all the big news has been going on in Plymouth today with the line honours victory of Rambler 88 and Wizard's fast finish making her look like a hot candidate for overall victory, the vast majority of the fleet continues to battle away in the Celtic Sea.
IRC Zero
VO70 Wizard's performance is going to be very hard to beat, and David and Peter Askew are most pundits' hot tip for winning IRC Zero, not to mention the overall race on handicap.
Bretagne Telecom is travelling fast towards the finish, Nicolas Groleau's Mach 45 averaging 13 knots with less than 40 miles until Plymouth, making Groleau's crew perhaps the biggest threat to Wizard in this division. Tilmar Hansen's Tala has also been going quick but is running out of runway if the TP52 is to overtake the VO70 for the class victory.
The legendary Maxi 72 Sorcha finished just nine minutes behind her 77-foot rival Jethou, and owner Peter Harrison was delighted with his team's performance:
"There are always battles within the battle of the Fastnet, and our aim was always to try and beat Jethou. We got a nice wind shift before the Rock and made some quick gains there, and I think we were half an hour ahead of Jethou as we went round. But we had a disaster with our A1 headsail which we managed to blow up as we bore away. That forced a change of plans and meant we ended up having to sail north of the TSS rather than south which is where Jethou went."
Jethou was able to pass Sorcha on the water but handicap bragging rights still go to Sorcha.
IRC One
On the water, Ino XXX and Tonnerre de Glen are neck and neck, both averaging 9.3 knots VMG with just under 100 miles to Plymouth. On handicap Ino XXX holds the upper hand and James Neville's HH42 is racing hard for victory in this competitive class. One to watch further back is L'Ange De Milon, still with around 170 miles to the finish but with the prospect of a stronger breeze to accelerate Jacques Pelletier's Milon 41 towards Plymouth on Tuesday. Lars and Birgitta Elvferson's Ker 40, Keronimo, sits in 5th place on handicap. Reporting from the Fastnet Rock, Keronimo navigator Nick Jones said they were sailing in 20 knots of breeze:
"It's quite bumpy seas, a bit like a washing machine down here at my navigation station, most things are broken, including my telephone if it cuts out! We'll be hoisting the FRO [fractional code zero sail] soon, and we should reach the Scilly Isles by 2200. We're expecting 20-24 knots of breeze. The race has been great fun so far, with lots of banter."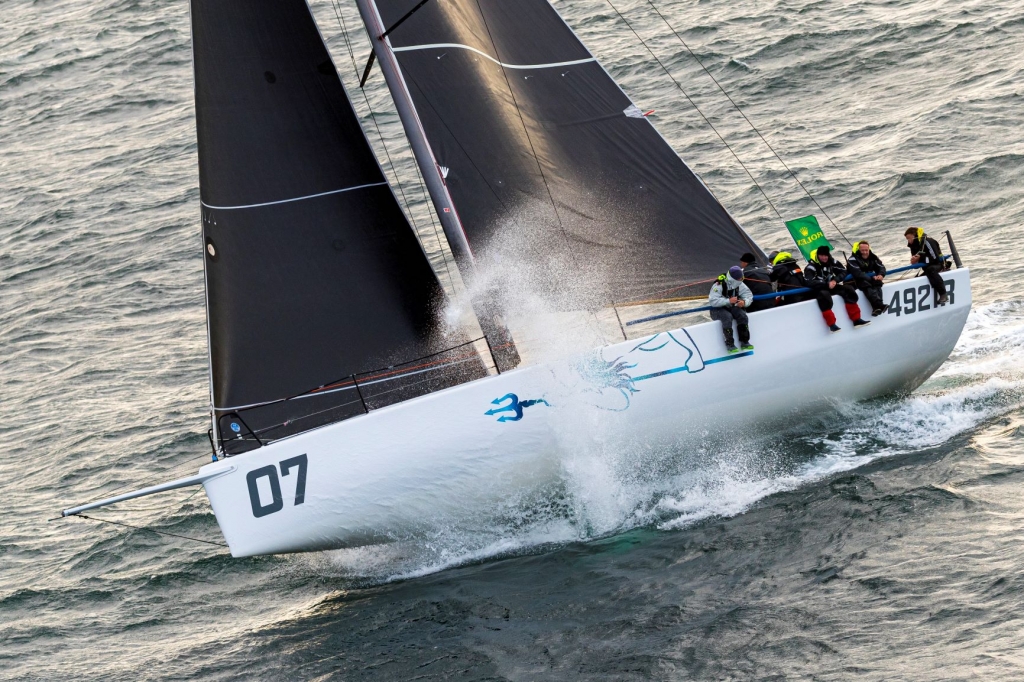 James Neville's HH42 Ino XXX carves through the Celtic Sea © Carlo Borlenghi/Rolex
IRC Two
Around 170 miles out of Plymouth, Géry Trentesaux is setting the pace as he so often does in the Rolex Fastnet Race, albeit the Frenchman is not likely to repeat his overall triumph from 2015. However division victory in IRC Two remains well within the JPK 11.80 Courrier Recommandé's grasp as Trentesaux is enjoying a 20-mile buffer over another JPK 11.80, Tom Kneen's Sunrise which is in second place on current standings. Sitting in third place with around 200 miles to go is Jean Claude Nicoleau's Grand Soleil 43 Codiam. Robin Verhoef and John Van Der Starre's J/122 Ajeto! was first of the doublehanders to round the Fastnet Rock, and lies in seventh overall in IRC Two.