Tuesday 6 August - IRC One
Just when we thought this was looking a benefit race for the bigger boats, last night's arrivals and previous leaders of IRC One - Tonnerre de Glen and Ino XXX - have been upstaged by two smaller rivals - L'Ange de Milon and Lann Ael 2 - who moored up in Plymouth around midday today.
Jacques Pelletier, owner of L'Ange de Milon, has been trying for the division victory for a long, long time:
"This is the first time I have had the chance to win this race. The first time I sailed in the Fastnet was in 1973 with a small boat. We completed the course in six days and six hours, something like that. This year we raced here in less than three days, it's absolutely marvellous."
Pelletier has lost count of how many times he has done this race over the years. "More than 10, less than 15." He enjoyed the 2019 edition from the very beginning:
"The start was very nice. We had very little difficulty getting out of the Solent. That night there were some important changes and some opportunities to be in a good place at a good time. So we succeeded in going ahead. After that, we turned past Land's End. It was direct to the Fastnet. It was a little hard, with the wind blowing 25 to 30 knots. From the Fastnet it was easier. With a wind angle of 80 or 90 degrees, the boat was so fast, with the deck completely wet. It was a pleasure to sail in those conditions."
Pelletier is pleased with his three-year-old 41-footer:
"It's a prototype, an evolution of the JPK 10.10, by the same designer. But we have to work a little more. As always, there are more things we can improve." The skipper is proud of the work ethic displayed by his team. "Our crew sails together in La Trinité sur Mer. We practise every two weeks, and then more in the Spring. We are always the same crew which makes life easier because everyone knows what to do."
Didier Gaudoux, skipper of Lann Ael 2, paid tribute to Pelletier, knowing that his JND 39 will have to settle for second place in IRC One, after becoming overall winner of the race two years ago.
"I think we made two small mistakes and they were a big pain. Our competition avoided those mistakes so congratulations to L'Ange de Milon. But our biggest mistake was I think we went too far from the coast, going to the left as we sailed out of the Channel. The boats that went to the right did a much better route than us. But we pushed our boat to the maximum, so no regrets.
"From the Fastnet Rock to the Scillies, we pushed the boat like hell, it was really wet, wet, wet. Nothing was dry. For the first time in my life I wondered if we were pushing the boat too hard. I was hoping everything would hold together. Fortunately it did."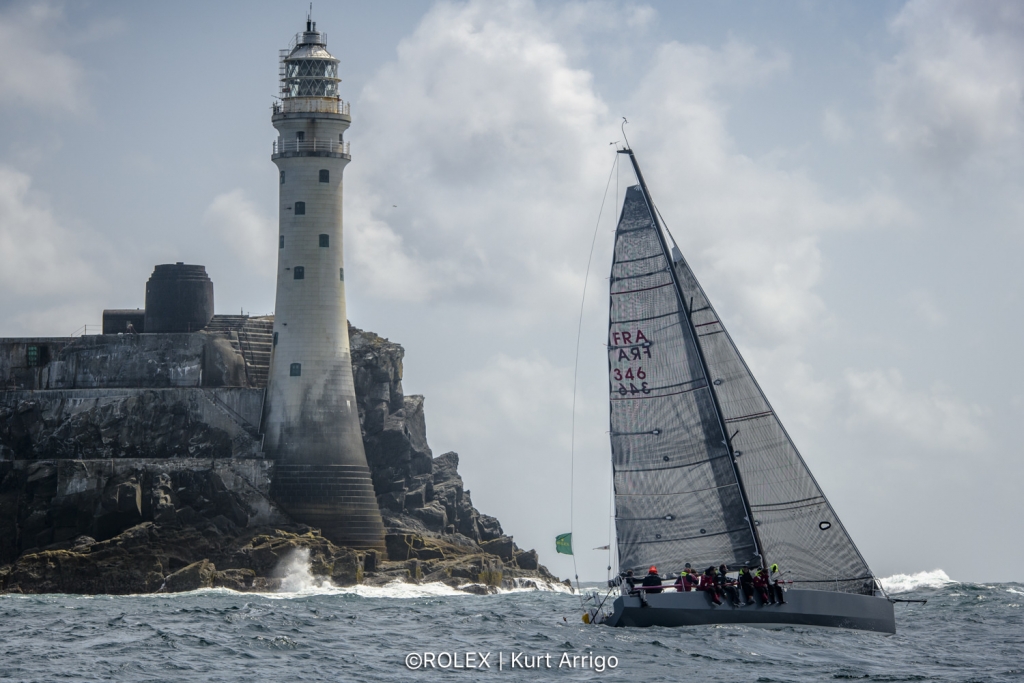 Lann Ael 2, Didier Gaudoux's JND 39 passes the Fastnet Rock before heading for the finish in Plymouth © Kurt Arrigo/Rolex
After completing five editions of the race, Gaudoux's passion for this 600-miler remains undimmed.
"Like many French, we enjoy sailing in the UK, to sail under the RORC organisation which is always fantastic, and who run the best race in the world. That's why we come. Since 1925, it has always been the same route, always to the Fastnet Rock. It's iconic. If you want to win one race in your life, it is this. Every sailor would like to win the Fastnet."

So, of course Gaudoux will be next year, but only after an important conversation. "First I have to negotiate with my wife," he winks.
The crew of L'Ange De Milon, Jacques Pelletier's Milon 41, celebrate a well-executed Rolex Fastnet Race © Paul Wyeth/www.pwpictures.com