One of the tightest competitions in the 48th Rolex Fastnet Race was between the 18 Class40s. While they, like the IMOCA 60s, are due to be competing in this autumn's Transat Jacques Vabre these box rule based fliers, the most successful 40ft racing yachts of all time (with hulls 158 and 159 soon to launch), were being sailed fully crewed (ie four up) to class rules, boat-on-boat, independent of the IRC fleet.
At the front of the fleet the competition was tight between the three Sam Manuard-designed Mach 40.3s - Luke Berry's Lamotte-Module Création, Catherine Pourre's Eärendil and Leyton, being campaigned by Rodrigue Cabaz, with the Owen Clarke-designed Imagine sailed by German Jörg Reichers and Beijaflore, the Marc Lombard-designed Lift 40 of William Mathelin Moreaux also in the mix.
Leading out of the Solent and into the Channel was Lamotte-Module Création. In the Channel the leaders dived south, shaving the western corner of the traffic separation scheme at the Casquets, with Berry remaining in front followed by Leyton and Imagine, until they hit their first tidal 'brick wall' south of Start Point shortly before midnight on night one. Unable to hide from the tide, they accepted the pain before continuing southwest by which time the leaders were almost at the latitude of the Scilly Isles. Here Colombre XL did well by gybing to the north, followed by the rest of the southerly boats an hour later.
Catherine Pourre's Earendil which finished 3rd in class, rounding the Fastnet Rock © Kurt Arrigo/Rolex
Still out in the middle of the Channel and just short of the Lizard the boats were once again held up by the tide late the following morning when they encountered the lull, before the arrival of the new southwesterly breeze. Here Eärendil nosed into the lead ahead of Colombre XL and Leyton, with Lamotte and Beijaflore left further south. Luke Berry described their frustration:
"At one point we were going up and down for about an hour and hadn't moved! Luckily we didn't have to anchor. But Beijaflore, which was a long way behind us, came from the south and managed to come out just ahead of us."
Mid-afternoon on Sunday and Eärendil led the Class40s past the TSS between the Scilly Isles and Land's End and out into the Celtic Sea ahead of Beijaflore, with Leyton and Lamotte-Module Création jockeying for third.
For the outbound crossing to the Fastnet Rock, Berry and his crew hoisted a gennaker, enabling them to brazenly blast past Eärendil. Meanwhile Beijaflore was doing well further west, benefitting, Luke Berry reckoned, from her sail selection:
"They sailed straight up there with their Solent jib whereas we had a gennaker which was faster, but we were underneath them, so we ended up having to tack."
After a blisteringly fast but brutal crossing of the Celtic Sea, close reaching on port in winds gusting to 25 knots, Beijaflore led around the Fastnet Rock at 05:17 on Monday morning followed by Lamotte-Module Création at 05:51 and Leyton at 06:30, just four minutes ahead of Eärendil.
Shortly after rounding the Rock, the gennaker furling system broke on Lamotte-Module Création.
"It was deja-vu slightly from what happened when I dismasted in the Défi Atlantique, which was a bit disturbing," admitted Berry. "The rope blew, so the gennaker filled, but this time the fitting blew. Because of that we lost 10 miles to Beijaflore."
Remarkably, on the leg to Bishop Rock, Berry and his crew regained all the ground they had lost and were once again neck and neck with Beijaflore. "That was good because Beijaflore is a more powerful boat than ours," recounted Berry.
From here the two boats remained stuck together past Bishop Rock and south of the Scilly Isles with Beijaflore only having dropped slightly more south by the time they passed the Lizard at 1930 last night.
Beijaflore skipper William Mathelin-Moreaux gave his side:
"Coming back from the Rock, Luke was going very fast, because he had a small gennaker, which was faster in those conditions. Then we had a very nice battle at the end under spinnaker, but we broke our big spinnaker on the first day so in the last match downwind with Luke it was a bit hard for us to get good speed."
Once again VMG downwind to the finish, they continued east on a starboard gybe before Lamotte-Module Création was the first to gybe for the Plymouth finish line while, perhaps hoping to recreate the Ultim finish, Beijaflore left it a little later. Unlike the Ultim finish, Berry and his crew put in a hitch east to cover her rival and finished at 23:43:22, with Beijaflore less than three minutes behind.
"It was a good race for us, especially when it finishes like that," said Luke Berry of his first major Class40 victory. "So a good, fast, very, very wet race."
Aside from having a quick boat, Berry also benefitted from a crack crew including Mini Transat winners Corentian Bouguet and Fred Denis and inshore racing specialist Arnaud Berland.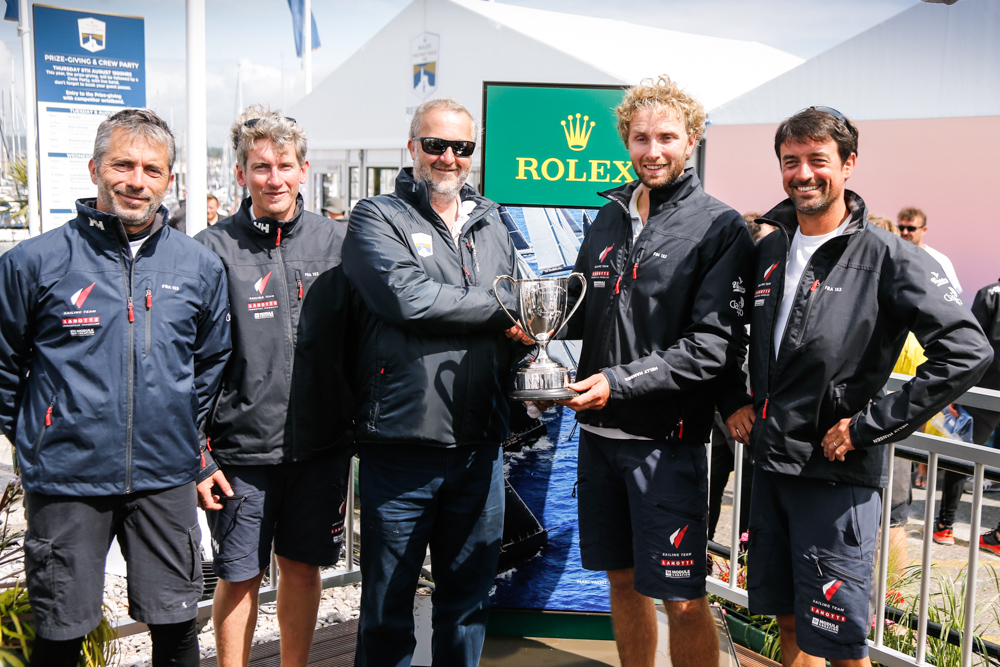 Luke Berry of Lamotte-Module Création and his crew are presented with the Class40 prize by RORC Commodore Steven Anderson © Paul Wyeth/www.pwpictures.com
On Beijaflore, whose crew included French offshore legend Marc Guillemot, this was only Mathelin-Moreaux's second Fastnet having previously competed in the IRC Four fleet. He only acquired his present boat in March and this was only her fourth race. "It was good for the boat, because we had a lot of reaching and strong wind and very good competition with the other boats," he said.
Among the 18 starters, three were women – veteran Class40 campaigner Catherine Pourre, who ultimately finished third, plus Ursault Poupon, daughter of French offshore sailing legend Philippe Poupon, and British Paralympic sailor Hannah Stodel.
Poupon finished 12th, despite sailing the oldest boat in the fleet and having only been racing for a couple of seasons (albeit after many years spent cruising, including visiting dramatic places such as South Georgia.)
The big conditions tight-reaching up to, and broad-reaching back from, the Fastnet Rock were not ideal for them. The relatively narrow hull of their old generation Rogers design was one of the least powerful in the fleet and Poupon admitted:
"We thought the weather would be lighter so we hadn't taken the Code 5. For reaching that was the sail we were missing. Instead we took three spinnakers…"
Nonetheless the race was an extremely positive learning experience and a strong step towards Poupon's main ambition of competing in the Sirius Events-organised Class40 round the world race in 2021. On board helping with her tuition was French Figaro sailor and match racer, Claire Pruvot. "I have a lot to learn, but it is very interesting. We didn't make too many mistakes," said Poupon.
British Para-Olympian Hannah Stodel in her Class40 during the Rolex Fastnet Race © Carlo Borlenghi/Rolex
Also using the Class40 as a stepping stone towards a greater ambition is British Paralympic sailor Hannah Stodel whose ultimate aim is to step up into the IMOCA 60 class and compete in the Vendée Globe.
Stodel raced a Class40 in the Sevenstar Round Britain and Ireland last year and ended this year's Rolex Fastnet Race in 14th place after being penalised for infringing a TSS exclusion zone.
"That was brutal!" said Stodel soon after docking. "We had a few issues with the boat and getting everything working, so it was never easy. But we had good fun and everyone enjoyed it and that actually is most important for us."
Like the others, Stodel admitted that conditions crossing the Celtic Sea had been brisker than forecast.
"All the routing said no more than 16 knots, but we experienced 25. We just reefed quite early, settled in and took it steadily. Rounding the Rock was magical – it was nice to see it in daylight – every other time I've been around, it's been dark."
Coming back from the Rock, surfing down the waves had been enjoyable, hitting a record speed of 23 knots, although Stodel acknowledged the main aim as being simply to get the boat around the course. "We saw so many people retiring from the race so we just wanted to keep it together."
Top British Class40 finisher in the race were the foursome class newbies of Nigel de Quervain Colley, Charles Emmett, Ian Hoddle and Mathew Smith aboard Manic.