Wednesday 7 Aug - IRC Four
With 87 starters, IRC Four is the largest class racing in the 2019 Rolex Fastnet Race. The vast majority of the sailors are passionate amateurs fulfilling their dream of racing in the Rolex Fastnet Race. As of Wednesday morning, after five days of racing, only ten boats from IRC Four had finished the race, however none of the teams still racing can beat Noel Racine's JPK 10.10 Foggy Dew. Astonishingly, out of Racine's eight Fastnet Races, he has won class four times. It is no surprise that the grandmaster from Le Havre has also won class in the last four consecutive RORC Season's Points Championships.
"It was quite a wet and windy race," said Noel Racine with a smile, as he stepped ashore with the Foggy Dew crew at 0100, after four days and nights at sea.
"It was tricky at the beginning, then interesting and more windy and difficult after that. We knew that before the race we would have that early transition zone and we had prepared well for that. The strong elements later in the race were a bit more of a surprise. Rounding the Fastnet Rock we had 25 knots but we like to sail with strong wind so that was not any problem for us. Foggy Dew does not always win but when we have a variety of wind, as we have done in this race, it is exactly what we need. This will be the last race for this boat, but a new JPK 10.30 is on order and we hope to be back in 2021. Now for not only one but two beers!"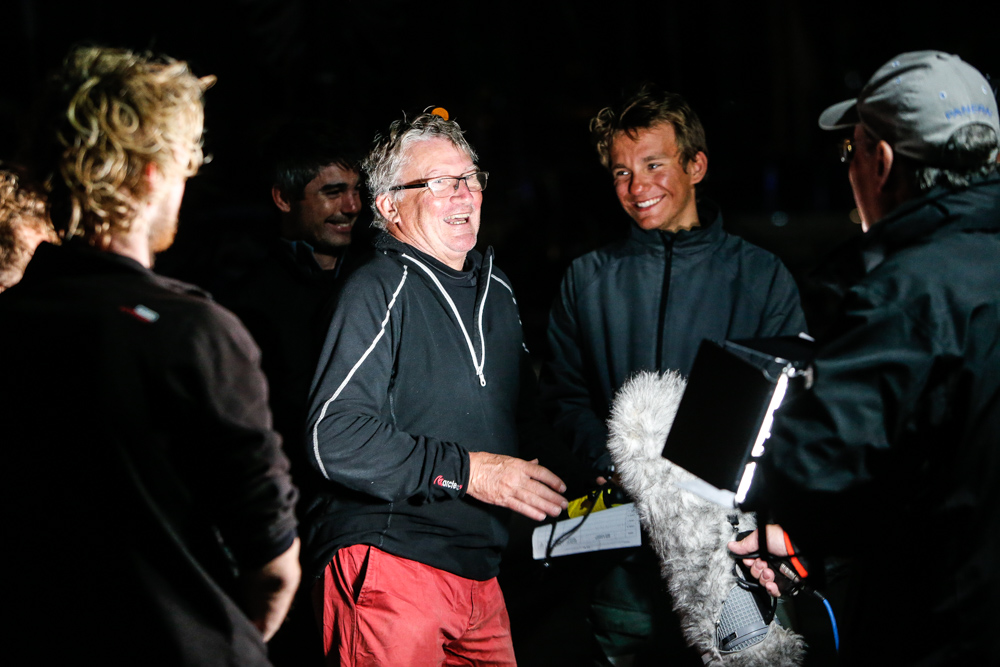 In the spotlight: Foggy Dew owner Noel Racine on the dock following his IRC Four win at the 2019 Rolex Fastnet Race © Paul Wyeth/www.pwpictures.com
JPK 10.10 Gioia, skippered by Emmanuel and Etienne Pinteaux, was second in class, just over an hour behind Foggy Dew after time correction. Emmanuel and his brother Etienne were sailing with Tristan Pochot and Bernard Cordeau.
"Gioia means joy in Italian and this race was a dream come for us," commented Emmanuel. "We all grow up together, learning to sail in St Vaas, Normandy, and as children we dreamed of doing the Fastnet Race together. Between us we have competed 11 times, but never together as a crew. To do the thing you love with the people you love is an amazing experience. After three days we were exhausted but better weather on the fourth day gave us some strength.
"The funniest moment was surfing back from the Fastnet at high speed. We hit a wave which rolled down the deck depositing four fish on board - we did not have any lemon, so we threw them back!
"This is only our fourth race with the boat, so it is a steep learning curve but, with the help of Pascal Loison, who raced her as Night and Day, we are learning fast!"
Dehler 33 Sun Hill 3 was third, an extraordinary achievement for a boat that was built in 1996. Sun Hill 3 was 60th in class in 2017:
"In 2017 we tore our mainsail at the Fastnet Rock which was frustrating," explained Francois Charles. "We are a team from Morlaix, near Roscoff Brittany, where we are a brokerage although we also prepare boats such as Class40s. Since I was a child I have dreamed of racing the Fastnet, and this year the ride back from the Rock to the Iles of Scilly was amazing! We hit a new boat speed record of 19.3 knots and there was a lot of whooping on board at that moment!"
Conditions on board Sun Hill 3 were wet and wild!
Finishing in fourth place is father and son team Nigel and Tim Goodhew racing Sun Fast 3200 Cora, also the top doublehanded boat in that class.
"Tired but emotional," summed up Nigel after this 6th Fastnet Race. "When you are out there - cold, wet and tired - you wonder what on earth you are doing but I close my eyes and think of a cold glass of wine by a roaring log fire. When we look back on the race, and the competition, we are very chuffed with our performance. We did manage to get past Foggy Dew in the light airs at the start, but they pulled away. We focused on trying to stay with them, and also to be more disciplined in getting sleep, food and water, but it was difficult with the rough conditions in the latter part of the race.
"I have sailed with my son all his life and most of mine, so this was a very proud moment for us."
As of 1030 this morning (Wednesday 7th August) with the rounding of Stuart Giffin's Agamemnon, the last of IRC Four have gone round the Fastnet Rock and are bound for Plymouth.