An American VO70 has continued its phenomenal winning streak to claim the Fastnet Challenge Cup, the overall prize for the 2019 Rolex Fastnet Race. David and Peter Askew, aboard their VO70 Wizard, came out on top under IRC corrected time, beating French boat builder Nicolas Groleau's perennial entry on their canting keel Mach 45 Bretagne Telecom by 45 minutes. This was despite the 2019 race being the Askew's first attempt at the Royal Ocean Racing Club's pinnacle 600 mile offshore.
"To win the race is unbelievable," said David Askew upon hearing of their latest victory. "Obviously the Rolex Fastnet Race is one of the premier ocean racing events in the world and has a magnificent history going back way before I was born, and I'm an old guy!"
The Fastnet Challenge Cup is the latest silverware that the Baltimore-based brothers can add to their ever-growing trophy cabinet. A month ago Wizard won the historic Transatlantic Race 2019 and in February claimed the RORC Caribbean 600. Their winning streak started last year when they came out on top in the Gibbs Hill Lighthouse division of the Newport Bermuda Race.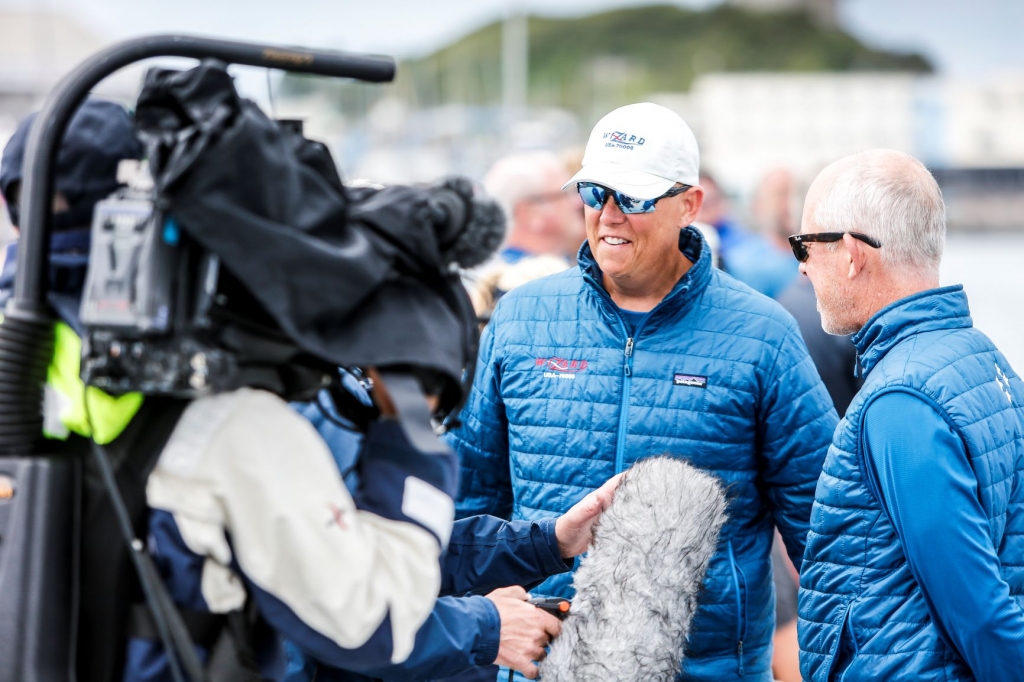 David and Peter Askew hit the dock for some interviews after winning yet another offshore classic yacht race with their VO70 Wizard © Paul Wyeth/www.pwpictures.com
Significantly, Wizard's success brings to an end the string of Rolex Fastnet Race overall victories by French teams that started in 2013 with Pascal and Alexis Loison and concluded in the last race with Didier Gaudoux's JND39 Lann Ael 2.
Among maxi boat owners, the Askews are unique. They herald from Detroit and have sailed since they were kids. Once grown up they were part of the Great Lakes big boat sailing scene, competing in the then cutting-edge IOR 50 circuit. They even ran some successful race boats such as a Santa Cruz 70. "Collectively we have a vast amount of experience," admits David. "We almost don't know what we know! But looking back, we have been doing this a long time and know how to put these programmes together."
In 1985 David competed in his only previous Fastnet Race aboard the Frers 55 Jubilation. "At that time I was completely in awe and I always vowed I'd go back," he recalls.
For more than a decade, the brothers stepped away from sailing when they took over the family's successful chemical company USALCO, got married and started families. However the call of the sea proved too great and in the early 2000s David Askew succumbed and bought a J/120. "I coerced my brother into sailing with me," he continues. "That started the whole process that resulted in us deciding we wanted to go around the world winning races with a VO70."
While they campaigned their Reichel/Pugh 74 Wizard to victory in many races, notably the Chicago-Mackinnac Race and the Barn Door trophy in the Transpac, the present campaign came about when Franck Cammas' former Volvo Ocean Race winner Groupama 4 was put on the market by her then owner. "About five or six years ago we were wanting to do a transatlantic race and trying to get a boat to do it with. It just happened that the best Volvo 70 probably ever built came available in Sydney, so we hopped on it –bought it, did the Hobart Race and then went from there," recalls David.
While they didn't win that Rolex Sydney Hobart, their present incredible winning streak started the next year.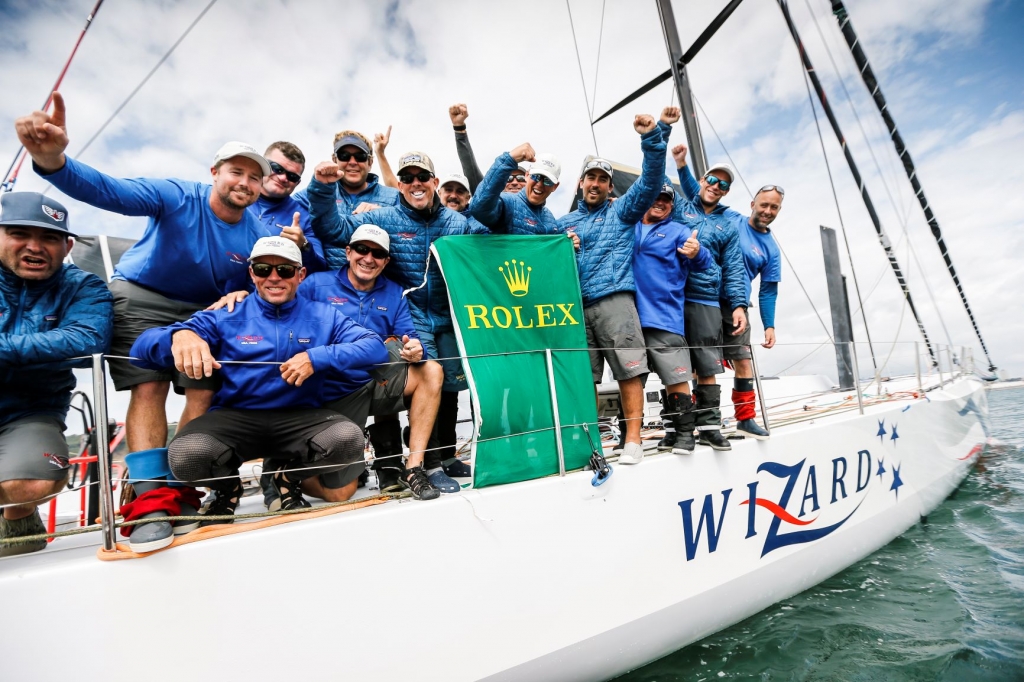 The crew of Wizard, whom David Askew credits for a great deal of their current success © Paul Wyeth/www.pwpictures.com
David Askew attributes the Wizard team's success to putting the right pieces in place. After buying the boat, the decision was made to employ Volvo Ocean Race skipper Charlie Enright as sailing master and bring on board an all-star crew. They included Enright's business partner Mark Towill, with whom he has run two Volvo Ocean Race campaigns, plus former Volvo Ocean Race winners Richard Clarke and Rob Greenhalgh, and leading Australian navigator Will Oxley.
"I credit it really to everything – the organisation, the capabilities of Charlie Enright, the collective experience of all the crew as well as the two owners and selecting the right tool for the job - the Volvo Open 70," continues David Askew. "It's the sum of all the parts that contributed to the result. Plus a little bit of luck!"
Of their Rolex Fastnet Race win specifically, David says: "Honestly, I never really thought about winning it, or even doing well - just completing the race is a victory of sorts. Obviously we put together the best team that we could assemble. We have a boat that we've been campaigning now for two years, that we bought specifically for the purpose of trying to win all the major ocean racing events in the world. And we've been having tremendous success."
Compared to the previous events they have competed in, David says the Rolex Fastnet Race is one of the most difficult, if not the most difficult, to win.
"Just to win IRC Zero – that exceeded my expectations, just because of the sheer amount of competition. We come over here from the States to have one go at it, but other people (from New York for example…) are doing this race year in, year out and have a lot of experience.
"[Our winning streak] can't last forever - you just try to make it last as long as you can. That being said, we definitely have a formula. We decide what we want to do and then find the right machine and the right people to get it done."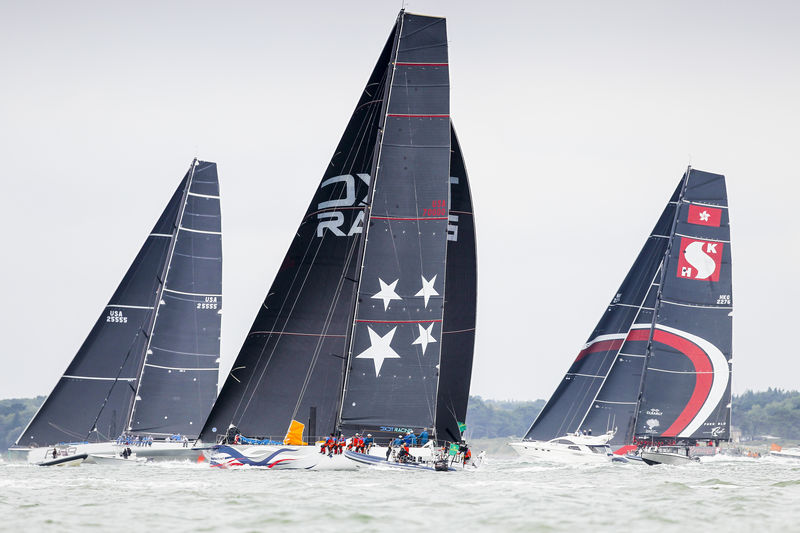 Wizard hit the start line alongside Rambler 88 and 100ft SHK Scallywag © Paul Wyeth/www.pwpictures.com
As to the Rolex Fastnet Race, Wizard did a fine job keeping Rambler 88 and SHK Scallywag in their rearview mirror for longer than their shorter waterline length should have allowed. Navigator Will Oxley made prompt and intelligent interpretations of what the strange weather was doing in the English Channel, and, as Oxley himself puts it:
"The crew work was just excellent. Every manoeuvre was done really well. We used all the sails in the right order. We never had the wrong sail up. Charlie made an excellent call that we change directly from the masthead Code 0 to the J2, so we were under-wicked heading out to the Rock for the first hours, but then we didn't have to do the change from the J1 to the J2. On these boats they are hanked sails and trying to get rid of the J1 and put the J2 up in those conditions is very difficult so that was another key moment."
From here Wizard heads for the Rolex Middle Sea Race to see if she can apply her winning formula to that race.