Twenty years ago the Royal Ocean Racing Club allowed multihulls to participate in the Rolex Fastnet Race. Today, while the numbers remain relatively small compared to the giant IRC fleets, the quality and diversity of the multihull fleet is of note.
Of course this year the line-up was dominated by the fastest offshore sail-powered craft in existence - the headline-grabbing 100ft Ultim trimarans which tore up the track to complete the 600-mile course in record time. While these were racing in an Open multi class, alongside them were Corinthian heroes competing in the MOCRA rated multihull fleet.
Newcastle's Ross Hobson was sailing on the speedy, but all but protection-free, Seacart 30 trimaran, Buzz:
"Forty years ago I was doing search and rescue for the '79 Fastnet Race. Twenty years ago they let multihulls in and we are back with Buzz this year, so I still haven't learnt! It was horrible and miserable 99% of the time, we were all wet, soaked through, but succeeding in this race is more mental than physical. You have to have more than one screw loose and be very determined."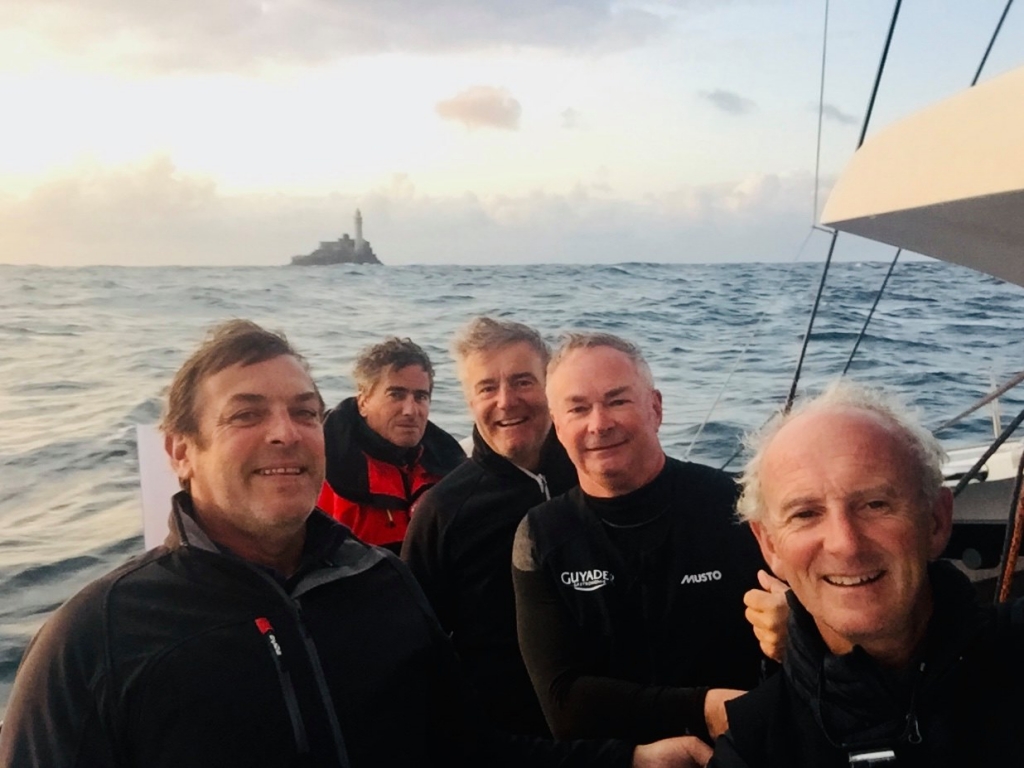 Ts42 Guyader Gastronommie, sailed by Christian Guyader, is the winner of the multihull MOCRA class © Guyader/Facebook
Winner of the MOCRA division was Frenchman Christian Guyader's Guyader Gastronomie, the TS42 cruiser-racer catamaran which completed the race in just under 60 hours. A little over three hours after the French catamaran (both in real, and on corrected, time under the MOCRA rule) was Nigel Passmore's Apollo, a 49ft Dazcat built nearby, across on the Cornish side of Plymouth Sound in Millbrook.
Local sailor Darren Stansbury completed his fifth Fastnet Race on board Apollo as a watch leader:
"I've sailed on various monohulls in the past, from Prima 38s to TP52s, and they were all enjoyable, but this was a day quicker. I was going to say 'drier' but it wasn't, it was very wet - horrendously wet, but at least you've got places to escape to once you go through the patio doors, it's very comfortable inside. There's no crawling on your hands and knees to get to the back quarter berth with your pipe cot only to find someone's in it already. This is way more comfortable."
With the team having done little offshore sailing on Apollo, they were tentative at times, careful not to over-canvas the boat or push it too hard in the stronger breeze.
"We had about 37 knots for a couple of hours," Stansbury continued. "The Celtic Sea was brutal. As we were rounding the Scillies, the breeze suddenly picked up from 16 or 17 knots and got hairy. We were doing about 28 knots and were worried about flipping the boat, so we sailed just with the reefed mainsail for an hour or so.
"We are still learning the boat. We had a moment in the Caribbean last year when we buried the bows at 29 knots; the water was over the mast instruments and literally everyone's life jackets exploded. And then when it popped back up the cockpit was three foot deep in water. It was like, 'I think we should back off a bit here...' Our log shows our highest speed during the Fastnet was 33 knots, but even so we didn't really have any hairy moments this time."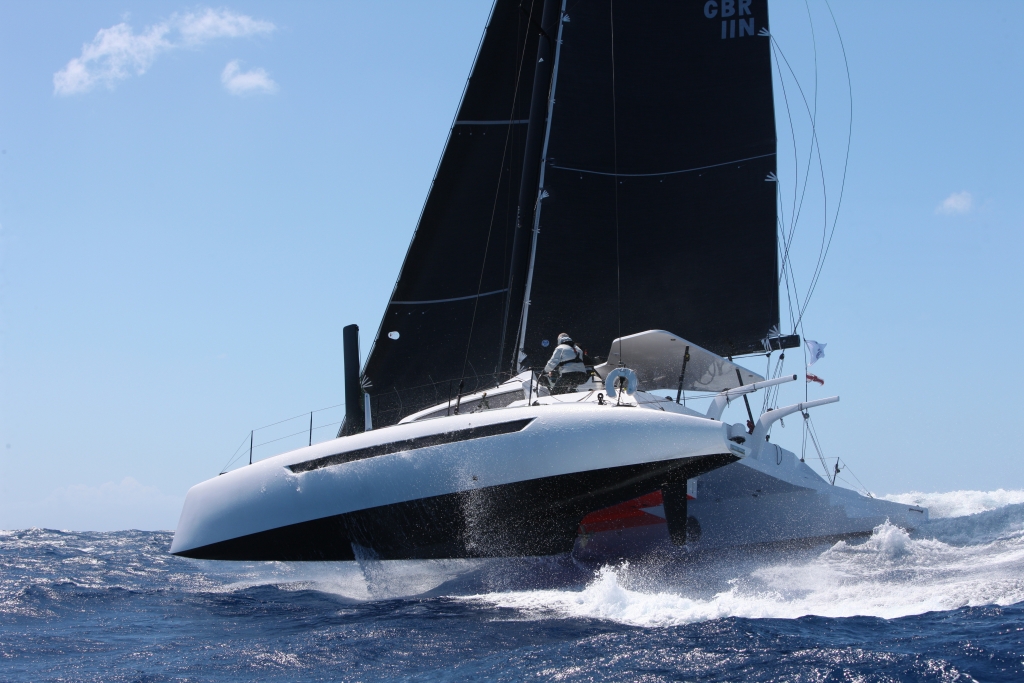 Nigel Passmore's Dazcat 1495 Apollo was one of five Dazcats in the 2019 Rolex Fastnet Race © Tim Wright/www.photoaction.com
Apollo's sistership, Hissy Fit, finished an hour and a half further ahead of Apollo on the water but an hour and a half behind on MOCRA corrected time. Nigel Pearson and Simon Baker racing Hissy Fit had hoped to emulate their MOCRA division victory in the 2017 Rolex Fastnet Race, but had to settle for third this time.
"We've made some changes to the boat this year. We've put a bigger mast on and we've got some T-foils on the rudders, so our rating has gone up quite a bit and we're still experimenting with that configuration," said Baker. The T-foils are there to reduce pitching, which Baker believes the rudder winglets are achieving, although they can make it quite heavy on the steering in stronger winds.
Baker enjoyed racing up with some of the faster monohulls such as the IMOCA 60s. "I think the most entertaining bit was actually when we were with Miranda Merron on Campagne de France. We were riding on their stern wave, stuck together for half an hour, but we decided to get some separation from her in the end and actually managed to sail around and pass her."
As a long-time fan of multihull sailing, Baker is surprised more people still haven't understood that in the giant gulf between spacious and stable, but ultimately slow, cruising catamarans and the extreme Ultims and MOD70s, there are a whole new range of modern cruiser-racer multihulls. These are coming ever-closer to achieving the supposedly impossible combination of huge internal space and quality of fit-out with ultra-high performance, all for a moderate price.
"We have five Dazcats here", said Baker. "There's always been a strong connection with multihulls in Plymouth, and with the Royal Western Yacht Club and shorthanded racing generally. All we can do is keep trying to demonstrate what a wonderful thing they are and hope more people want to have them. I think that doing races like this is the best way of doing that: A couple of years ago we raced in the Cowes-St Malo and in 20 knots of breeze in flat water. There was only one monohull out of the whole fleet - one of the FAST40+s - that we couldn't sail over the top of. If we've got good pressure we can point just as high as the monohulls, and obviously our downwind speed is well known and understood. And multihulls are just so comfortable to sail on, whether you're cruising or racing."
Whether or not Baker and other multihull enthusiasts can convince more to join their ranks for future Fastnets, he's delighted to be sitting in the midst of such a mighty gathering of racing craft of all shapes and sizes.
"It's wonderful for Plymouth. It's great to see so many good-looking boats. It's the top end of offshore racing right here, isn't it? A great atmosphere, and terrific to be part of it."
Calm before the storm
An unseasonably deep depression heading in the direction of Plymouth is causing the Rolex Fastnet Race tailenders either to begin battening down hatches or to look at safe havens into which they can retreat.
Weather data from the Sevenstones Lightship moored between the Scilly Isles and Land's End shows the 'calm before the storm' took place over the early hours of this morning with the familiar southwesterly that had been blowing since the race started last Saturday, abating and backing into the east-southeast by 0500. This is also the case this morning in Plymouth where it is overcast and the wind easterly.
Over the course of today however, the American and European forecast models indicate the wind will build to reach 25 knots by midnight, bringing stronger gusts and rain via a complex series of fronts. The good news is that from late afternoon into this evening the wind is forecast to veer south. This will mean that boats on the leg from Bishop Rock to the Lizard today will be hard on the wind - before the wind frees up late afternoon, with sheets being cracked further as they bear away slightly past the Lizard towards the Plymouth finish line.
The forecast track of the depression shows it spearing off to the north over Friday but bringing with it gale force winds that will hammer the southwest of the UK and Brittany tomorrow, peaking with gale force gusts overnight on Friday-Saturday. These the European model currently show as exceeding 50 knots at the Scilly Isles.
"The pressure is coming in early on Friday morning and we are hoping to have everyone in before Friday afternoon," said RORC Racing Manager Chris Stone.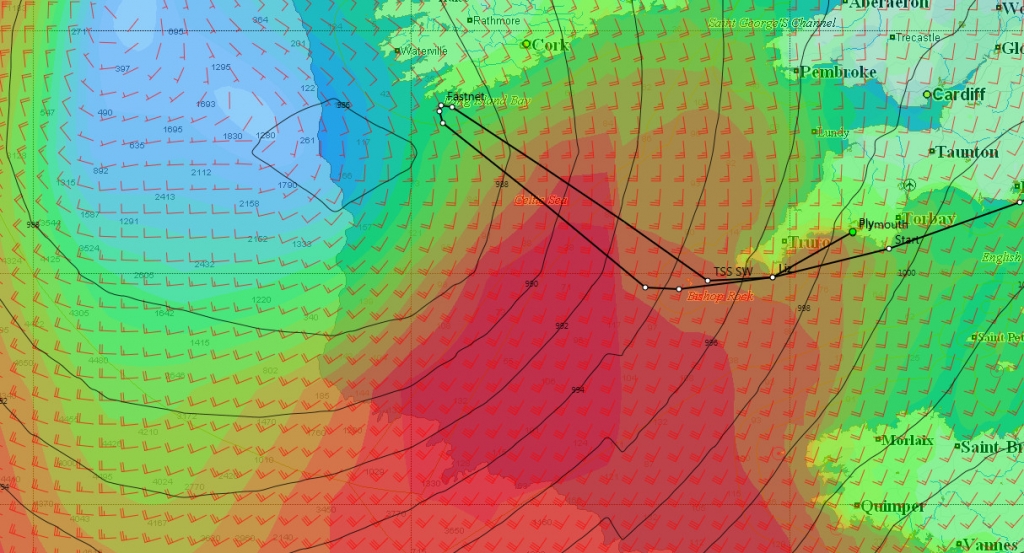 The forecast facing the last boats in the fleet on Friday 9 August
To date there have been 309 finishers and there remain 18 boats at sea of which five have yet to make it around Bishop Rock to the west of the Scilly Isles. Bringing up the rear are Stuart Giffin in the Westerly Fulmar 32 Agamemnon and Mike Croxall's Westerly Typhoon 37 Grand Slam, both of which mid-morning had just over 150 miles left to sail to the finish.