The top ten of the overall IRC corrected time rankings for the 2019 Rolex Fastnet Race have proved to be quite an international affair. Not only did the Stars & Stripes take line honours with Rambler 88, but also overall victory in the race and IRC Zero, won by the VO70 Wizard.
France claims half the spots in the top ten, starting with the Mach 45 Bretagne Telecom skippered by boat builder Nicolas Groleau, who has now completed six editions of the race aboard his Sam Manuard-designed canting keeler.
Runner-up to Wizard this year, Groleau's persistence will surely be rewarded one day with outright victory. This year Bretagne Telecom enjoyed a close battle with the longer Cookson 50 canting keel one designs. "Close reaching, the Cooksons are faster," said Groleau. "We were faster downwind and reaching - this boat is a rocket downwind and we really enjoyed the final run from the Scillies back to Plymouth."
In third place overall, and first British boat, was the TP52 Tala. Owner and skipper David Collins has completed four Rolex Fastnet Races before, but on much slower, more genteel boats than a TP52 like Tala, even one that has been optimised for offshore racing (as Steve Benjamin's Spookie).
"That's the quickest race for this kind of boat that anyone on board can think of. There was that front to negotiate, which I think we managed pretty well, but once we were through it and round the Rock, it was foot down and go."
The high-speed reaching was exhilarating, but very wet. "We were bailing constantly – by this I mean buckets literally throwing water out the back. It was good to get on to the VMG running at the end which was quite relaxing after that."
Despite the hectic and soaking ride, Collins claimed that he and others got some decent sleep.
"I sleep like a baby on these things, and after the first 12 hours we settled into a fairly stern watch system. But doing a Fastnet on a boat like this is a new experience for me. I've always done them in old heavy boats, like Sparkman & Stephens boats, which you have your own china for meals and drinks, and you can have a shower. This is the first time I've done it in proper racing mode - which was what my son wanted to do," said Collins.
Bo Teichmann, skipper of TP52 Outsider, was buzzing when he arrived ashore after such an exhilarating ride on his flush deck yacht into Plymouth.
"We did this race two years ago with our old boat, the Elliott 52. We had really, really good times with her, but with the rating we were not able to get a good result and that's why we made a change and Tilmar Hansen, the owner, decided to buy a TP52.
"During the winter we did a refit on that to make it a bit more waterproof and to check the rig and some other changes. And yes, we finished in 54 hours; nothing broke, everyone is happy."
The German team, backed up by some multiple winners of the Volvo Ocean Race - Brad Jackson and Stu Bannatyne from New Zealand - will have been even happier to find out a few days later that they finished in 4th overall. They missed out to Tala on a podium place by just 43 minutes.
"With Tala, our sistership, it was tight racing," said Teichmann, "but in the end they arrived here round about an hour in front and that is okay. I mean, they have sailed the boat a bit longer and we are new with our boat. We know where we have to learn and what to work on for next time. I'm pretty sure we'll be back in two years' time with the same boat. But you cannot have a better, Fastnet than this one, I think. To be here now, after such a hard race with such a boat, and then you cross the finish line and then you think, well, we did it after 600 miles and everything is working, the crew is happy, everyone is happy, the owner's happy."
The top four places in the overall standings went to the bigger boats in IRC Zero. Best of the rest, and winner of IRC Two, was the JPK 11.80 Courrier Recommandé skippered by the Rolex Fastnet Race magician Géry Trentesaux. He's competed in this race since he was 18 years old and has now completed his 15th edition, including an outright win in 2015. Now Trentesaux is threatening to make this his last, but will he really be able to stay away two years from now?
Just 14 minutes behind on corrected time was the winner of IRC Three and the Two-Handed class, on the brand new JPK model, the 10.30, Léon. This was the third time that Alexis Loison has won class in the Rolex Fastnet Race, this time racing with the boat's builder Jean-Pierre Kelbert.
Next, in seventh place overall came L'Ange de Milon, winner of IRC One, skippered by another French legend - Jacques Pelletier - followed by another USA entry, the Cookson 50 Privateer, whose owner Ron O'Hanley was unfortunate to miss out on sailing due to injury prior to the start. Lann Ael 2 took outright victory two years ago but this year Didier Gaudoux had to settle for ninth overall, still a very respectable result in a race that suited boats quite a bit bigger than his JND 39.
Rounding out the top 10 is the only other British boat in this elite group - Sorcha, Peter Harrison's Maxi 72 which twice won the Rolex Fastnet Race under its former name of Rán 2 when she was campaigned by Niklas Zennström.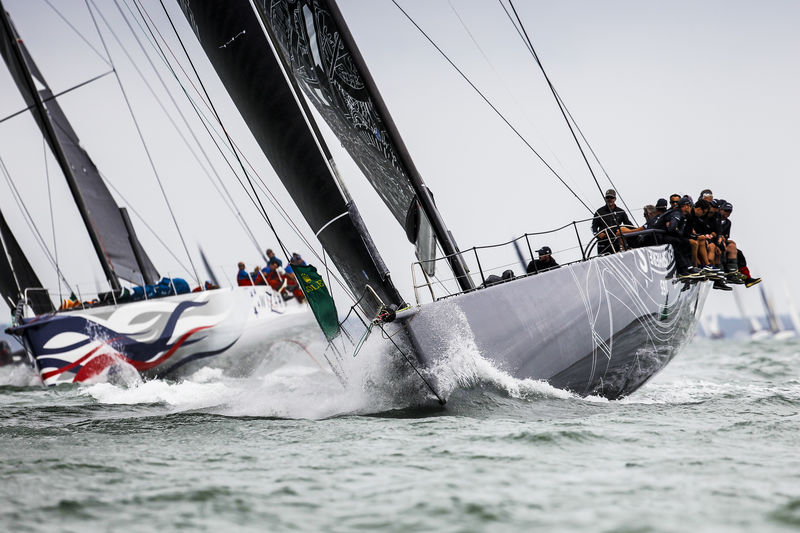 Peter Harrison's modified Maxi 72 Sorcha finished in the top 10 overall; the former Rán II won the race outright in 2011 © Paul Wyeth/www.pwpictures.com
For Peter Harrison this was the first time he had completed the Rolex Fastnet Race.
"I did it once on the 52, and we got half way four years ago when it was really light and we abandoned.
"This race was faster than expected and we had a great race with Jethou almost from the start. Lucky didn't start well and they were nowhere near us coming out of the Solent. We had a great race with Jethou up until the Rock where we were 30 minutes ahead of them but then we had a disaster when we blew up our A1 which we managed to blow up on the run after the rock. That meant we had to change our plans a bit and we ended up going south of the TSS rather than south because we couldn't sail deep enough."
Rán II became Robertissima before becoming Sorcha and, while most of her is original, she has undergone major development and renovation to keep her competitive under IRC. This has included having a new rig fitted under Robertissima's tenure, a new deeper fin keel and the rudder being moved.
However many of her crew returned for the Rolex Fastnet Race including navigator Steve Hayles and former skipper Tim Powell. "The general premise of the boat is much the same. It still feels like a great boat. I was going really well and felt solid," said Powell.